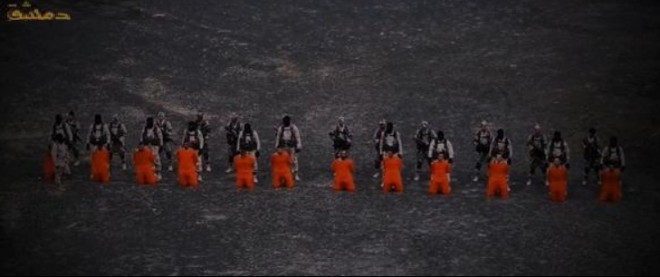 Just days after Isis released one of its most gruesome execution videos that showed prisoners being drowned in a cage and killed in other barbaric ways, the Islamic State has now released a video showing the beheading of 12 men in Damascus region in Syria.
Images from the gory video were shared on social media sites on Thursday. The video shows the 12 men pinned to the ground in an open field and beheaded using small knives.
Similar to other Isis execution videos, all the captives are dressed in orange suits to resemble prisoners of the infamous Guantanamo Bay detention camp.
Some Twitter accounts identified the men as members of the Syrian rebel group, Jaish al-Islam, also known as the Army of Islam, which has been fighting Syrian President Bashar al-Assad's army.
Isis fighters have been clashing with members of the Jaish al-Islam in the Qalamoun region, and several of the Islamic State jihadists were killed by the rebels recently.
#ISIS #IS #Syria #Damascus #ISIS Release New Video Show Executions 12 men In #Damascus pic.twitter.com/RlHoMR6L47

— الرقة تذبح بصمت (@Raqqa_Sl) June 25, 2015
The filthy satanic ISIS behead 12 rebels from the "Jaysh Al Islam" brigade

— Malcolmite (@Malcolmite) June 25, 2015
The video comes just two days after Isis showed the gruesome execution of 16 Iraqi men who were accused of spying for the coalition forces fighting Isis.
Some men, who were confined in a cage, were drowned while others were strapped inside a car that is blown up with a rocket-propelled grenade, and a few others were killed by explosives tied around their necks.