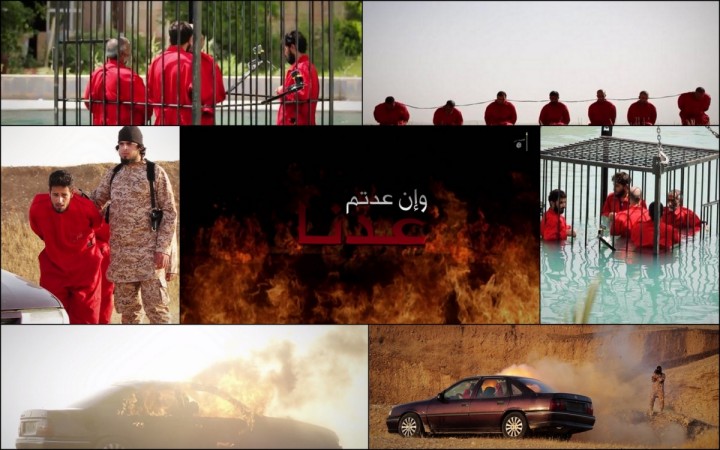 In one of its most gruesome videos released to date, the Islamic State (Isis) militants have executed 16 Iraqi nationals on charges of 'spying' for coalition forces.
The video of the execution shows the militant group killing the alleged spies in different manners - locking up the men in a cage and drowning them in a swimming pool; tying some others inside a car and then blowing it up with a rocket-propelled grenade (RPG); and the most gruesome was by putting explosive wires around some victims' necks and blowing them up.
The seven-and-a-half-minute-long video starts with an Isis fighter visiting a site of the US-led coalition bombing, believed to be around Mosul. The Isis fighter then picks up a severed piece of arm lying near the bombing site. He then blames the spies for the murder of the "innocent civilian".
The next part of the video contains forced confessions from the alleged spies. Here is how the Isis executed the alleged spies, as shown in the footage:
Blowing up the car with RPG
The first set of executions starts with the Isis militants forcing four men dressed in red jumpsuits into a sedan. The arms of the men are tied and the car is locked. An Isis fighter then proceeds to blow up the car using a rocket-propelled grenade (RPG).
[Also Read: Iraq: 16 Men Killed by Isis for being 'Spies' Hailed as Heroes of Mosul]
The video, which features high-quality editing style, then once again shows another set of 'spies' confession of their crimes.
Caged and drowned
The second set of executions shows the militant group shoving five men into a cage. The cage is then locked from outside and slowly, it is lifted and put into a swimming pool. The cage is lowered slowly into water.
The Daily Mail observed that the Isis used high-tech underwater cameras to show the men gasping for breath as they attempt to break the cage. The scene ends with the cage being lifted out of the pool and the men lying on top of each other dead.
Beheading by explosive wire
In the third and last execution scene, seven men are paraded into an open field, where they are made to kneel on the ground. An Isis fighter then ties an explosive-ridden wire around their necks. The explosive is then detonated and high definition cameras capture the brutal scene in minute details.
US coalition bombing
The brutal execution video, it is believed, is a reprisal for the 19 June airstrikes by the US-led coalition forces, in which the Isis is said to have suffered serious damages in Mosul.
According to Washington Examiner, in six airstrikes on Friday (19 June), the US-coalition forces destroyed the tactical unit of Isis, staging area, a tank and heavy machine gun nests.
Airstrikes were also carried out in Baiji, Falluja, Makhmur, Ramadi, Sinjar and Tal Afar.