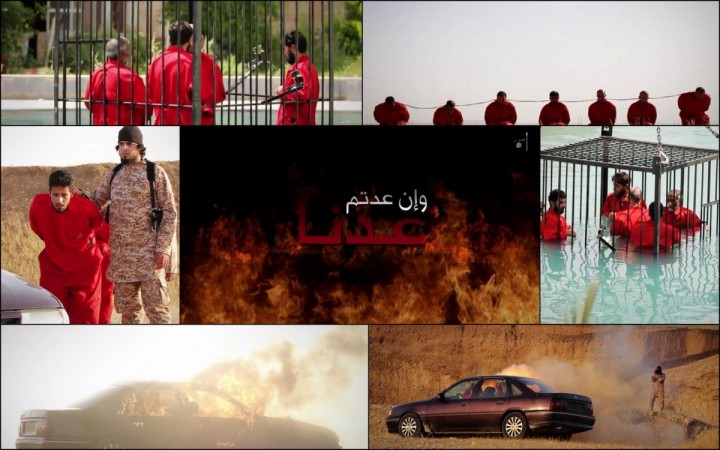 The 16 Iraqi men condemned by the Islamic State (Isis) militants in Iraq for being 'spies' are reportedly being hailed as heroes by Mosul residents, who claim they were heroes in whose name one day statues will be put up in the city.
On late Tuesday evening (23 June), the radical Islamist terrorist group released a video showing execution of 16 Iraqi men.
Five of them were locked up in a cage and drowned in a swimming pool while another four were tied up inside a car, which was blown up by an Isis fighter using a rocket-propelled grenade (RPG). Then finally, the terror group carried out beheading of seven men by tying explosive wires around their necks and blowing it up, Daily Mail reported.
The condemned men, it is understood, were blamed for assisting the US-led coalition for the 19 June air-strikes in Iraq, in which Isis suffered serious losses in the city of Mosul.
The latest video released by Isis has shocked the world, but inside Mosul, secretly the city residents were mourning the death of their heroes.
Mosul Eye, a blog run by an underground media activist who has secretly been documenting the 'evils' of Isis inside the Iraqi city through a eulogy, paid tribute to the men killed by Isis.
"In Mosul, there are men [who] proved that Freedom is pricey, and they proved all the [foolish] accusations about Mosul's citizens are utter wrong," writes Mosul Eye, who used to be a historian before Isis took over the city.
"There are men in Mosul that taught [Isis] how bitterness tastes and forced it to recalculate everything all over. There are men in Mosul that will live in history forever, and memorials will be built in their memory all over the city. Those men are my people," he writes referring to those executed by Isis in the video released on Tuesday.
The blog even released the names of the seven Iraqi men among the 16 killed by Isis.
Read the entire eulogy here.