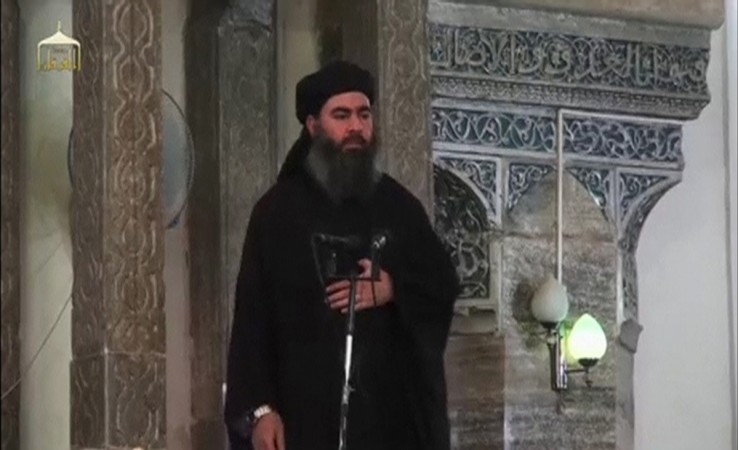 The Islamic State has released a new audio message from their leader, Abu Bakr al-Baghdadi, amidst speculations about his health, with recent reports suggesting that the Isis leader is either seriously injured or dead.
The new audio, which comes days after endless reports about Baghdadi's severe injuries and probable death, can be seen as an attempt by the group to reassert that their chief is still calling the shots, especially after reports of his deputy Abu Ala Afri being killed in airstrikes emerged this week.
In the audio, titled "March Forth Whether Light or Heavy", Baghdadi said that joining the Islamic State was a "duty of every Muslim".
"There is no excuse for any Muslim not to migrate to the Islamic State ... Joining (its fight) is a duty on every Muslim. We are calling on you either join or carry weapons (to fight) wherever you are," Baghdadi said in a 34-minute recording that was published by the group's al-Furqan media.
The group also circulated transcripts of the message translated to French, Russian, German, Turkish, and English.
The authenticity of the audio and whether the voice is actually Baghdadi's has not been verified as yet.
"Islam was never a religion of peace. Islam is the religion of fighting. No-one should believe that the war that we are waging is the war of the Islamic State. It is the war of all Muslims, but the Islamic State is spearheading it. It is the war of Muslims against infidels," Baghdadi says in an attempt to exhort Muslims to migrate to the Islamic State.
As in his previous audio message released last November, Baghdadi targets Saudi Arabia, warning the rulers that their "end is near".
"They claim that they are defending the Sunnis ... They are lying. It is a desperate attempt to deter Muslims from joining the Islamic State ... (because) it is defending them and this terrifies the sons of Saloul," the audio says, with reference to the Saudi Arabia-led coalition conducting airstrikes in Yemen.
Baghdadi referred to Saudi Arabia's "Operation Decisive Storm" as a "storm of delusion".
He also reached out to Isis supporters in various countries.
"You soldiers of the Islamic State stay steadfast ... Your enemy (the Shi'ite) is drained and today it is weaker than yesterday. It is also becoming weaker and weaker and you are becoming strong."
Baghdadi has occasionally reached out to Isis loyalists through audio messages, having appeared in public only once, while giving a sermon in Mosul last July.