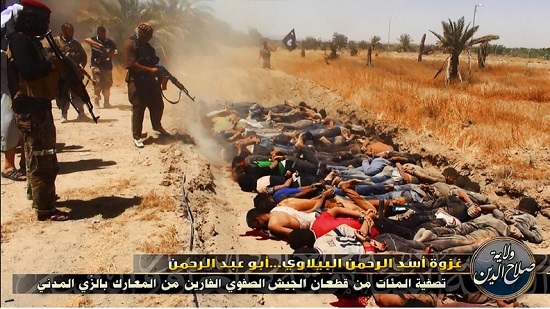 Shocking footage have emerged online, which shows captured Iraqi soldiers begging for their lives and being forced to swear their allegiance to ISIS. The video ends with one of the captured soldiers being shot dead for refusing to pledge his loyalty to the Islamic terrorist group.
According to a translation of the footage by Sky News, militants can be heard ordering the Iraqi soldiers to chant ISIS slogan "Baqiya", which basically means "(ISIS) will remain in existence" or "Islamic state will stay".
The video shows ISIS gunmen taunting four captured soldiers, whose hands are tied behind their back.
Among the soldiers, one can be seen bleeding profusely because of an injury. one by one, the militants make each soldier swear allegiance to ISIS while pulling at their hair. One Iraqi soldier, despite repeated threats, refuses to swear his loyalty and is shot dead.
In the video, filmed on a mobile phone, a militant can be heard shouting "I killed a Shia, I killed a Shia", after killing one of the soldiers.
Sunni militant group Islamic State of Iraq and Syria (ISIS), which also goes by the name Islamic State of Iraq and the Levant (ISIL), has been on a killing spree in Iraq, with one sole motive - to establish a Sunni dominant Islamic state in the country.
As of now, the militant group has seized much of northern Iraq and are advancing towards the capital.
The bloodthirsty Islamist group, which is hellbent on overthrowing the Iraqi government, claims to have massacred 1,700 soldiers and posted a series of gory pictures on Saturday. The shocking images of the mass execution of Iraqi soldiers had raked up an uproar among the international community.
A total of 60 pictures were live tweeted by the ISIL militants. The initial images showed Shiite soldiers being flocked into trucks. Later, the group is seen lying face down in the dirt, with their hands tied behind their back. A Sunni militant is then seen firing an AK-47 at them.
Appalled by the situation in the country, the UN has said that an estimated 500,000 people have been forced to flee their homes to escape the violence. While according to UN Human Rights Chief Navi Pillay, the the organisation was alarmed by reports that the number of people killed in summary executions and extrajudicial killings "may run into the hundreds".
US President Obama has sent in nearly 300 marines to Iraq to secure American assets in the country. The US has maintained that the forces are purely to provide security to the US Embassy and other American bodies.