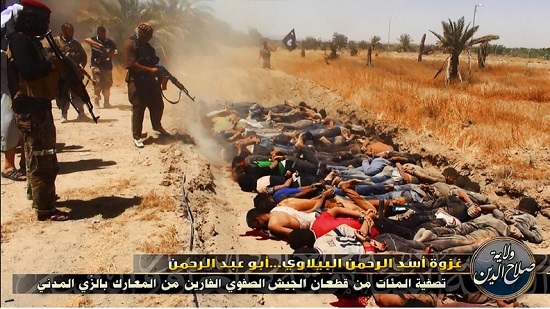 Shocking images of the mass execution of Iraqi soldiers, detained by militants from the jihadist group Islamic State of Iraq and the Levant (ISIL), have now surfaced online.
The militant group that seized much of northern Iraq has now posted photos which show its fighters shooting dozens of captured Iraqi soldiers.
The photographs were first released on a Twitter handle, belonging to ISIL. About 60 pictures were posted by the ISIL account before being suspended for violating rules.
The initial images show dozens of Shiite soldiers being driven in trucks and being forced to lie face down in the dirt, with their hands tied behind their back.
#ISIS release 60 photos of fighters executing Iraqi soldiers in Salah al-Din province round Tikrit. Shocking. #Iraq pic.twitter.com/Rvr889ZCk1

— Jon Williams (@WilliamsJon) June 15, 2014
In the next pictures, a Sunni militant is seen firing an AK-47 at them, and the next frame shows piles of lifeless bodies, with blood oozing out.
All photos were posted on ISIL-aligned account - @w_salahadden - that had 27,800 followers, before it was suspended. The captions of the images say that the killings were to avenge the death of an ISIL commander Abdul-Rahman al-Beilawy.
Earlier on Saturday, ISIL had announced via its Twitter accounts that it executed 1,700 Shiite soldiers, while pardoned several Sunni soldiers.
With several militant groups taking to Twitter now, the micro-blogging site has finally started to act. Twitter, according to its own guidelines, suspends accounts found to show excessive violence, or by the request of world governments. Following the photos of the mass killing, Twitter on its own has now suspended four to five accounts, belonging to the ISIL.
The UN has said that an estimated 500,000 people have been forced to flee their homes to escape the violence. According to United Nations Human Rights Chief Navi Pillay, the UN was alarmed by reports that the number of people killed in summary executions and extrajudicial killings "may run into the hundreds".
In the meantime, US Defense Secretary Chuck Hagel has ordered aircraft carrier USS George H.W. Bush into the Persian Gulf from the North Arabian Sea.