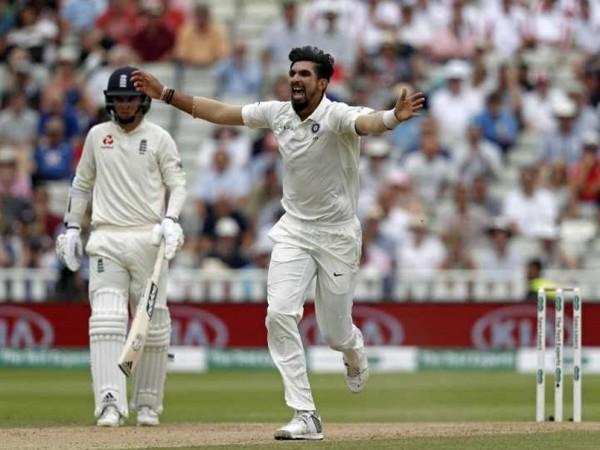 After breaking the back of the England middle order on the third day of the ongoing Test match, Ishant Sharma has credited his successful county stint with Sussex as being very important for him to gain experience and confidence to bowl in English conditions.
"Playing county cricket has helped me a lot. I was disappointed a bit (on missing out IPL) but I figured whatever happens it's for your good. It was a good experience and I enjoyed it a lot. I played for Sussex and bowling with Duke's ball was good," Ishant said at the press conference.
County experience really helped
Speaking about gaining experience, Ishant said that he had bowled nearly 250 overs for Sussex and this experience has really helped him in the ongoing Test series.
In the post-lunch session, Ishant came around the wicket and forced the English batsman to play at most of his deliveries and got rid of left-handers Dawid Malan and Ben Stokes. He also accounted for Jonny Bairstow with an absolute peach which pitched on middle stump and nipped away to grab the outside edge.
"In the first innings, we wanted to take the ball away from the left-handers. I started over the stumps but when the ball started to do things I came around.
"Bowling coach told me to come around the stumps straightway. It becomes a difficult angle for the batsmen. When I start to swing the ball, it becomes very difficult for the left-handers," he further added.
Speaking about India's chances, Ishant said that with Kohli there at the crease, India should achieve the target.
"He (Kohli) is someone who always gives you positive energy and that is a big thing as a captain. He always wants to do something special for Team India and everybody knows how professional he is," he said.
India still need 84 runs to script a historic win and Dinesh Karthik along with Virat Kohli hold the key for the visitors with Hardik Pandya waiting in the wings.
"It gives us a lot of confidence because Virat has scored 150-odd in the last innings. DK got out cheaply in the first innings, but you can see that he has positive intent," Ishant added.