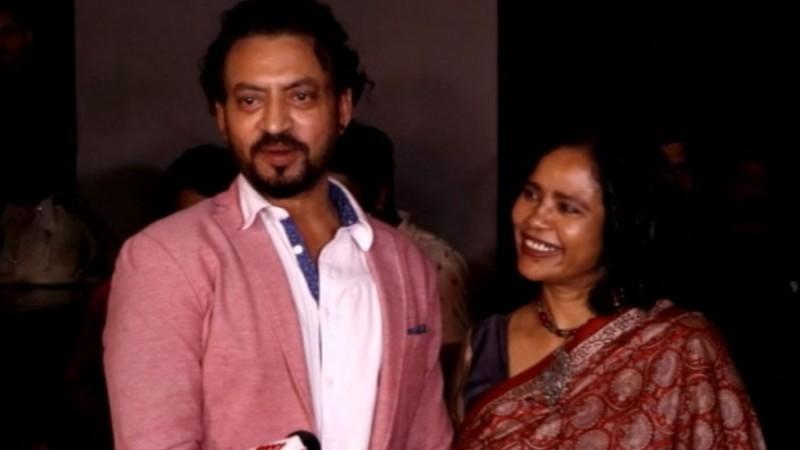 A few days ago, Irrfan Khan left his fans worried with his tweet on being diagnosed with a rare disease. This led to a lot of speculations regarding his health.
However, now his wife Sutapa Sikdar has opened up about Irrfan's heath in a long Facebook post. Referring her partner as a 'warrior', Sutapa said that the actor would emerge victoriously. She is humbled by the wishes and prayers from well-wishers and fans across the world.
"My best friend and my partner is a 'warrior' he is fighting every obstacle with tremendous grace and beauty. I apologize for not answering calls msgs, but I want all of you to know I am truly humbled indebted forever for the wishes prayers and concern from all over the world.
I am grateful to God and my partner for making me a warrior too. I am at present focused on the strategies of the battlefield which I have to conquer. It wasn't and isn't going to be easy but the hope ignited by the magnitude of family, friends, and fans of Irrfan has made me only optimistic and almost sure of the victory.
I know curiosity germinates from concern but let's turn our curiosity from what it is to what it should be. Let's change the leaf. Let's not waste our precious energies to only know what it is and just prey to make it what it should be [sic]" wrote the actor's wife.
Read the entire post below:
For the uninitiated, on March 5, the Hindi Medium actor tweeted that he is suffering from some "rare disease" and requested people not to speculate anything. He also said that the complete diagnosis would take around a week to 10 days, following which he would reveal details on his health issue.
"Sometimes you wake up with a jolt with life shaking you up. The last fifteen days, my life has been a suspense story. Little had I known that my search for rare stories would make me find a rare disease. I have never given up and have always fought for my choices and always will. My family and friends are with me and we are working it out the best way possible. In trying times, please don't speculate as I will myself share with you my story within a week – ten days when the further investigations come with a conclusive diagnosis. Till then, wish the best for me!, (sic)" the statement read.
The speculations regarding his health gave rise to reports of the actor being diagnosed with brain cancer. Many Bollywood celebrities including Sonam Kapoor and trade Analyst Komal Nahta came out in the defense of Irrfan, claiming that the reports were untrue.