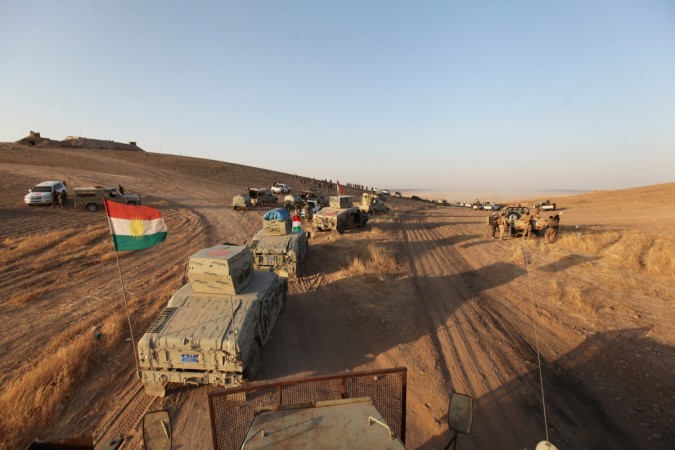 The Islamic State group, which is constantly being pushed on the back foot in both Iraq and Syria, is currently battling to hold on to its Iraqi stronghold of Mosul.
On the military front, the group that is also known as Islamic State of Iraq and Syria (Isis) or Islamic State of Iraq and the Levant (Isil) has not only declared emergency in Mosul, but also deployed special forces along its borders. On the civilian front, it is continuing with the strict and cruel regime, the most recent example of which was the flogging of 14 barbers for a trivial reason.
That Isis has been losing its grip in the region was underscored by the fact that the Nineveh Operations, a group in the eponymous governorate, of which Mosul is a part, repulsed an Isis attack recently. The operations command told Iraqi News that Isis had attacked at dawn on Tuesday, adding: "The clashes lasted for five hours and resulted in the killing of 70 Isis members, as well as detonating seven booby-trapped vehicles."
Following the failure of attack and the advance of the opposition forces — including the U.S. backed forces and the Kurdish Peshmerga forces — in various parts, Isis declared emergency in Mosul on Thursday.
Source told Iraqi News: "The international coalition airstrikes on Tuesday and Wednesday destroyed gathering points and headquarters of Isis in the forest areas in Mosul, and also destructed an Isis headquarters in al-Imam al-Azam College."
It emerged later on Thursday that the extremist group had taken further precautions in Mosul. "Isis has deployed the 'Gray Battalion' — an elite security formation founded by [Isis chief Abu Bakr] al-Baghdadi — at the main entrances of Mosul to oversee the processes of inspection of vehicles and people."
Meanwhile, less than a week ago, sources had told Iraqi News: "Isis members flogged 14 barbers with 20 lashes each, after abducting them from different areas of Mosul and detaining them for a week, as well as preventing them from working for a month. The barbers were flogged for violating the ideological standards of the organisation."
The group is clearly trying its best to hold on to its strongholds in Iraq and Syria. However, there are concerns, like those raised by Iran and Russia recently, that Isis is building a base in Afghanistan, where it has recruited 2,500 people.