Have you heard of Varun Chakravarthy? Well, you will hear no end of him now. Varun started at a base price of Rs 20 lakh going into the auction and is now worth Rs 8.4 crore in the Indian Premier League market.
Varun was not on anybody's list – not even on the unknown players to watch for. But within a matter of minutes, madness ensued as an intense bidding battle between Kolkata Knight Riders and Kings XI Punjab saw the Tamil Nadu player become a millionaire.
Mystery spinner?
Off spin. Leg spin. Googly. Flipper. Carrom Ball. Yorker. Topspinner. By the looks of it, Varun indeed seems like a top spinner.
Varun began playing cricket as wicket-keeper and continued behind the stumps till he was 17. But, after being rejected several times in age-group cricket he ditched the game and pursued a degree in architecture at SRM University in Chennai. After completing his course, Varun started out as a freelance architect and played tennis-ball cricket. This rekindled his passion for cricket following which he quit his job and joined CromBest Cricket Club as a seam-bowling all-rounder, reports ESPNcricinfo.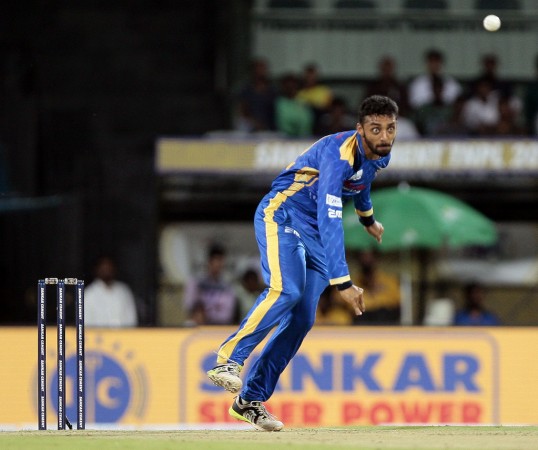 It was only after he sustained a knee injury that he decided to become a spinner.
Varun had a terrific Tamil Nadu Premier League where he spun Siechem Madurai Panthers to the title with nine wickets at an astonishing economy of 4.7. This brought him into the limelight. Until last year, he was just a fourth division player. Now, he's worth Rs 8.4 crore apart from being the second highest wicket-taker of the recently concluded Vijay Hazare Trophy.
First taste of IPL?
No. Although Varun has not officially played in the IPL, he bowled in the nets of Chennai Super Kings and spent some time with Kolkata Knight Riders at Eden Gardens.
"Net bowlers are usually from first division or Ranji trophy level, and I was only a fourth division cricketer," Varun says. "I just called Mr TS Mohan sir in TNCA and convinced him somehow to give me a chance. He was nice enough to consider me, and I ended up bowling to the CSK superstars.
"But just when it was coming out well, Chennai's matches were shifted to Pune. I was very sad. Suddenly, everything went blank again and for 15-20 days nothing happened.
"Suddenly AR Srikkanth, the video analyst of KKR called me through Dinesh Karthik. I stayed with the KKR team for 10 days."
That explained the interest of KKR in the player and Dinesh Karthik, who was present at the auction, was bullish about his inclusion in the team. But Kings XI Punjab eventually beat the Kolkata franchise acquiring Varun's services.
So from Rs 20 lakh to Rs 840 lakh – a 42-time multiplication – Varun will have a few parties to throw in Tamil Nadu tonight.