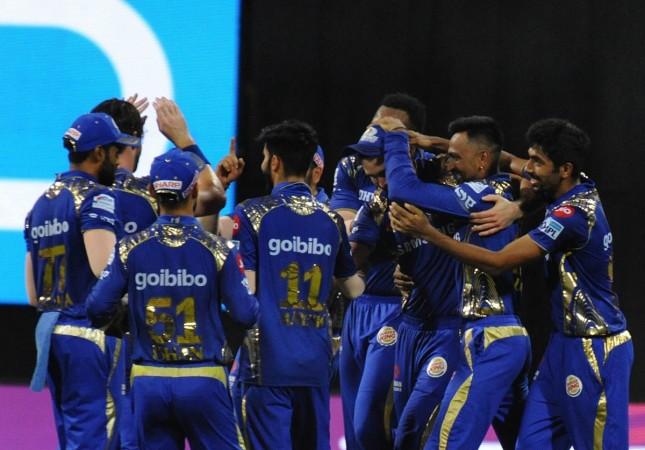 Cricket fans couldn't have asked for a better weekend as five teams that are in the race for the remaining two playoffs spots of Indian Premier League (IPL) 2018 will be in action on Saturday (May 19) and Sunday (May 20).
Sunrisers Hyderabad (SRH), who are on top of the points table with 18 points from 13 matches, and their nearest-rivals Chennai Super Kings (CSK), with 16 points from 13 matches, have comfortably sealed their berths in the knockout stages.
Barring Delhi Daredevils, five teams -- Kolkata Knight Riders (KKR), Mumbai Indians (MI), Royal Challengers Bangalore (RCB), Rajasthan Royals (RR), Kings XI Punjab (KXIP) are still in the race.
Four teams can finish tied on points at 14 each at the end of the last league game — CSK vs KXIP — on Sunday. Net Run Rate (NRR) will be the deciding factor if such a situation emerges.
IBTimes, India looks at qualification scenarios for each of the five teams who are battling for the remaining two playoffs spots.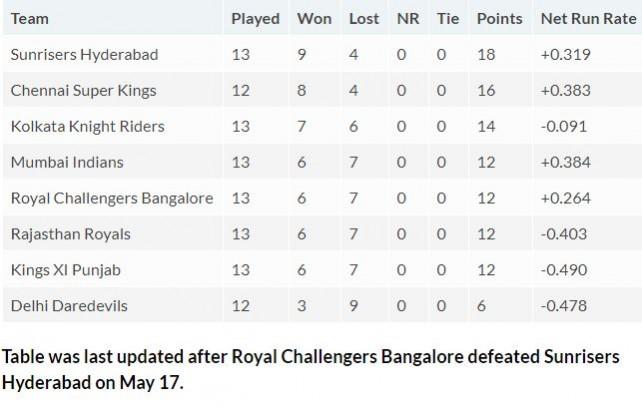 KKR playoff qualification scenario
It cannot get simpler than this for KKR. The two-time champions need to SRH in Saturday's evening encounter at the Rajiv Gandhi International Stadium, Hyderabad.
Dinesh Karthik's men are currently sitting third, with 14 points and an NRR of -0.091. A win will take them to 16 and assure them a place in the playoffs.
KKR can even finish second if they beat SRH by a good margin and MS Dhoni's CSK lose their last two matches.
However, a defeat on Saturday might even see them knocked out of the tournament. If KKR lose to SRH, they will be hoping Mumbai Indians (MI) and Royal Challengers Bangalore (RCB), teams with positive NRR among the five contenders, lose their respective last league matches.
MI playoff qualification scenario
MI, the team with the best NRR among the five contenders, will be through to the playoffs if they win big against wooden spooners Daredevils on Sunday, May 20.
If even MI find themselves part of a four-way tie (14 points), they are most likely to qualify, given their positive NRR of 0.384.
However, they will be knocked out if they lose to the Daredevils.
MI also have an advantage of knowing what is required of them in their last match as they will be playing after KKR, RCB and RR complete their final league games on Saturday.
RCB playoff qualification scenario
RCB, who are currently placed fifth with 12 points, also have a healthy NRR — 0.264.
Virat Kohli's men need to beat the Royals on Saturday to stand a chance of qualifying for the playoffs. By doing so, RCB will also knock out Ajinkya Rahane's men.
However, a win on Saturday doesn't guarantee them progress to the knockout stage.
RCB will have to have a better NRR than MI in case of a four-way tie on 14 points.
Both MI and RCB can progress to the playoffs if they win their respective final games and KKR lose theirs.
RR playoff qualification scenario
RR's negative NRR (-0.403) puts them in a tricky situation in the race for playoff spots. The Royals need nothing less than a huge win against RCB on Saturday if they are to stay alive in the competition.
RR will be in a better position if they win and both MI and KXIP lose their last two league matches.
KXIP playoff qualification scenario
Depleted Kings XI, who have lost five on the trot, need a miracle to secure a playoff berth.
R Ashwin's men need to win and win big against CSK in the final round-robin match of the ongoing season on Sunday.
KXIP will be well served if RCB lose by a small margin to RR and MI get a thrashing from the Daredevils.
KXIP's NRR of -0.490 is the worst among eight teams in the league.