Shane Watson said he is excited about playing under 'the great' MS Dhoni and becoming a part of Chennai Super Kings' (CSK) history in the upcoming 11th edition of Indian Premier League (IPL).
| CSK full squad |
However, the former Australian all-rounder conceded he will "feel strange" playing for the Men in Yellow, who were "big rivals" of his former franchise -- Rajasthan Royals.
Also read: CSK player racially abused in South Africa-India ODI [Video]
Watson had played for Royal Challengers Bangalore (RCB) between 2016 and 2017 after Rajasthan were suspended over corruption charges in 2015.
He had been an integral part of Rajasthan ever since the inaugural edition of the cash-rich league in 2008.
Watson scored 472 runs and picked up 17 wickets in their title-winning run in the same year. Notably, he dismissed Suresh Raina and hit a quickfire 28 in the final, which Rajasthan won by three wickets against CSK.
With RCB not retaining Watson, the all-rounder was up for grabs at the IPL auction, which was held in Bengaluru on January 27 and 28. He was eventually bought by CSK for Rs 4 crore.
Also read: Anil Kumble rates Chennai Super Kings' performance at IPL 2018 auction
"It is going to be a real honor to play for such a great franchise with the history that the Chennai Super Kings have, and the thought of playing under the great MS Dhoni excites me a lot," Watson said, as quoted by CSK's official website.
He added: "It is going to be a little strange initially as CSK were one of Rajasthan's big rivals which started way back in the first year of the IPL. But it won't take that long to subside."
"Any CSK squad with Dhoni, [Suresh] Raina and [Ravindra] Jadeja as a starting point is going to be incredibly good and is always going to compare really well to the previous years."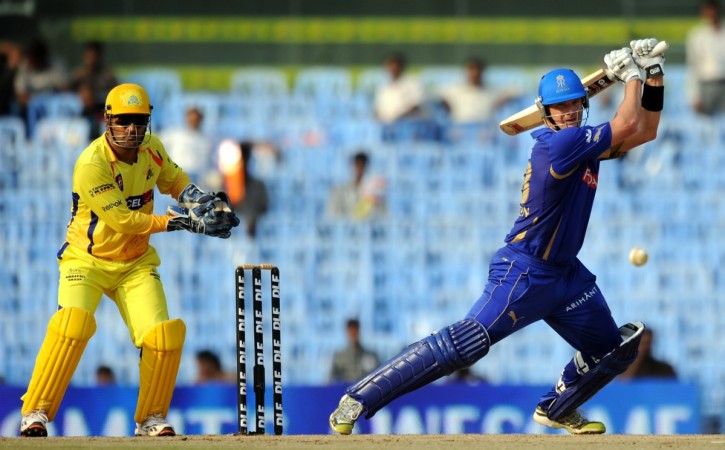 'Still love playing the game'
The 36-year-old also said he is feeling motivated to compete hard despite not playing international cricket for Australia.
Watson, who played 59 Tests, 190 ODIs and 58 T20Is in his 14-year-long career, retired from international and first-class cricket after World T20 2016 in India. Ever since, he has been a T20 globetrotter, playing in the cash-rich league across the world.
Watson was leading Sydney Thunder in Australia's Big Bash League 2016/17. Despite his team finishing a disappointing sixth in the eight-team league, the right-hander was in imperious form with the bat, amassing 331 runs in 10 matches.
"I still absolutely love playing the game which is an easy motivation in itself. I still love the thrill of the unknown of every game and I am extremely competitive and so I have no problem with motivation at all for each game," Watson added.