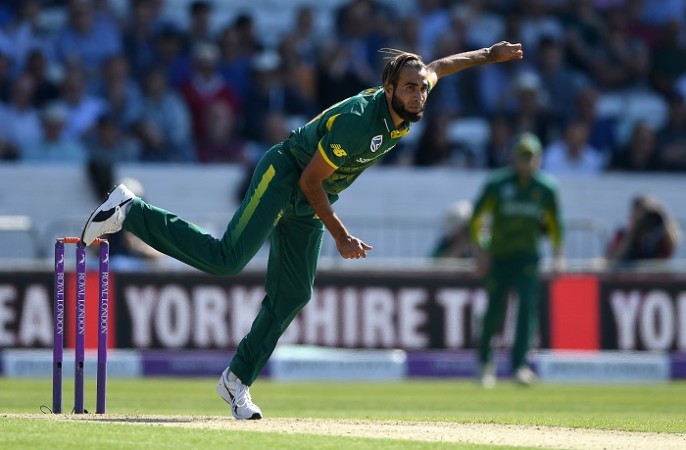 South Africa's victory over India in the fourth One Day International in Johannesburg on Saturday (February 10) has been soured by an incident of racial abuse, Cricket South Africa (CSA) has confirmed today (February 12).
Proteas won the rain-hit Pink ODI by five wickets at The Wanderers to pull one back in the six-match series. Virat Kohli-led India hold a 3-1 advantage with the fifth ODI set to be played in Port Elizabeth tomorrow (February 13).
Also read: SA-India series schedule
During the fourth ODI, hosts' legspinner Imran Tahir was verbally and racially abused by an unknown man at the stadium. He was not part of the Playing XI.
In a video which is available on Youtube, Tahir is seen involved in an altercation with a fan in one of the stadium's stands.
"Cricket South Africa has noted and is aware of the circulation of video footage featuring Imran Tahir on social media and Whatsapp groups," CSA said in a media release on Monday.
The 38-year-old Pakistan-born spinner was recently bought by two-time champions Chennai Super Kings (CSK) at the Indian Premier League (IPL) 2018 Players Auction in Bengaluru. He won a Rs 1 crore bid from the franchise.
CSA added that there was "no physical contact" and the spectator was ejected from the venue by security personnel.
"Imran Tahir was verbally and racially abused by an unknown man during the fourth One-Day International (ODI) against India at the Bidvest Wanderers Stadium on Saturday. Tahir reported the incident to the stadium security, and was subsequently accompanied by two security personnel to identify and to have the man ejected from the stadium. Tahir made no physical contact with the offender or any of the children in the vicinity. The incident is under investigation with the CSA and stadium security teams.
"In accordance with the ICC Anti-racism code, spectators who engage in racist conduct are to be ejected from the stadium and can face further sanctions and criminal prosecution," CSA added.
Tahir has played 20 Tests, 84 ODIs and 36 T20Is for South Africa. He featured in the opening three ODIs against India but was dropped for Johannesburg game. Recently he had tweeted that he was learning Tamil ahead of joining CSK in April for IPL 2018.