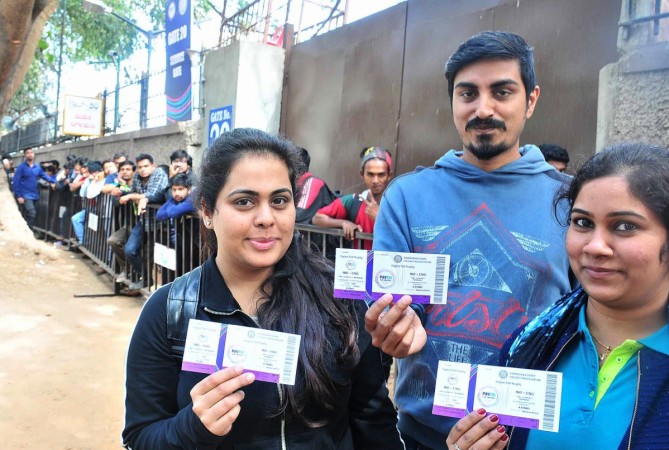 For the first time in the history of the Indian Premier League (IPL), will the Aadhaar (Aadhar) card be made mandatory for the purchase of tickets? This is going to be implemented for all the home matches of Royal Challengers Bangalore (RCB) at M Chinnaswamy Stadium in Bengaluru this IPL 2017.
The cricket tournament is set for an April 5 start this year and the tickets aren't out as yet. We have the IPL 2017 auction this Saturday in Bengaluru, where a plethora of domestic and international cricketers go under the hammer.
READ: Retained players for IPL 2017 | Players released: Full list.
Here's all you need to know
Why is the Aadhaar card mandatory for IPL 2017 matches in Bengaluru
Blame it all on the Bangalore mass molestation that took place on December 31, 2016. The Bangalore Police have stepped up security in every possible way to curb any further untoward incidents in the garden city.
The police have asserted on having the identity of every single ticket buyer for enormous security checks. "The biggest threat to security is anonymity. So this is an important step to enhance security," mentioned Chandragupta, DCP, Bangalore Central.
"This would help us a lot in improving security at the venue. Let us see how this pans out," he adds.
Where will the tickets be available
Online portals - BookMyShow, Ticketgenie.
Offline tickets - Several retail outlets across the city, Stadium box office at the venue.
What cricket fans in Bengaluru will have to do
Tickets from stadium box office: The buyers will be asked to give a fingerprint at the venue to check their Aadhaar details before getting the tickets.
Online tickets: The buyers will have to type in their Aadhaar number before checking out. Following that, every single person with an online ticket code will have to undergo a biometric verification test, at the time of collecting the tickets from the stadium counters.
What is an Aadhar card
According to Aadhar Card Kendra, Aadhaar card is a 12-digit unique identity number issued by the Unique Identification Authority of India (UIDAI). In simple terms, it is a number that serves as a proof of identity and address, anywhere in India.
Kids as old as one year can also apply for this. Enrolment is free of cost. Get you Aadhaar card here.