The Royal Challengers Bangalore just want this season to end. Another solid bowling performance was followed by yet another woeful batting one, as RCB crashed to their ninth loss of the season, while Kings XI Punjab stayed well in contention for a playoff place in IPL 2017.
With the Chinnaswamy crowd expecting at least one that's-more-like-it performance from their home team, RCB looked to be going that way when they kept KXIP to 138.
However, the chase was an absolute disaster again, with Chris Gayle, Virat Kohli and AB De Villiers all failing with the bat, before the eventual collapse led to another horrific defeat.
You would have thought that the big-name RCB batsmen, with the pressure completely off, considering RCB are out of contention for a top four place, would have just gone hammer and tongs at this small total and finished the game off in a hurry.
However, that hasn't been how RCB's season has gone has it.
Again, the batsmen let themselves down by giving away their wickets.
The first to do so was Gayle (0, 2b), who came down the track to Sandeep Sharma, only to find an outside edge which went straight to Martin Guptill at backward point.
Then, in Sandeep's next over, Kohli (6, 6b, 1x4), who came in at No.3 this time, took an ugly swipe and saw the wickets take a hit.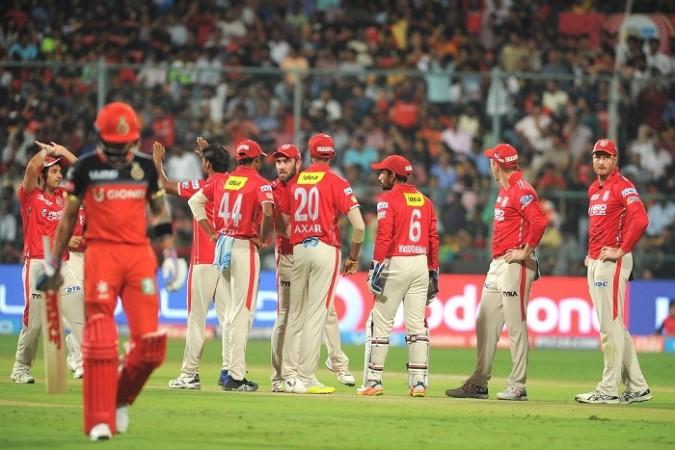 Sandeep, coming off a four-for in the last game, wasn't done yet.
Given a third over by Glenn Maxwell, the KXIP fast bowler, after getting hit for a four and a six by De Villiers (10, 6b, 1x4, 1x6), made it three out of three RCB superstars by finding the outside edge of the South African.
Now, at 37/3, RCB could have crumbled, like they so have done in IPL 2017, or the likes of Mandeep Singh, who opened the innings, and Kedar Jadhav could put their hands up and take their team home.
Jadhav (6, 6b, 1x4) decided today wasn't his day to do that, duly giving his wicket away to Mohit Sharma.
And after Shane Watson (3, 6b) failed with the bat again, Mandeep (46, 40b, 5x4, 2x6), the only RCB man who looked capable of taking his team home, was castled by the KXIP captain Maxwell.
It looked all over for RCB at that point, but Pawan Negi refused to let another game slip away. The left-hander kept at it, hitting a couple of boundaries and doing what any finisher should do – take the game deep. Or at least that was the plan, until Axar Patel got the big wicket, when Negi (20, 21b, 2x4) mistimed a big shot attempt off the first ball of the 18th over.
With Axar smashing the stumps of Badree (8, 9b) off the next ball, the game was done.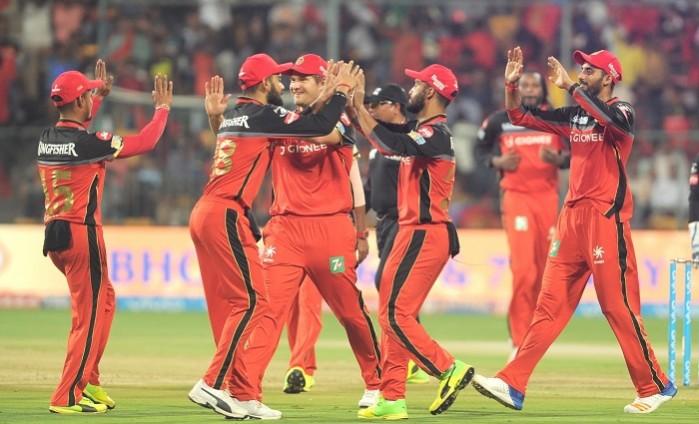 Kings XI did not get going at all in their innings, and if not for a last over blitz from Axar they wouldn't have even made 130.
Hashim Amla was the first wicket to go and it was in bizarre fashion. Aniket Choudhary, in the first over of the innings, got one ball to slide across, Amla looked to have played and missed, but just like that he started walking.
There was no appeal from any player, but with Amla (1, 3b) walking, RCB had their first wicket. The ultra-edge showed a slight nick as the ball passed the bat.
Guptill (9, 10b, 1x4) tried to take the attack to the RCB bowlers in the Powerplay, looking to hit the ball over mid-off, and while he got one alright, the next attempt went awry, with the slower ball from S Aravind doing the trick.
Shaun Marsh (20, 17b, 3x4) looked good while he was in the middle, hitting a couple of glorious cover drives, which isn't easy to do on this slow pitch, but the moment he tried to take on the spinners, he lost his wicket, with Pawan Negi the one to take the wicket.
Manan Vohra (25, 28b, 1x4, 1x6) and Wriddhiman Saha then stuck together for a bit, before another big shot attempt led to a dismissal, and after the skipper Maxwell (6, 11b, 1x4) came and went, losing his wicket to the reverse-sweep, KXIP were in big trouble.
The innings settled a little when Saha (21, 25b, 1x4) and Axar added 34 runs in 3.4 overs, but any little bit of momentum that had been built looked to have been sapped away when Choudhary bowled a wicket maiden in the 19th over of the innings.
However, Axar (38 n.o., 17b, 3x4, 2x6) went into boundary mode in the final over, taking Watson for 19 runs, which gave KXIP some kind of momentum and hope of a victory.
Watch the highlights of RCB vs KXIP
IPL 2017: RCB vs KXIP scorecard:
Toss: RCB, who chose to bowl.

KXIP: 138/7 in 20 overs.

RCB: 119 all out in 19 overs.

Result: KXIP won by 19 runs.

Bowling: RCB: Aniket Choudhary 4-1-17-2; S Aravind 2-0-13-1; Shane Watson 4-0-43-1; Samuel Badree 3-0-14-0; Pawan Negi 3-0-21-1; Yuzvendra Chahal 4-0-21-2.

KXIP: Sandeep Sharma 4-0-22-3; T Natarajan 1-0-15-0; Varun Aaron 4-0-28-0; Mohit Sharma 4-0-24-2; Axar Patel 3-0-11-3; Glenn Maxwell 3-0-15-2.

Fall of wickets: KXIP: 2/1, Hashim Amla (0.5 overs); 18/2, Martin Guptill (3.3 overs); 39/3, Shaun Marsh (7 overs); 61/4, Manan Vohra (11.2 overs); 78/5, Glenn Maxwell (13.5 overs); 112/6, Wriddhiman Saha (17.2 overs); 119/7, Mohit Sharma (18.1 overs).

RCB: 1/1, Chris Gayle (0.4 overs); 23/2, Virat Kohli (2.5 overs); 37/3, AB De Villiers (4.5 overs); 52/4, Kedar Jadhav (7.5 overs); 71/5, Shane Watson (10.5 overs); 73/6, Mandeep Singh (11.2 overs); 87/7, S Aravind (13.5 overs); 111/8, Pawan Negi (17.1 overs); 111/9, Samuel Badree (17.2 overs); 119/10, Aniket Choudhary (19 overs).