The Sunrisers Hyderabad have joined the Mumbai Indians in the IPL 2017 playoffs. Needing a win after Kings XI Punjab's recent heroics, Mohammed Siraj inspired a brilliant SRH bowling effort in the second half of the Gujarat Lions innings, before David Warner did what David Warner always does.
While a top two place looks unlikely for the Sunrisers Hyderabad – it could still happen if both KKR and RPS lose their final matches of the league phase – Warner's team will take great heart from the fact that they have given themselves a chance of defending their title.
After putting the Gujarat Lions into bat, SRH pulled things back quite wonderfully, after Ishan Kishan and Dwayne Smith threatened to run away with the game, eventually bowling GL out for 154.
In reply, Warner (69 n.o., 52b, 9x4), who went past 600 runs in IPL 2017, and Vijay Shankar (63 n.o., 44b, 9x4) scored half-centuries – the latter's first in the IPL – as SRH coasted home.
Shikhar Dhawan started the chase in a hurry, smashing three consecutive fours off Pradeep Sangwan in the second over. It looked like Dhawan was in the mood to finish off the match early, but he would fall in the next over to a slower ball from Praveen Kumar.
Praveen would then nick Moises Henriques off as well, leaving SRH, a little light in batting experience, with Yuvraj Singh injured, in little-worryland.
It was going to depend on Warner, because as long as he stayed in the middle, SRH were going to win this game.
Warner did just that, putting on an outstanding partnership with Shankar. There was a bit of luck involved – both batsmen had lives, with Shankar dropped by Dinesh Karthik and Warner given a reprieve by the umpire when he clearly edged one off Ankit Soni – but for the most part, the two batted intelligently, taking very little risk, while making sure the required run rate was always under control.
And thanks to that, a win, and a place in the IPL 2017 playoffs, was the order of the day for the Sunrisers Hyderabad.
The Gujarat Lions innings could not have begun any better and finished any worse.
Kishan was severe on anything that was even remotely short, and there were, puzzlingly, plenty of those. Smith, once he got going, was the usual Smith of the IPL.
When your openers put on a hundred-run stand at over ten runs an over, it takes a collapse of ridiculous proportions to not end up with 200 on the board.
Not only did GL not manage 200, they only just got past 150, with the home side losing all ten of their wickets for 43 runs in just 8.3 overs.
The collapse began when Dwayne Smith (54, 33b, 7x4, 2x6) was trapped in front by Rashid Khan.
Then Kishan (61, 40b, 5x4, 4x6) fell to a nice slower ball from Mohammed Siraj, before Suresh Raina (2, 5b) became the SRH fast bowler's second victim, when the left-hander holed out at deep backward square-leg a couple of balls later.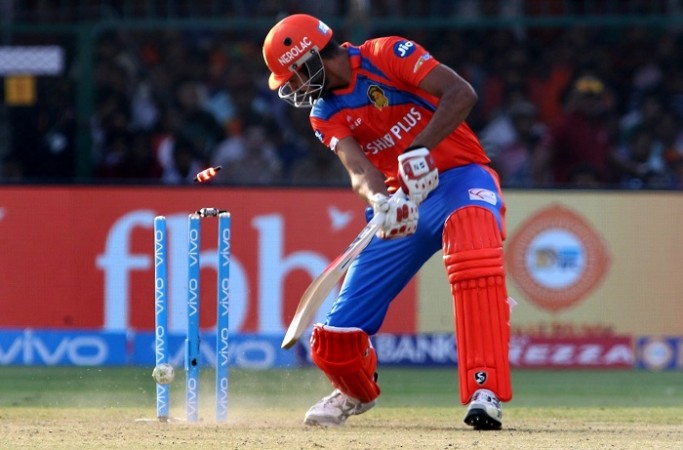 The wickets just kept tumbling, as Dinesh Karthik (0, 1b) picked out Deepak Hooda at deep midwicket off a full toss from Rashid, with Aaron Finch (2, 3b) then throwing his wicket away by going for a big slog-sweep, only to miss it completely and see his timber disturbed.
A couple of overs after that, Siraj would pick up two wickets off his last two deliveries, with both Faulkner (8, 10b, 1x4) and Pradeep Sangwan (0, 1b) hearing the death rattle.
That was a sound that the Gujarat Lions tail-enders heard quite a bit as the ball started to tail-in. Siddarth Kaul would dismiss Ankit Soni (0, 6b) with a nice yorker, before Bhuvneshwar Kumar, off his first two deliveries of the last over, would do the same to pick up Praveen Kumar (1, 2b) and Munaf Patel (0, 1b), with Ravindra Jadeja (20 14b, 2x4), who looked decent in the middle, left stranded.
Watch GL vs SRH IPL 2017 highlights
IPL 2017 Scorecard: GL vs SRH:
Toss: SRH, who chose to bowl.

GL: 154 all out in 19.2 overs.

SRH: 158/2 in 18.1 overs.

Result: SRH won by eight wickets with 11 balls to spare.

Bowling: SRH: Bhuvneshwar Kumar 3.2-0-25-2; Mohammed Siraj 4-0-32-4; Siddarth Kaul 4-0-30-1; Mohammed Nabi 3-0-17-0; Rashid Khan 4-0-34-3; Moises Henriques 1-0-12-0.

GL: Praveen Kumar 4-0-22-2; Pradeep Sangwan 4-0-37-0; James Faulkner 2-0-24-0; Munaf Patel 3-0-22-0; Ravindra Jadeja 3-0-19-0; Ankit Soni 2.1-0-31-0.

Fall of wickets: GL: 111/1, Dwayne Smith (10.5 overs); 120/2, Ishan Kishan (12.4 overs); 120/3, Suresh Raina (13 overs); 120/4, Dinesh Karthik (13.1 overs); 123/5, Aaron Finch (13.5 overs); 142/6, James Faulkner (16.5 overs); 142/7, Pradeep Sangwan (17 overs); 153/8, Ankit Soni (18.5 overs); 154/9, Praveen Kumar (19.1 overs); 154/10, Munaf Patel (19.2 overs).

SRH: 20/1, Shikhar Dhawan (2.1 overs); 25/2, Moises Henriques (3 overs).