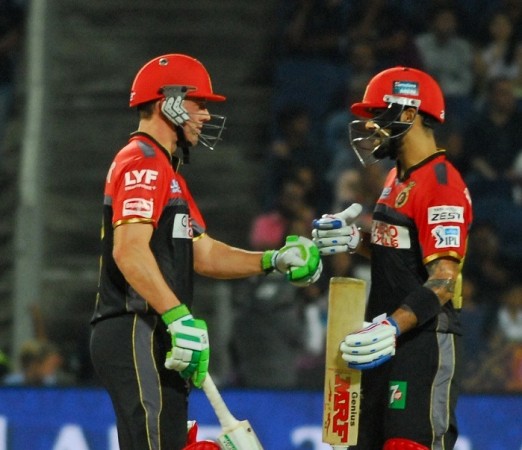 The Royal Challengers Bangalore have some incredible batsmen in their lineup, with bowlers in IPL 2016 on the receiving end of Virat Kohli and AB de Villiers' superhuman batting display. The duo are, without a shadow of doubt, the best batsmen among the current crop of international cricketers, and Pakistan legend Wasim Akram heaped praises on the two RCB stars.
Kohli and De Villiers have scored 919 and 682 runs so far in the competition respectively, which has helped RCB win a number of matches as well. Fans and experts alike might try to draw comparisons and judge who is better.
"Very difficult to compare both of them. They have different techniques, they are different players but are very consistent and match-winners. Not just in this format but in all the formats. That's why these guys are the best in the world," India Today quoted Akram as saying.
Though De Villiers played an outstanding knock of 79 runs from 47 balls to help beat the Gujarat Lions from an impossible situation to help RCB reach IPL 2016 final, Kohli has bagged most of the headlines with his out-of-the-world batting, scoring four centuries in the competition so far. If he manages to score 81 runs in the final, he will become the first person to score 1000 runs in one IPL season, which will take some beating in years to come.
What stands out about Kohli's batting has been his shot selection. In an era, where cricketers play various innovative shots like scoops and switch hits, Kohli scores most of his runs with traditional shots, be it his cover drive, flick or the straight drive.
It is such style of batting, which has impressed Akram, who said that even he will be worried to bowl to Kohli.
"Belief, his ability and on top of that his technique. He always plays proper cricketing shots with the full face of the bat," Akram said.
"That's why he has been very consistent and as a bowler if I had to bowl at him, I will be worried. It's like in ODI cricket when Sachin Tendulkar opened the innings, it was very difficult to bowl at him because Sachin as a batsman and Kohli as a batsman will hardly give you a chance to get them out."
With the IPL 2016 final set to be played in Bengaluru, the home fans will hope to see De Villiers and Kohli shine, and help their team win their maiden title on Sunday.