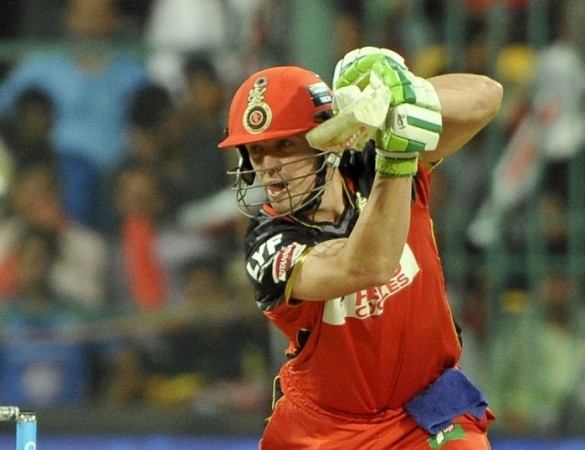 Much of the attention, rightly too, has been on Virat Kohli in IPL 2016, as far as the Royal Challengers Bangalore are concerned, but AB De Villiers showed just why Kohli himself considers the South African to be the best batsman in the world with a knock and a half of ridiculous worth under tremendous pressure. Staring down the barrel at 29/5, with Kohli, Chris Gayle and Shane Watson back in the hut, it looked like RCB would have to take a flight to Delhi and back if they were to be in the final in Bengaluru, but with a capacity crowd roaring him on, De Villiers played one of the knocks of the tournament to zoom his team into the final on Sunday.
In a match that swayed one way and then the other, De Villiers stood tall amidst the RCB ruins, showing just how an innings under pressure should be played to take his team to a third IPL final. The Gujarat Lions will have another crack at setting up a rematch against RCB, when they play the winner of the Eliminator between SRH and KKR in Delhi.
Get the story and quotes on De Villiers' innings HERE
Choosing to field first, the RCB bowlers, led by Shane Watson (4-0-29-4) and Iqbal Abdulla (4-0-38-2), did a splendid job to bowl the Gujarat Lions out for 158 in 20 overs, with only Dwayne Smith (73, 41b, 5x4, 6x6) making any runs of note.
RCB were in deep, deep trouble after losing Kohli and Gayle to the outstanding Dhawal Kulkarni (4-1-14-4), and then a whole lot more, but De Villiers (79 n.o., 47b, 5x4, 5x6) had ice in his veins and with Abdulla (33 n.o., 25b, 3x4, 1x6) showing some real fight with the bat, the duo put on 91 from 54 balls to help RCB home with 10 balls and four wickets to spare.
Disaster struck for RCB in the second ball of the second over, when Virat Kohli, the man who has been unstoppable in IPL 2016 and the batsman who never gets out in a chase, played one on off the bowling of Dhawal Kulkarni to get out for a second ball duck.
Kulkarni was absolutely brilliant with the new ball, recognising the slowness of the wicket immediately, and varying his pace and length to perfection. Having hit Chris Gayle on the helmet with a short ball and nearly picked the big man up off the next delivery off another clever short one, Kulkarni would get his man eventually, with the RCB opener seeing his stumps uprooted after the ball came off his inside edge.
It got a lot worse for RCB, before it got any better, with KL Rahul falling off the next ball, before Watson was dismissed by Ravindra Jadeja in the next over. Sachin Baby then played a poor shot to give Kulkarni his fourth wicket, leaving RCB on 29/5 in 5.3 overs.
However, as long as De Villiers was at the crease, the match was not done, and Stuart Binny hung around with his more experienced partner for 39 precious runs. When Binny (21, 15b, 2x4, 1x6) fell to Jadeja, off a poor lbw decision from the umpire, RCB needed 91 from 62.
The required run rate was not the problem, the wickets column was. All De Villiers needed was someone to stick around with him at the other end and give him as much of the striker as possible, and Abdulla did that quite well, allowing the great man to do what he does best.
What brilliance it was too. When De Villiers switches up a gear, he does it with such consummate ease and there really is nothing any bowler can do. From needing over 10 runs an over, a few De Villiers slams quickly brought that down to eight and then seven and then six, before Abdulla got in on the act as well, hitting a hat-trick of boundaries off Bravo in the penultimate over, to seal the match.
Earlier, RCB got their bowling innings off to the perfect start, with Kohli's decision to give the new ball to left-arm orthodox Abdulla working like a charm. After a tight first over from Sreenath Aravind, Abdulla picked up the prized wicket of Brendon McCullum off the first ball of the second over, with the New Zealander holing out to AB De Villiers at long-off. McCullum wanted to lift the ball more towards long-on, but the ball turned just enough to catch the outer bottom of the bat and loop to De Villiers who made no mistake with the catch.
It only got worse for GL, as Aaron Finch, the other opener, got caught in the slips by Chris Gayle, with that bit of turn away doing the trick again, as the Australian closed the bat face too soon.
With the two openers gone for little to nothing, the onus was on the captain Suresh Raina to build a partnership with Dinesh Karthik, but the left-hander fell prey all too easily to the short ball. It is so easy to lay that particular trap for Raina, and even if it was obvious for everyone at the ground that a short ball was coming from Shane Watson, most likely a slow one, Raina did not read it well enough, placing the ball into the hands of Aravind at short fine-leg.
At 9/3 in 3.4 overs, the Gujarat Lions were in big trouble, but Smith stepped up quite brilliantly, going on a counter-attack to build some sort of momentum for his team. Smith and Karthik put on 85 runs in 10 overs for the fourth wicket, with Karthik scoring just 24 of those, and with a bit of momentum back on their side, GL started to think of getting to a target that might give them a sniff.
Even when Smith fell in the 17th over, the Lions did not panic, getting 37 runs from the final three overs, courtesy a quick 19 (9b, 1x4, 2x6) from Eklavya Dwivedi, to get near that 160-mark, which, of not for a De Villiers wonder innings, would have been enough.