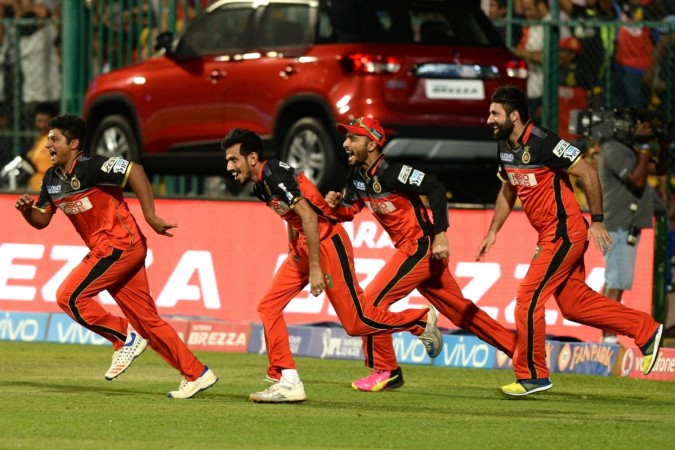 Sunrisers Hyderabad played some brilliant all-round cricket to help David Warner's team win their first IPL title, defeating RCB by eight runs in Bengaluru on Sunday.
SRH derserved the title, after their batsmen scored 208 runs in the first innings. David Warner played a huge hand in that total, scoring 38-ball 69, and Ben Cutting finished off the innings in a grand style, as he hit an incredible three sixes in the final over. Cutting played an integral part in helping SRH score more than 200 runs.
With such massive runs on the board, RCB had to get off to a great start. Chris Gayle and Virat Kohli did that, scoring 114 runs for the first wicket. Both Gayle and Kohli scored half-centuries, but RCB could not get back into the game after losing their openers.
After losing AB de Villiers and Shane Watson, it was always going to be tough for RCB, who lost wickets at regular intervals, which led to RCB's downfall. However, RCB will be disappointed to lose the title, after having come into the final, winning five matches on a trot. They were outplayed by the brillance of SRH bolwers, and David Warner's captaincy, along with Ben Cutting's all-round skills.
With this loss, RCB have finished runners-up for the third time in IPL history.
SRH win their first IPL title.
19.6: Abdulla hits a boundary in the final ball, but that only makes SRH happy as Warner's team win the match by eight runs. RCB 200/7, 20 overs
19.5: Baby takes a single, as he hits it straight to short-third man
19.4: SRH are rejoicing. They have won the match with one leg-bye in the fourth ball. Two legal balls, and the game is SRH's
19.3: Ojha runs out Jordan, and the game is more or less over for RCB, who need 15 runs from 3 balls. Not impossible, but rather difficult
19.2: Low full toss from Bhuvi as he cannot time the ball
19. 1 over: One run only, full toss from Bhuvi, but Jordan cannot connect well
11:33: Sran drops an easy catch. Jordan top edges the ball, only to be dropped by Sran. Three runs from first three balls. A huge dive from Warner, who saves a boundary. Just two runs. Baby hits a six. Can RCB cript a dramatic win in the final over? RCB 191/6, 19 overs, (Baby 15, Jordan 2), need 18 runs from 6 balls
11:29: Binny goes for a huge shot, does not middle the ball, but he is out as the batsman looks keen to keep strike, and SRH runs him out. RCB 180/6, need 29 runs from 11 balls
11:27: Yorker from Bhuvi, who bowls a dot ball. The bowler has been spot on, another full ball, just a single. Bhuvi bowls a low full toss, which is never easy to hit, only one run. This is amazing stuff from Bhuvi, bowling yorkers at will. Baby reverse sweeps Bhuvi for an important four, with the fielder inside 30 yards circle. RCB 179/5, 18 overs, (Baby 7, Binny 8), need 30 runs from 12 balls
11:23: Binny can strike big, and he does that, a straight six over the bowler's head. Binny keeps the strike, as he takes a single. RCB 172/5, 17 overs, (Baby 2, Binny 7), need 37 runs from 18 balls
11:21: Mustafizur on the money, with his first ball. Perfect yorker to Watson in the first, and takes a couple after hitting the bowler for a powerful straight drive. SRH in the driver's seat as Watson is gone, trying to hit a maximum, and top edges the ball. That was an off-cutter from the Bangladeshi bowler. RCB 164/5, need 45 runs from 21 balls
11:17: Baby plays a dot ball, but he needs to score runs in boundaries. Watson takes a single. Great over, four runs and a wicket. RCB 162/4, 16 overs, (Watson 9, Baby 1), need 47 runs from 24 balls.
11:14: Cutting to Rahul - the Indian batsman takes a single. With Mustafizur and Bhuvi bowling the last four overs, RCB need to make this over count. Powerful shot from Watson, only one run. Rahul plays across the line, and is bowled. It was a off-cutter from Cutting. RCB 160/4
11:08: Two runs from the first 2 balls, but they need fours. Watson needs to take responsibility. The SRH bowlers are on top now, as RCB have just scored three runs from first four balls. Watson hits a six, straight down the ground, but they need more of these. RCB 158/3, 15overs, (Rahul 10, Watson 7), need 51 runs from 30 balls.
11:04: Rahul finishes off the over with a single. RCB 149/3, 14 overs, (Rahul 8, Watson 0)
11:03: KL Rahul sweeps Bipul for a four, and pressure on the bowler straight away, takes single next. De Villiers square cuts the ball for another single. Bipul has been good after that boundary, three singles only, and the game has changed on it head as De Villiers loses his wicket. RCB 148/3
10:58: KL Rahul takes a single. RCB 141/2, 13 overs, (De Villiers 4, Rahul 1)
10:56: Sran to De Villiers, and the South African plays the ball to long leg for a single. Superhuman Kohli hits a six, and reaches his 50. That was an amazing shot over extra cover, coming down the track to a fast bowler. Superb running from the pair as they complete two runs. Kohli is gone, bowled by Sran. He looks gutted. RCB 140/2
10: 52: De Villiers gets off the mark with a single, and Kohli uses his powerful wrist for a short arm jab to hit yet another four. That was mighty Kohli at his best. De Villiers takes a single run in the last ball of the over. RCB 129/1, 12 overs, (Kohli 44, De Villiers 3)
10:48: Kohli splits the gap open, with a boundary in the off-side. RCB 120/1, 11 overs, (Kohli 38, De Villiers 0)
10:46: Gayle gets his toe-end of the bat, just one run over the bowler's head. A chance goes begging as Mustafizur fails to latch onto a difficult catch. Kohli is lucky, but not Gayle, who is out while going for another maximum. Gayle goes for 76, dismissed by Cutting. RCB 114/1
10:42: Kohli gets into the act, as Mustafizur bowls a full toss, and the skipper hits a wonderful four. He follows that with a six, coming down the track, and lofts the ball for a sixer. The Bangladeshi bowler comes back strong, two runs in the next three balls. Swing and a miss from Kohli, dot ball. RCB 112/0, 10 overs, (Gayle 75, Kohli 31)
10:38: Kohli strikes the ball hard, and Warner, in the boundary line, goes for a low catch, but the ball falls short, and it goes for a four. That was a valiant effort from Warner in the deep. Gayle is looking dangerous now, as he hits a shot, another flat one, which goes for a maximum. The West Indian is in the mood tonight as he pulls Henriques for a powerful six. 100 comes up, as Gayle is dealing in boundaries. RCB 100/0, 9 overs, (Gayle 74, Kohli 20)
10:34: Slow ball from Cutting, beats Kohli, who takes a single in the second ball. But, Gayle has been lethal against Cutting, who bowls a wide. Gayle hits another six, straight down the ground. Cutting is looking helpless against Gayle, and the left-hander drags the ball from off stump to the leg-side for a single. RCB 79/0, 8 overs, (Gayle 58, Kohli 15)
10:27: Gayle welcomes Henriques to the crease with a maximum, straight down the ground for a flat six. He completes his fifty with that powerful shot. Gayle drives the ball for a single. Kohli picks up a couple, cover drive from the skipper. RCB 69/0, 7 overs, (Gayle 51, Kohli 13)
10:23: Now, the most important phase of the match. Mustafizur Rahman comes into bowl. He has been amazing this season, and just gives away one run in his first three balls. The Bangladeshi bolwer will be keen to get Gayle. Mustafizur appeals for LBW, but there was some inside edge, not out. Just four runs. RCB 59/0, 6 overs, (Gayle 44, Kohli 10)
10:18: Kohli has been quiet so far, as he takes a single and gives the strike to Gayle, who is getting into his groove. Ben Cutting is hit over short third man for a six, not wise from the Australian to bowl short. Gayle goes big, and just uses his power to hit another four. RCB 55/0, 5 overs, (Gayle 43, Kohli 7)
10:13: Gayle misses the ball, no run. There is a need for Gayle to strike his big sixes, and he does that, stand and deliver. That is power from the big West Indian. Good comeback from Sran, who bowls a slower ball. Four from Gayle, who slogs Sran.Gayle is on fire, as he hits his second six of the over. That was a simple flick for maximum. RCB 42/0, 4 overs, (Gayle 32, Kohli 5)
10:08: Bhuvi is bowling well, not giving room to Gayle, who gives the strike to Kohli. The right-hander will hold the key during the run chase. Short ball, too high, declared as a wide. Kohli plays the ball to sweeper cover for a single.Thick inside edge for Gayle, boundary. Lucky West Indian he is, with those boundaries. Gayle has not been at his best so far. RCB 26/0, 3 overs, (Gayle 16, Kohli 5)
10:03: Sran to Gayle, and the left-arm seamer starts with a wide, and beats the batsman with some gentle swing in the next delivery. Gayle comes down the track, and flicks Sran for a couple of runs. Gayle hits a six, which was in the air for ages. It was not from the middle, but toe-end of Gayle's bat. Sran is under pressure, and bowls another wide. Another couple as Gayle pulls in the mid-wicket region. RCB 18/0, 2 overs, (Gayle 10, Kohli 4)
9:57: There is swing for Bhuvi, who is dangerous with the new ball. RCB get their first run on the board as Gayle and Kohli run for a leg-bye. Kohli on strike, as he defends the first ball. Good over so far, one run from the first four balls. Kohli slashes, and produces a boundary. That was thick edge from Kohli, for a lucky four. RCB 5/0, 1 over, (Gayle 0, Kohli 4)
9:52: RCB batsmen are there in the middle. SRH players, led by Warner, walk onto the field, with their eye on the title. It has all boiled down to RCB batsmen vs SRH bowlers in the second innings, which decides the IPL 2016 final.
Take a break. I will come back for the second innings after a while.
That was a brilliant finish from Cutting, who scored 39 runs from 15 balls. The final has been wonderfully set with RCB batsmen, who have been in amazing form in IPL 2016, requiring 209 runs to win. If Kohli and his top order gets going, they can reach the target, but it is not going to be easy against SRH strong bolwing line-up.
9:38: Cutting hits 10 runs from the first two balls, which includes one six that went to the roof of the stadium.Watson looks helpless as he is hit for another six from Cutting, who strikes the ball powerfully over mid-wicket fence. That is brutal from Cutting, who takes a single the next ball, but he gets the strike back. Cutting hits his third six of the over, that is straight down the ground. What a finish from Cutting. 24 runs from the final over, which has helped them compile 208 runs. SRH 208/7, 20 overs (Cutting 39, Bhuvneshwar 1)
9:33: Cutting in strike. He can strike the ball long, and five wides as Ojha fails to stop the ball. Cutting egdes the ball for a boundary. Cutting takes a single in the last ball, keeps strike, which is great for SRH fans. SRH 184/7, 19 overs (Cutting 16, Bhuvneshwar 0)
9:30: Sharma gives the strike to Cutting, who takes a single in the next delivery. Sharma has been handy in the last few games. Can he shine once again? Sharma slices the ball over the point fielder for a four, but is gone in the next ball as he top edges, and is caught easily by Chahal. SRH 174/7.
9:25: Cutting gets a full toss, and hits Watson for a huge six. That is mammoth from the Australian, who needs to play such shots, more. He slices the ball for a boundary in the third man region. 12 runs from the over. SRH 168/6, 18 overs (Cutting 10, Sharma 0)
9: 22: Watson starts off with a wide. Cutting should have hit that full toss for a boundary, at least. Another wide from Watson. Silly cricket from SRH as Ojha runs himself out, when there was no single in the offing. Direct hit from Watson. SRH 158/6
9:19: Naman Ojha hits a boundary, that is all timing from the wicket-keeper, who uses Jordan's pace to hit it right of third man. Two runs from the last ball, good running. Just nine runs from the over. SRH 156/5, 17 overs (Cutting 0, Ojha 7)
9:15: Yuvraj set to face Jordan, who bowls a wide. RCB gets back into the game as Yuvraj is gone as he is caught by Shane Watson. SRH 148/5
9:12: Yuvraj glides the ball for a boundary in the third man region, and takes a single in the next ball. He needs to stay at the crease as long as possible. Hooda fails to make contact, dot ball. The right-hander goes for a massive shot, but only one run. Hooda, after receiving strike, goes after Aravind, but is caught by Kohli at long on. SRH 147/4, 16 overs (Yuvraj 38)
9:08: Chahal gives away a single in the first ball of his final over. Yuvraj hits a massive six in the third ball of the over, straight down the ground. Yuvraj follows it with a cover drive to the fence. Yuvraj keeps strike with a single in the final ball of the over. SRH 140/3, 15 overs (Yuvraj 32 Hooda 2)
9:04: Deepak Hooda comes into bat, gets off the mark in his first ball. SRH 127/3, 14 overs (Yuvraj 20 Hooda 1)
9:02: Aravind to Yuvraj - the left hander gives the strike to Warner, who has looked in his zone this match. Full toss, and Warner strikes the ball straight down the ground for a four. Superb timing. Aravind takes the all-important wicket, as Warner thick edges the ball to short-third man. SRH 125/3
8:57: Chahal to Warner, who starts the over with a single. Yuvraj might attack the spinner, who bowls two dot balls to the Indian batsman. Just a bit short, cramps the batsman, but Yuvraj takes a single in the off-side. Good over from Chahal, only four singles. SRH 120/2, 13 overs (Warner 65, Yuvraj 18)
8:53: Yuvraj times the ball to perfection as Jordan bowls at his pads, and he just uses his wrist to hit another boundary. Another flick, but this one is MAXIMUM from Yuvraj. Jordan taking a beating from the Indian. There is some confusion in the middle, but the pair complete one run. 13 runs from the over. SRH 116/2, 12 overs (Warner 63, Yuvraj 16)
8:49: Watson with his second over. Yuvraj gets off the mark with a hook shot. Yuvraj will face some chin music, for sure. But how will Watson bowl to Warner? Watson needs to use his experience. The Australian takes one run, good bowling. Glorious boundary from Yuvi helps SRH complete 100 runs. That was majestic cover drive from Yuvraj. SRH 103/2, 11 overs (Warner 62, Yuvraj 5)
8:45: Last ball of the 10th over, and Warner is beaten. Rare sight. SRH 97/2, 10 overs (Warner 61, Yuvraj 0)
8:44: Chris Jordan into the attack. Can he stop the run-flow? No, he can't as Warner glances the ball for another boundary. The Australian is in ominous form, as he hits a four in the offside. Warner, take a bow. He has led from the front, but he is not getting good support. Henriques is gone as he top edges the ball, playing a huge shot. SRH 97/2
8:40: Two runs from the first two balls of Chahal so far. Will Warner attack Chahal? Yes, he does, as Warner square cuts the ball for a boundary. Pressure on RCB fielders, as Warner takes two runs after a misfield. Warner completes his half-century, only from 24 balls, with a glorious four. SRH 88/1, 9 overs (Warner 52, Henriques 4)
8:36: Spinners bowling in tandem. Iqbal Abdulla to bowl the 8th over, as Henriques takes a single. Warner needs to stay at the crease as long as possible. Warner hits another of his massive sixes, and rotates the strike. Warner is looking well set, already. SRH 75/1, 8 overs (Warner 41, Henriques 3)
8:32: Moises Henriques come to bat. He is at the bowlers end. Warner takes a single, and Henriques also does the same. SRH 65/1, 7 overs (Warner 33, Henriques 1)
8:31: Chahal to Shikhar, who plays straight down the gound, one run. Warner hits the ball hard for another single. Misfield allows Shikhar two runs. Good running. Chahal dismisses Shikhar, who sweeps the ball straight to Chris Jordan. SRH 63/1
8:28: Gayle with his third over, and he has been decent. The West Indian is deflected for a gentle boundary in the leg side. Shikhar just paddled the ball behind the keeper. Full toss from Gayle, and the Indian scores a single only, but Warner hits another six, and SRH are looking dangerous. 13 runs from the over. SRH 59/0, 6 overs (Warner 31, Shikhar 24)
8:24: Watson is greeted by a stunning six from fellow Australian Warner, who used his bottom hand for that shot. That was the first six for SRH. Shikhar also hits another six, also straight down the ground. Warner swings at the ball, again another FOUR in the off-side.!!!!! 19 runs from the over. SRH 46/0, 5overs (Warner 24, Shikhar 20)
8:20: Shikhar is lucky as he slips while going for a single, but Stuart Binny misfields. Shikhar goes for a wild shot, and again misses it, but follows it with a striaght drive for a superb boundary. Decent start from SRH so far. SRH 27/0, 4 overs (Warner 12, Shikhar 13)
8:17: Shikhar slashes at the ball, misses it. Brilliant bowling from Aravind, who bowls three dot balls on a trot, and is taken for a single in the fourth ball by Shikhar. There is a sweeper cover, but Warner hits to the left of the fielder for a boundary, and pulls for another four in the leg side. SRH 21/0, 3 overs (Warner 11, Shikhar 8)
8:12: Gayle bowls the second over of the game. He is taken for a single in the first ball. Gayle is bowling in the right areas, and the crowd cheers for Kohli, who fields the ball. Catch goes down, as Gayle misses a difficult return catch. He dives to his left, but fails to latch onto that. SRH 12/0, 2 overs (Warner 3, Shikhar 7)
8:07: Sreenath Aravind to David Warner, who takes a single in the first ball. Interesting to note that Kohli has kept a sweeper cover for the skipper. Shikhar also gets off the mark, with a single. The pitch looks good. First ball on the leg side, and Shikhar glances the ball for a boundary. SRH 7/0, 1 over (Warner 2, Shikhar 5)
8 p.m: RCB players are out there in the middle, after a pep talk from AB de Villiers. SRH openers look serious, determined to start well. Here we go!!!!!!
7:55: Now, SRH, after having decided to bat first, need their openers – Warner and Shikhar Dhawan – to get their team to a blistering start. Warner has been in stupendous form, scoring 779 runs so far, and he will be their key player if they are to score more than 180 runs in the final. Along with Warner, Yuvraj Singh and Moises Henriques need to shine with the bat in the middle order as well.
7:45: 15 minutes left for umpire to call 'play', and set the game rolling.
Teams
7:40: RCB have kept the same XI, which defeated Gujarat Lions in their last encounter. For SRH, Mustafizur Rahman is back, as the off-cutter specialist is match fit for the final, and that is a massive confidence booster for the visitors.
7:35: SRH has won the toss, and decides to bat first. This is rather surprising, considering RCB being a major force while batting second. Batting first is a bold choice for SRH, who needs to score massive, and apply pressure later on the RCB batsmen.
7:20: Toss coming up soon
I do not see many changes in either teams after some quality cricket in their respective last outing, but with each match, franchises have different strategies, which may lead to some tactical changes as well. Irrespective of the players, who play in the all-important final, the match is expected to entertain the full crowd seated at the Chinnaswamy stadium.
FYI - The tickets for the final was sold out in two hours, so it is easily understood that RCB will be supported in huge numbers.
7:07 pm: The game could more or less be decided on how these two teams' batsmen fare in Bengaluru, where the pitch has assisted strokemakers more often than not. With Virat Kohli, Chris Gayle, AB de Villiers (RCB), David Warner, Shikhar Dhawan and Yuvraj Singh (SRH), there should be plenty of runs on the board.
Many of us might be afraid of rain playing spoilsport, but as of now, there is no rain in the air.
Here is Mumbai Indians' Harbhajan Singh wishing both RCB and SRH all the best for final.
6:30 p.m: RCB come into this game, with their heads held high after some incredible wins under their belt. They have won their last five matches on a trot. SRH have also been mighty impressive, and have shone brightly in their last two crunch games, against Kolkata Knight Riders and Gujarat Lions, to set up a date with RCB.
Hello everyone. Welcome to International Business Times, India live blog coverage. This is Ashim Sunam here, and I will provide you with all the fours, sixes, wickets and all other happenings from the Royal Challengers Bangalore vs Sunrisers Hyderabad IPL 2016 final in Bengaluru. We are 120 minutes away from the first ball of the final, and one cannot wait for game to get underway.
Are you ready? Will RCB batsmen shine to help their team script first IPL title or can SRH bowlers outdo and stun the home team? Will Kohli finish IPL 2016 with 1000 runs? Can Bhuvneshwar Kumar finish the season as the highest-wicket taker? These are questions, which shall be answered in the final match of IPL 2016.