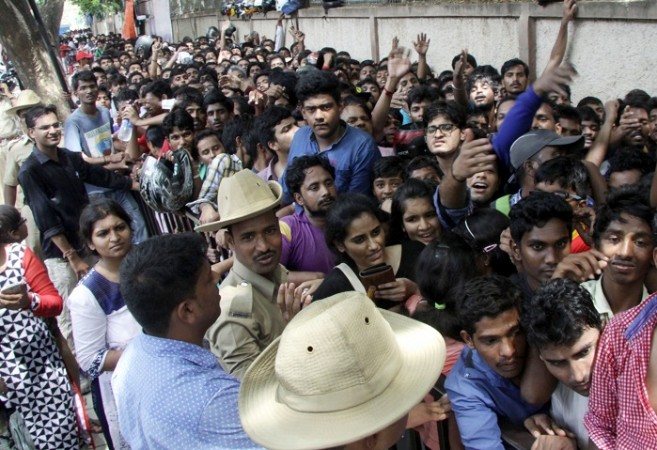 One of the first things that AB De Villiers did after scoring the magnificent 79 against the Gujarat Lions, which helped RCB to the final of IPL 2016, was thank the fans at the Chinnaswamy Stadium in Bengaluru. The South African went on to say he had never heard a louder crowd in his career, and that they had played a huge role in helping the Royal Challengers Bangalore get over the line from a tricky situation.
Well, come IPL 2016 final day on Sunday, De Villiers, Virat Kohli, Chris Gayle and the rest of the RCB players can expect another deafening reception and vocal support, what with the tickets for the finale, which will be played at the Chinnaswamy as well, being sold out in a matter of a couple of hours, according to a report in the Deccan Herald.
Such was the frenzy for the tickets of the final that the majority of the people who stood in the queue hoping to see history – there will be a new IPL champion this season, considering RCB, Gujarat Lions and Sunrisers Hyderabad have never won the title before – being made on Sunday, were left disappointed.
"Line management and crowd controlling was a challenge," Sandeep Patil, the deputy commissioner of police told the newspaper. "There was a massive demand and the queue for the online redemption of tickets went as far as Queen's Circle.
"But, it was peaceful and fans refrained from creating a chaotic situation. Since people turned out in large numbers, managing the queues at the counters was challenging."
Challenging is the right word to use for what RCB's opponents in the final will face as well, be that GL or SRH. Facing a team as formidable as RCB – with Gayle, Kohli, De Villiers, Shane Watson and more in tow – is hard enough, but you add a raucous, partisan crowd in, and it makes it doubly difficult.
The Gujarat Lions have already been on the wrong end of results in two matches at the Chinnaswamy, and they will hope their fortunes turn around at the third time of asking.
However, what the fans in Bengaluru will really want in the final is a South Indian derby – Bangalore vs Hyderabad in a clash that will decide the new IPL champions.
That will be possible only if SRH manage to beat the Gujarat Lions in Qualifier 2 on Friday. However, whatever the result of that match, one thing is for sure, when the winner of Qualifier 2 come to play the final on Sunday, they better be prepared to hear the chants of "RCB, RCB, RCB" ring around the stadium non-stop for three-and-a-half hours.