2017 is a historic milestone year for Apple, as it marks the tenth anniversary of the company's first ever iPhone, which was unveiled by the charismatic former CEO and co-founder Steve Jobs and set the ball rolling for touch-screen mobile technology revolution in the world.
Expectedly, there was huge anticipation on what Apple had in store for consumers and to an extent, the Cupertino-based company managed to impress press and also the fans with its iPhone X (pronounced 10), but not so much with the iPhone 8 series.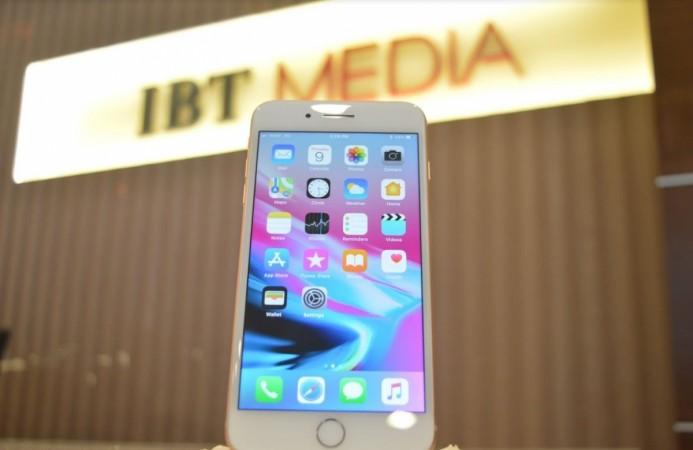 The company after a long time skipped the S-cycle and directly jumped from iPhone 7 to the 8 series. Evidently, the new generic models come well endowed with powerful processor, rear camera on par with the top-end iPhone X, but only differed in terms of design language and front camera.
International Business Times got the opportunity test Apple iPhone 8 Plus and we have been using it as the primary driver for a month and here's our take on flagship phone.
Design language and Display:
Bluntly speaking, Apple iPhone 8 Plus design language is boring. Period. It is almost identical to the predecessor iPhone 7 Plus. If looked from far, they look the same like twins. It has a dual-camera with quad-LED flash on top left corner. Physical buttons are positioned at exactly same positions. The power is on the right edge with SIM tray slot below it, while the volume rockers and sleep/wake button on the left side.
At the base, as you could see [images below], the 3.5mm audio jack is still missing. There you'll find single-grill speakers on each side with lightning port in the middle. On top, there is smooth curved edge with no tangible buttons or ports.
On the front, it houses 7MP FaceTime camera right beside the central speaker on top and at the bottom, it features the home button-cum-Touch ID fingerprint sensor. It has 5.5-inch (diagonally) LCD-based Retina HD display with True Tone mode, which if enabled, automatically adjust the brightness according to light conditions of the surrounding environment.
Only discernible difference between the iPhone 7 Plus and the iPhone 8 Plus, is that the latter has an additional glass cover. It adds value to the glossy premium exterior looks for the eyes and also most importantly makes wireless charging possible in the device.
It also comes with IP67 certification, which means it can survive underwater for up to 3 feet (1 meter) underwater for close to 30 minutes. But, we advise our readers not to test this feature on purpose, water-proof coating is meant to protect the device from accidental drops in the pool or toilet commode.
[Note: Stop using phones in the bathroom, as it is unhygienic. Also, as you would know, if it's dropped and not properly cleaned, you will always feel odd when holding phone on the side of your face to talk.]
As far as display is concerned, Apple iPhone 8 Plus comes with the True Tone display we see in the iPad Pro series. It comes with full spectral sensing ambient light sensor to change the colour of the screen, just allowing the right percentage and intensity of white light the user need while reading. This will drastically reduce the strain on the eyes and improve viewing experience for the user, who whilst reading on the iPhone, moves around the house or any other place with a different lighting set.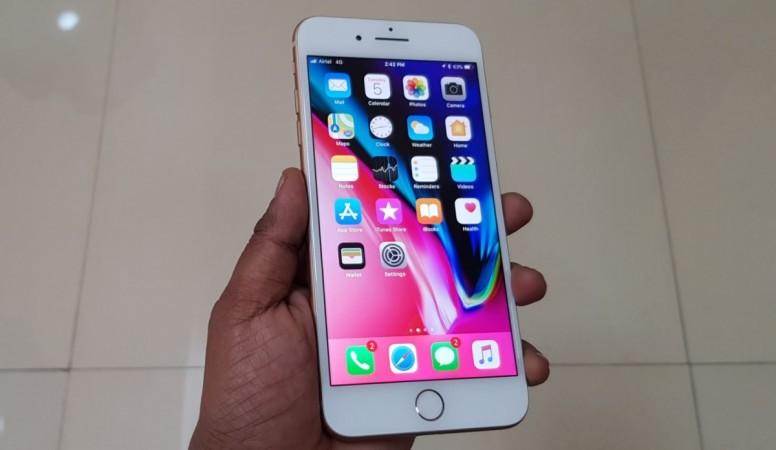 During tests, it lived up to all those claims. It is a delight to watch videos on the big 5.5-inch (diagonal) screen and also I did not face any strain while reading messages while in the bed with no light. Even in bright sun light, the words on iMessage were clearly visible with no distortion or any sort of reflection.
Performance:
Like previous Apple mobile iterations, the new iPhone 8 Plus is blazing fast and comes with monster of a chipset, which comes with fancy postfix: A11 Bionic processor. It is supported by M11 co-processor and Neural Engine specifically incorporated to support AR (Augmented Reality), which also process image and video, as well.
To be honest, it does live up to its cutting edge bionic processor tag. Apple iPhone 8 Plus scored mind-numbing 2,13,140 points on AnTuTu benchmarking app. No other rival phone comes closer to this mark and the only one which trumps this score is the iPhone X that too by small margin.
We also played the AR games such as Holo and SkyView on the iPhone 8 Plus, it showed no lag at all.
It runs iOS 11 out-of-the-box and recently got updated to iOS 11.2. Only qualm is the notification feature, whenever messages or update on apps appear, they pile up and cramp the lockscreen. Hopefully, Apple fixes this annoying feature in future updates.
Camera:
Apple iPhone 8 Plus boasts 12MP wide-angle (f/1.8 aperture) + telephoto (f/2.4 aperture) cameras with dual- Optical Image Stabilisation (OIS), Optical Zoom, Digital Zoom(up to 10x), wide colours capture for photos and Live Photos, Quad-LED True Tone flash with slow sync, Portrait mode, Portrait Lighting (beta).
Compared to previous years, for the first time Apple has made commendable job in the camera department with the iPhone 8 Plus. 2016-based iPhone 7 Plus camera, even with additional telephoto lens was incremental improvement over previous generation iPhones, but not on par with premium Android phones.
This time, Apple has truly upped the ante with iPhone 8 Plus camera and during our tests, it took amazing pictures in the natural sunny environment and also in the twilight (early morning and evening) condition. The portrait mode has undergone great enhancements. The options: natural light, studio light, contour light, stage light and stage light mono are great value additions and assist users capture fantastic shots for their DPs on social media accounts. But, sadly this option is available only on the rear camera and not on the front camera. You have to take the help of a friend to snap the photo in the portrait lighting mode.
Only iPhone X has this feature in the front-camera, but is in beta version; in layman terms, it's half baked. So, you won't miss the front portrait lighting feature that much in the iPhone 8 Plus.
On the front, Apple iPhone 8 Plus houses a 7MP FaceTime HD camera with f/2.2 aperture and Retina Flash support. With such standard specifications, it did a pretty decent job taking fine quality selfies or video chat in high resolution.
With retina flash, you can also take selfies even in low-light conditions. So, you are guaranteed of getting good self snaps in indoor conditions such as pubs or the evening stroll in an amusement park.
Augmented Reality:
Thanks to A11 Bionic processor, Apple iPhone 8 Plus' dual camera supports AR (Augmented Reality). Each camera is individually calibrated, with new gyroscopes and accelerometers for accurate motion tracking. The new A11 Bionic is capable of handling environment tracking, scene recognition and incredible graphics at 60fps, while the image signal processor does real-time lighting estimation, thus offering rich immersive viewing experience.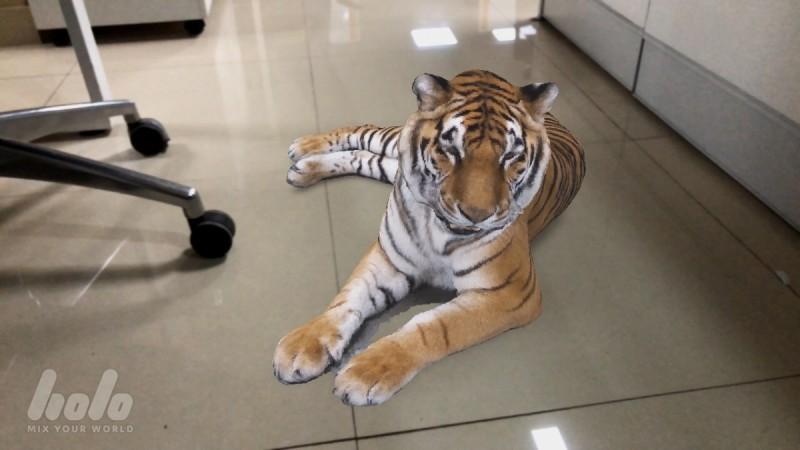 In the video [above], we have shot AR capability using SkyView app, that shows constellation of stars when pointed to sky. It played flawlessly.
Battery:
The company claims Apple iPhone 8 Plus will offer up to 21 hours of talk-time and close to 14 hours video playback. But, these are based on internal testing conditions. The battery life is subjective to individual usage pattern, but during our review period, it regularly lasted a whole day under mixed usage.
Great addition to the iPhone 8 Plus over the iPhone 7 Plus is the fast charging (up to 50% charge in 30 minutes) and wireless charging capability, but we are disappointed with Apple for not including neither the fast charging cable nor the wireless charging pad as part of the package. Consumers have to shell out extra bucks to buy them at premium price. On bright side, the iPhone 8 Plus (also iPhone 8) support all Qi (pronounced Chi) certified wireless charging pads.
Final Thoughts:
Apple iPhone 8 Plus ticks almost all the key aspects of a flagship phones, be it the premium build quality, processor (unbelievably powerful), quality camera sensors, but the out-dated design takes a little shine off the device and also its own hybrid cousin iPhone X with fancy FaceID, will definitely make consumer get confused, whether to go for the former or just pay extra 15K bucks to get the latter, which happens to be Apple's most advanced iPhone to date.
Having said that, the iPhone 8 Plus exudes a nostalgic feel of being the last iPhone ever to have fingerprint-based TouchID feature, which Apple device owners have become so accustomed to, since the iPhone 5s in 2013. With iPhone X, users have to retrain their finger muscle and sure to take a week or two to finally become familiar to the new gestures to operate it.
If there was no iPhone X in the market, we would gladly recommend the iPhone 8 Plus.
If you are finding it hard to get your hands on iPhone X and don't want to wait any longer, you should definitely go for the iPhone 8 Plus, it will definitely not disappoint you and will surely save you close to Rs 24 Grand (in India) depending on the storage variant you purchase.
Pro Tip: You can add a few thousand bucks on that saved money and get a Microsoft Xbox One or Sony PS4 console and enjoy. What Say___?
Official global price details of Apple

iPhone

X and

iPhone

8 series:
Models
Storage
Price
US($)
UK (£)
Dubai (

UAE

)

AED

/ Arab Emirates

Dirham

India (Rs.)
Singapore (S$)
Australia(A$)
Apple

iPhone

X
64GB
$999
£999
AED4,099
Rs. 89,000
S$1,648
A$1,579
256GB
$1,149
£1,149
AED4729
Rs. 1,02,000
S$1,888
A$1,829
Apple

iPhone

8 Plus
64GB
$799
£799
AED3249
Rs. 73,000
S$1,308
A$1,229
256GB
$949
£949
AED3879
Rs. 86,000
S$1,548
A$1,479
Apple

iPhone

8
64GB
$699
£699
AED2849
Rs. 64,000
S$1,148
A$1,079
256GB
$849
£849
AED3479
Rs. 77,000
S$1,388
A$1,329
Pros:
Top-notch build quality
A11 Bionics makes

iPhone

8 Plus a truly a mean machine
Fine quality camera
A full day's battery under mixed usage
Cons:
Outdated design
There is neither wireless charger pad nor the fast charger in the package