After months of speculations, Apple has finally unveiled the 10th-anniversary smartphone dubbed as iPhone X (pronounced iPhone 10) along with a bevy of brand new series of products at the newly built Steve Jobs Theater in the backyard of the company's new spaceship-like Apple Park in Cupertino.
Here are the highlights of the Apple Special Event 2017 that took place at Steve Jobs Theater
Apple Watch Series 3:
First up, Apple, which has surpassed the iconic Rolex as the numero uno watch brand in the world, announced the new Watch Series 3. Though the exterior looks same as the previous generation, it comes packed with a boatload of hardware including the LTE modem, powerful and faster proprietary dual-core (70 percent better than Series 2) backed by wireless W2 chip (85 percent faster Wi-Fi and Bluetooth and Wi-Fi 50 percent more power efficient), more intuitive watchOS 4, a daylong battery life (almost 18 hours under mixed usage). It also comes with a plethora of sensors including the heart-rate sensor, biometric altimeter, and waterproof certification.
The key aspect of the Watch Series 3 is that the company, in a bid to keep the compact structure of the device, has developed its own electronic SIM (one-hundredth the size of a traditional SIM). And guess what? Users don't even have to subscribe to a new SIM, as you can now share the info from your iPhone. To capture radio signal, Apple has developed a custom plate right below the display.
Apple Watch Series (with future software updates) will be able to detect subtle/high changes in heart beats and warn the user of cardiac arrhythmias, or abnormal heart rhythms. Apple Watch will also be able to help diabetic owners to keep a tab on their health via connected blood sugar monitor.
Pricing and availability details:
Apple Watch comes in two different case sizes -- 38mm and 42mm. Apple Watch Series 3 (GPS + cellular) will be available in gold, silver or space gray aluminum, or silver or space black stainless steel paired with a variety of bands starting at $399(approx.). Apple Watch Series 3 (GPS) will be available in gold, silver or space gray aluminum cases with a Sport Band starting at $329 (US). Apple Watch Series 1 comes in silver or space gray aluminum cases paired with a Sport Band starting at just $249 (US). Apple Watch Edition in gray or white ceramic will be available starting at $1,299 (US). Apple Watch Nike+ starts at $329 (US) and Apple Watch Hermès starts at $1,149 (US) (prices may vary).
Apple TV 4K:
As the name suggests, the new Apple A10X Fusion-powered Apple TV comes with 4K content support and that too in HDR (High Dynamic Range) 10 Dolby Vision, which promises highest standard of image/video quality on a television.
It automatically optimizes the television's setup for the best quality picture. The 4K TV owners can pick and choose 60 services and also be able invoke Siri via voice command to find your favourite TV shows or movies or live sporting event. Furthermore, Apple TV owners can also be get live sporting updates or set reminders to catch the game on their Apple Watch [this feature will be made available via software update in coming months]
Apple TV owners can also be control multiple wireless Bluetooth speakers via AirPlay 2 update coming soon. Apple TV will soon be able act as smart home hub, which will allow owners to control ACs, lights and more (HomeKit accessories) in the smart connected house.
Apple TV 4K starts at $179 (US) for 32GB or $199 (US) for 64GB, joining Apple TV (4th generation) 32GB at $149 (US). Interested buyers can pre-book from September 15 onwards and will be able for purchase off the shelves from September 12 onwards.
Apple iPhone 8 and the iPhone 8 Plus:
As rumoured, the new Apple iPhone 8 and iPhone 8 Plus look pretty much same as their predecessors iPhone 7 and iPhone 7 Plus, respectively. But, come with incremental hardware upgrades.
The key improvement is the incorporation of the glass design, which makes the device look glossy and this might a problem, as this might leave finger-print smudges on screen, provided it has oleophobic coating, which the company has not confirmed so far.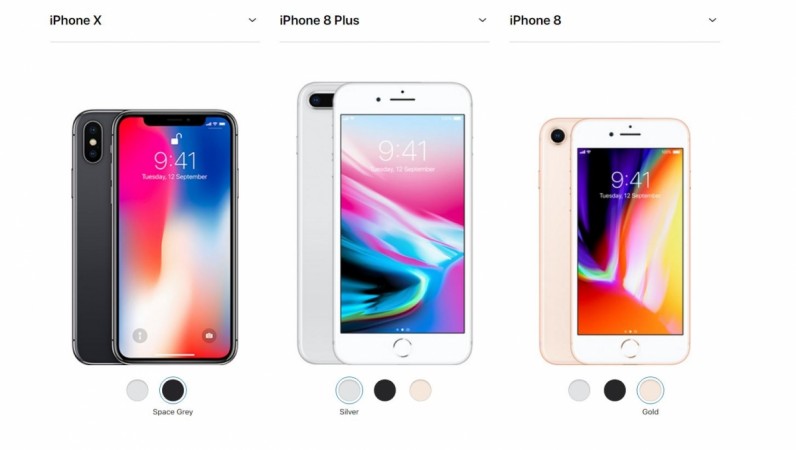 Another notable aspect is that iPhone 8 Plus' dual camera supports AR (Augmented Reality). Each camera is individually calibrated, with new gyroscopes and accelerometers for accurate motion tracking. AR benefits from new A11 Bionic, which handles world tracking, scene recognition and incredible graphics at 60fps, while the image signal processor does real-time lighting estimation. Apple iPhone 8 Plus' front camera will get Portrait Lighting mode support via software update before the end of 2017.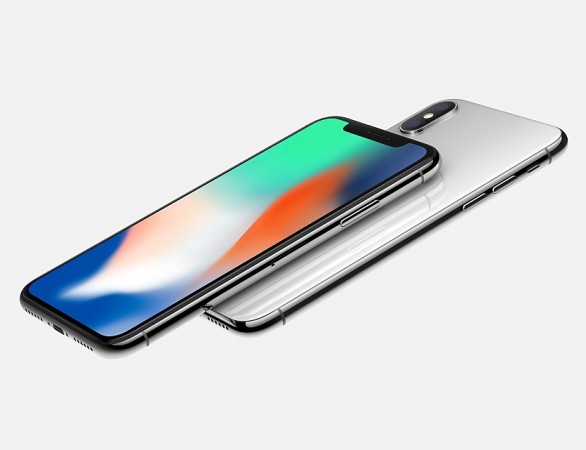 Apple has also finally incorporated wireless charging capabilities in both iPhone 8 Plus and iPhone 8 and they also support fast charging, which according to the company, can charge up to 50 percent within 30 minutes. [Full specs see below]
Apple iPhone X:
Finally, iPhone X; truth to be told, Apple's anniversary mobile is not the greatest handset, contrary to what the company claims it to be. It borrows several features such as bezel-less display, face recognition, wireless-and-fast charging capability and AR support from Android phones, but the capabilities are much superior.
For instance, Face ID uses the advanced TrueDepth camera system that makes use of IR laser sensor, Flood Illuminator (helps identify face even when its dark out), Dot Projector (30,000 invisible dots are projected onto the users face to build your unique facial map) and 7MP FaceTime snapper to accurately identify the owners face in 3D. It is much superior to any other face recognition technology seen in current flagship phones, as it has the ability to detect fake 2D photos. It is intuitive enough to learn subtle changes in the owners face over time and still be able to identify accurately. This really sets new benchmarks in biometric security technology. More on the key features of iPhone X will be presented to you soon.
As far as the hardware is concerned, Apple iPhone X sports 5.8-inch (diagonally) OLED Super Retina display (2436x1125p) having 458 ppi (pixels per inch).
Under-the-hood, it houses new A11 Bionic processor with neural engine, M11 coprocessor, iOS 11, 64GB/256GB storage and bigger battery (two hours more compared to the iPhone 7).
Price and availability details:
Apple iPhone 8 and iPhone 8 Plus comes in — 64 GB and 256GB storage — for Rs 64,000 and Rs 77,000 and Rs 73,000 and Rs 86,000, respectively. As far as the availability is concerned, they will be released in the second phase on September 29. They will be made available in Space Gray and Gold colour options.
As far as iPhone X is concerned, it also comes in same colours and storages options, but pre-booking window will open on October 27 and hit stores on November 3 for Rs 89,000 (64GB) and Rs 1,02,000 (256GB).
Stay tuned. Follow us @IBTimesIN_Tech on Twitter for latest updates on Apple products.
Key specifications of Apple iPhone X, iPhone 8 Plus and iPhone 8:
Models
Apple iPhone X
Apple iPhone 8 Plus
Apple iPhone 8
Display
5.8-inch all-screen OLED Super Retina HD (2436x1125p) multi-touch display with HDR support

Contrast ratio: 1,000,000:1
True Tone display
Wide colour display (P3)
3D Touch
Max brightness: 625 cd/m2
Pixel density
Pixel density: 458 ppi (pixels per inch)

5.5-inch wide-screen LCD Retina HD (1920x1080p) multi-touch IPS display

Contrast ratio: 1300:1
True Tone display
Wide colour display (P3)
3D Touch
Max brightness: 625 cd/m2
Pixel density
Pixel density: 401 ppi (pixels per inch)

4.7-inch wide-screen LCD Retina HD (1334x750p) multi-touch IPS display

Contrast ratio: 1400:1
True Tone display
Wide colour display (P3)
3D Touch
Max brightness: 625 cd/m2
Pixel density
Pixel density: 326 ppi (pixels per inch)

OS
Apple iOS 11 with improved Siri voice assistant
Apple iOS 11 with improved Siri voice assistant
Apple iOS 11 with improved Siri voice assistant
Processor
64-bit class Apple A11 Bionic chip with neural engine+ Embedded M11 motion coprocessor
64-bit class Apple A11 Bionic chip with neural engine+ Embedded M11 motion coprocessor
64-bit class Apple A11 Bionic chip with neural engine+ Embedded M11 motion coprocessor
RAM (not confirmed)
3GB
3GB
2GB
Storage
64GB/256GB
64GB/256GB
64GB/256GB
Camera

Main: 12MP wide-angle (f/1.8 aperture) + telephoto (f/2.4 aperture) cameras with dual- Optical Image Stabilisation (OIS), Optical Zoom, Digital Zoom (up to 10x), wide colours capture for photos and Live Photos, Quad-LED True Tone flash with slow sync, Portrait mode, Portrait Lighting (beta)
Front: 7MP TrueDepth camera with f/2.2 aperture, Retina Flash, Wide colour capture for photos and Live Photos, 1080p full HD video recording, Portrait mode, Portrait Lighting (beta), Animoji

Main: 12MP wide-angle (f/1.8 aperture) + telephoto (f/2.4 aperture) cameras with dual- Optical Image Stabilisation (OIS), Optical Zoom, Digital Zoom(up to 10x), wide colours capture for photos and Live Photos, Quad-LED True Tone flash with slow sync, Portrait mode, Portrait Lighting (beta)
Front: 7MP FaceTime HD camera, f/2.2 aperture, Retina Flash, Wide colour capture for photos and Live Photos, 1080p full HD video recording

Main: 12MP (f/1.8 aperture) camera with Optical Image Stabilisation (OIS), Digital Zoom (up to 5x), wide colours capture for photos and Live Photos, Quad-LED True Tone flash with slow sync
Front: 7MP FaceTime HD camera, f/2.2 aperture, Retina Flash, Wide colour capture for photos and Live Photos, 1080p full HD video recording

Video recording

4K video recording at 24 fps, 30 fps or 60 fps
1080 full HD video recording at 30 fps/60 fps
Optical Image Stabilisation for Video
Optical Zoom/ Digital Zoom up to 6x
Slow-motion video support for 1080p at 120fps or 240 fps
Time-lapse video with stabilisation

4K video recording at 24 fps, 30 fps or 60 fps
1080 full HD video recording at 30 fps/60 fps
Optical Image Stabilisation for Video
Optical Zoom/ Digital Zoom up to 6x
Slow-motion video support for 1080p at 120fps or 240 fps
Time-lapse video with stabilisation

4K video recording at 24 fps, 30 fps or 60 fps
1080 full HD video recording at 30 fps/60 fps
Optical Image Stabilisation for Video
Digital Zoom up to 3x
Slow-motion video support for 1080p at 120fps or 240 fps
Time-lapse video with stabilisation

Security
Face ID, enabled by TrueDepth camera for facial recognition
Touch ID: Second-generation fingerprint sensor built into the Home button
Touch ID: Second-generation fingerprint sensor built into the Home button
Battery

Built-in rechargeable lithium-ion battery
Wireless charging (works with Qi chargers), Charging via USV to computer system or power adapter
Talk-time: up to 21 hours
Internet use: up to 12 hours
Video playback (wireless): up to 13 hours
Audio playback (wireless): Up to 60 hours
Fast-charge capable: up to 50% charge in 30 minutes

[Compatible with AirPower wireless charger]

Built-in rechargeable lithium-ion battery
Wireless charging (works with Qi chargers), Charging via USV to computer system or power adapter
Talk-time: up to 21 hours
Internet use: up to 13 hours
Video playback (wireless): up to 14 hours
Audio playback (wireless): Up to 60 hours
Fast-charge capable: up to 50% charge in 30 minutes
[Compatible with AirPower wireless charger]

Built-in rechargeable lithium-ion battery
Wireless charging (works with Qi chargers), Charging via USV to computer system or power adapter
Talk-time: up to 14 hours
Internet use: up to 12 hours
Video playback (wireless): up to 13 hours
Audio playback (wireless): Up to 40 hours
Fast-charge capable: up to 50% charge in 30 minutes
[Compatible with AirPower wireless charger]

Network
4G-LTE Advanced with VoLTE
4G-LTE Advanced with VoLTE
4G-LTE Advanced with VoLTE
Add-ons
Bluetooth 5.0, Wi-Fi (802.11 b/g/n/ac; MIMO), Wi-Fi calling, NFC (Near Field Communication) with reader mode, GPS/GLONASS/ Galileo & QZSS, support Augmented Reality (AR)
Bluetooth 5.0, Wi-Fi (802.11 b/g/n/ac; MIMO), Wi-Fi calling, NFC (Near Field Communication) with reader mode, GPS/GLONASS/ Galileo & QZSS, support Augmented Reality (AR)
Bluetooth 5.0, Wi-Fi (802.11 b/g/n/ac; MIMO), Wi-Fi calling, NFC (Near Field Communication) with reader mode, GPS/GLONASS/ Galileo & QZSS
Dimensions
143.6 x 70.9 x 7.7 mm
158.4 x 78.1 x 7.5 mm
138.4 x 67.3 x 7.3 mm
Weight
174 grams
202 grams
148 grams
Colours
Space Grey and Silver
Space Grey, Silver and Gold
Space Grey, Silver and Gold
Price (In India)

64GB: Rs. 89,000
256GB: Rs. 1,02,000

64GB: Rs. 73,000
256GB: Rs. 86,000

64GB: Rs. 64,000
256GB: Rs. 77,000