Thanks to affordable smartphones and cheap data tariffs, internet data consumption in India has increased at a staggering rate over the last year and continues to increase paving the way for the biggest digital revolution in the country's history, says Kleiner Perkins Caufield Byers' (KPCB) Internet 2017 Trends report.
As per the research study, Indians consumed 200 million GB data per month in June 2016, and this year in March, it has reached a record-breaking 1.3 billion GB a month. Mukesh Ambani-owned Reliance Jio has been attributed for such a drastic jump, as its entry with free data offers for six months, kicked off the price war among incumbent players leading to a drastic drop in data tariff by up to 48 percent.
It not only drove data prices down, it also increased the demand for 4G-VoLTE smartphones in India and the Chinese mobile vendors Xiaomi, Vivo and Oppo lapped up on releasing multiple feature-rich phones. As per the recent International Data Corporation Q1 report, China-based vendors captured 51.4 percent share of the smartphone shipments in India with 16.9 percent sequential growth and an impressive 142.6 percent growth over the same period last year.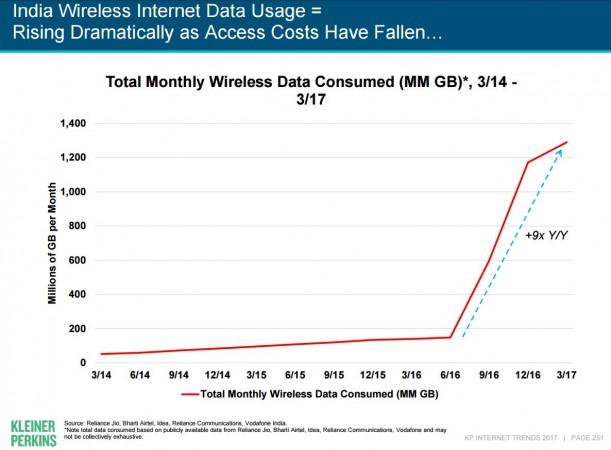 With cheap phones and affordable data tariffs, more number of Indians have come online and also started mobile banking. As per KSPB Internet Trends 2017 report, there is a huge increase in downloads of e-commerce apps such as Amazon, Flipkart, Snapdeal. Also, monthly active interactions on social media apps such as Facebook, WhatsApp, Twitter, Instagram have witnessed similar trajectory.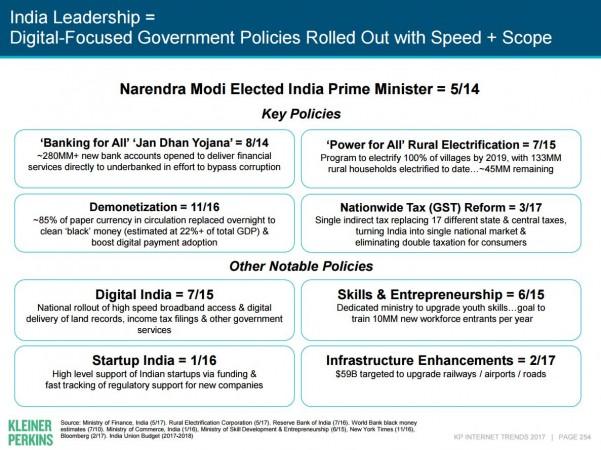 Besides the private players' game changing strategies, current central government initiatives such as Digital India are programmed to deliver fast internet connection via optic fibres to all Gram Panchayats (villages) before the end of 2018 and offer basic facilities such as paying water & electricity bill service through online mode, updates on weather reports, and information on farming techniques among others. To further fast track the digital revolution, it has also partnered with Google, Microsoft and other technology companies to build Wi-Fi hotspots in major railways stations and cities in the country.
With this rate, India, which has more than 335 million internet users, will add another 200 million soon, KPSB Internet Trends 2017 report said.