As the world celebrates International Yoga Day 2018 on June 21, Prime Minister Narendra Modi also performed asanas with hundreds of volunteers at the Forest Research Institute in Dehradun, Uttarakhand.
Yoga at Yerawada Central Jail
Inmates at Pune's Yerawada Central Jail performed Yoga
Rajyavardhan Singh Rathore performs yoga
Union Minister Rajyavardhan Singh Rathore performed Yoga in Delhi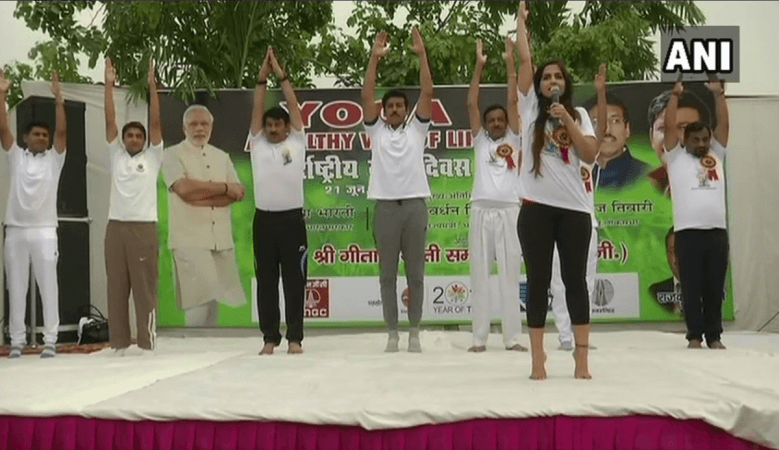 Yoga was performed in Cambodia's Phnom Penh
People in Cambodia's Phnom Penh also observed International Yoga Day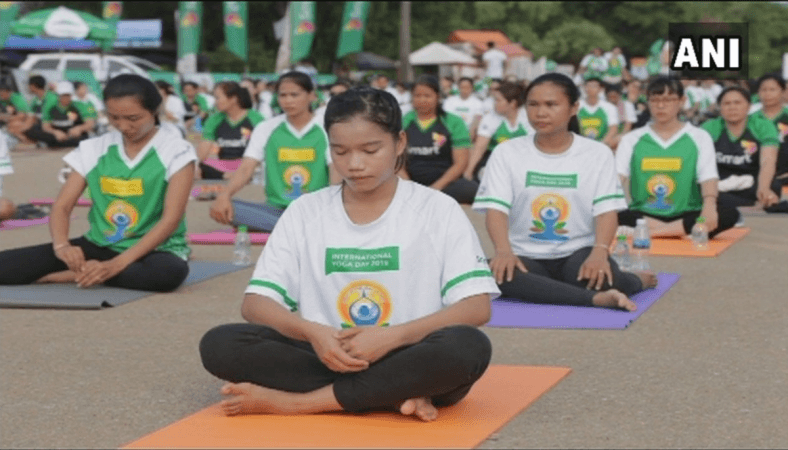 Yoga popular worldwide: PM Modi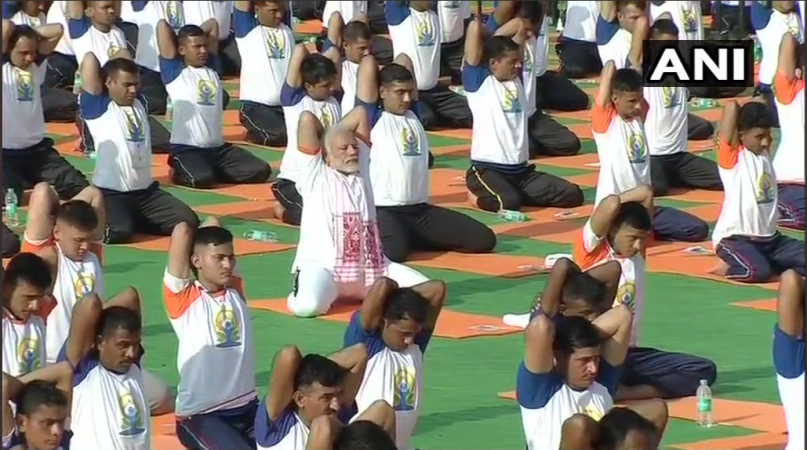 "From Dehradun to Dublin, Shanghai to Chicago, Jakarta to Johannesburg yoga has become a positive influence in lives of millions," PM Modi said while interacting with volunteers in Dehradun.
If we regularly practice pranayama and asanas, we can minimise illness around us. Yoga plays an important role in promoting health. I urge all the people in the nation to practice yoga and those too who have never tried it."
US embassy in Delhi observes International Yoga Day
The embassy of the United States of America in Delhi also observed International Yoga Day and many were seen performing asanas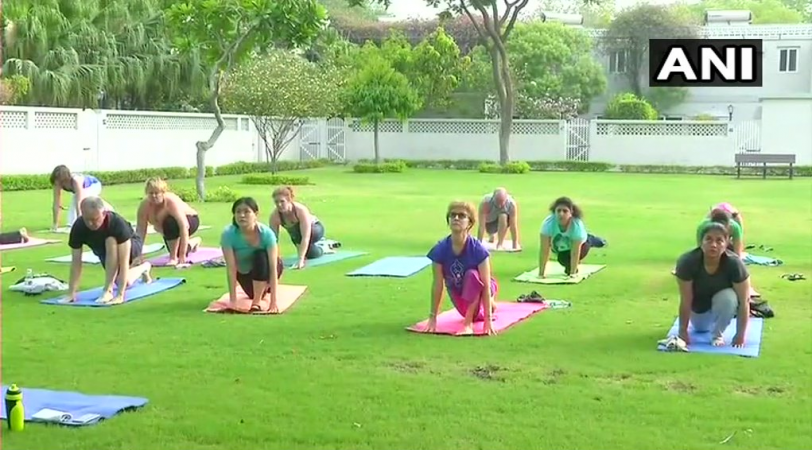 Yoga should be a part of our daily lives: Venkaiah Naidu
"I want it to become a people's movement because it is not something political or religious, it is for betterment of our lives. It shouldn't be just for one day, it should be a part of our daily lives:" Vice President Venkaiah Naidu explained.
Piyush Goyal performs yoga
Minister of Railways and Coal Piyush Goyal performed yoga in Noida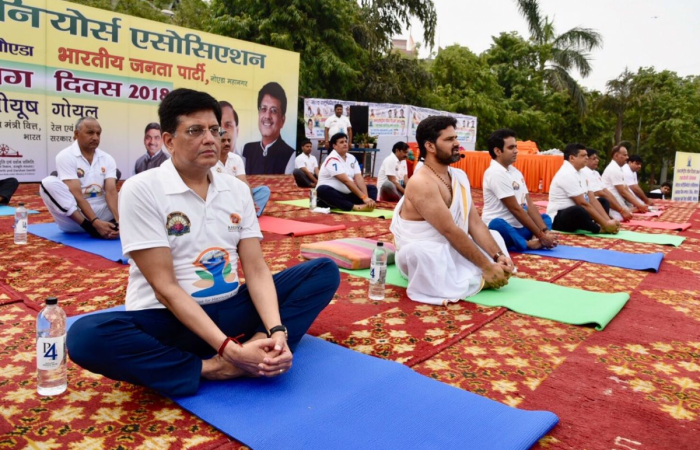 Modi on Yoga
Speaking to the volunteer in Dehradun, Modi said: "The way to lead a calm, creative & content life is Yoga. It can show the way in defeating tensions and mindless anxiety. Instead of dividing, Yoga unites. Instead of further animosity, Yoga assimilates. Instead of increasing suffering, Yoga heals"
Yoga on INS Virat
Navy personnel performed Yoga on board INS Virat, which is stationed in Mumbai.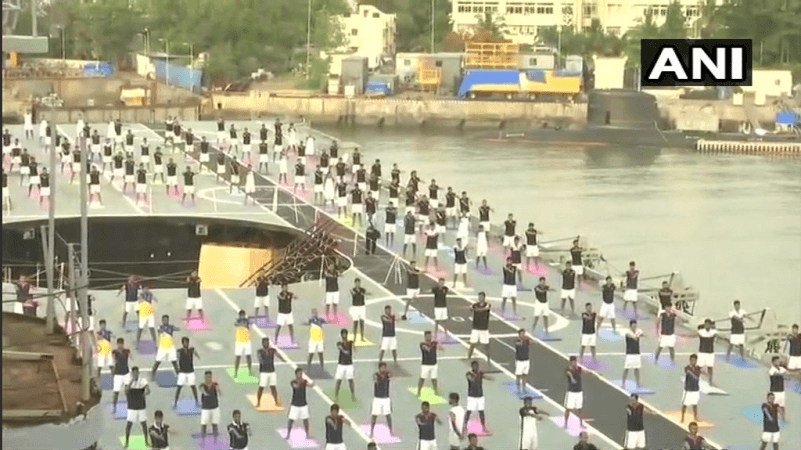 Maharashtra Governor C. Vidyasagar Rao performs yoga at the Raj Bhawan
Why is International Yoga Day celebrated in June 21
June 21, the summer solstice, is the longest day. It is believed that the day has several effects on the bodies of people in the Northern Hemisphere.
Theme for 2018
The theme for the fourth edition is "Yoga for Peace."
What Does Yoga Mean?
Yoga, which has been derived from the Sanskrit word Yuja means, "to join, unite, harness or yoke." It is considered an ancient practice of mental, spiritual and physical healing and has been prevalent the pre-Vedic times.
River Yoga in Arunachal
The Indo Tibetan Border Police jawans performed yoga in Digaru river, in Lohitpur to observe International Yoga Day 2018.

Yoga at 18,000 feet
No Yoga Day in Mizoram
While the world is celebrating International Yoga Day 2018, Mizoram in Northeast India has decided not to observe the day.
It was reported that Mizoram chief minister Lal Thanhawla and his cabinet may not participate in the event and many state officials did not even know of such an event.
"I do not know about any such event. I am currently in my constituency, carrying out rescue and relief works in the wake of the floods," Hindustan Times quoted Zodintluanga, the state cabinet minister for sports and youth affairs, as saying.
Yoga camp at Kota
To celebrate the 4th International Yoga Day, a three-day camp has been organised in Kota, Rajasthan. State chief minister Vasundhara Raje, Baba Ramdev and Acharya Balkrishna are at the camp
Eastern Navy celebrates yoga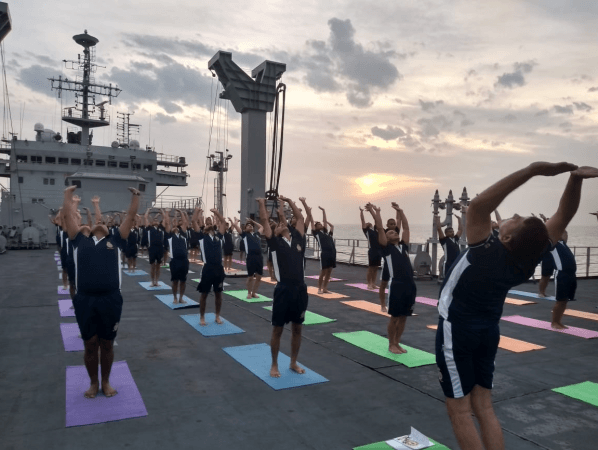 The Eastern naval command staff celebrated the day and performed asanas on board INS Jyothi in the Bay of Bengal off Visakhapatnam.
Modi at FRI
Uttarakhand chief minister Trivendra Singh Rawat and Union minister of state for Ayush Shripad Naik are also present at the venue and performing asanas with the PM and the volunteers.
Modi addresses the gathering
PM Modi addressed the gathering at the Forest Research Institute in Dehradun, after which he performed asanas with the volunteers to mark the 4th International Yoga Day.
He said that yoga brings a person's body, mind and soul together, which gives on a feeling of peace