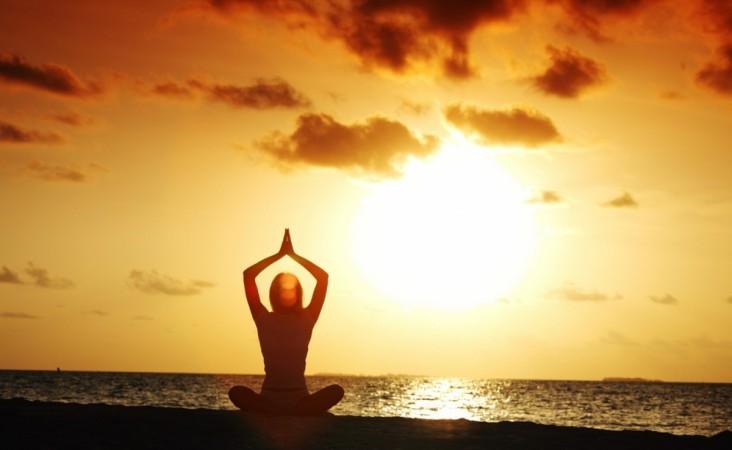 Yoga is an ancient form of holistic development that finds its roots in India. The practice involves physical, mental, and spiritual training, which not only promotes overall wellbeing but also helps develop a positive outlook towards life.
With the fast-paced routine taking over life in the city, there's more work, more distractions and less downtime for youngsters in this day and age. Cases of obesity and depression among people even as young as 25 years of age are nothing uncommon. It has reached alarming levels, particularly in all global cities.
But technology has found a solution to tune out the distractions and tune into the present. More importantly, by through mindfulness. And there's no doubt that Yoga is one of the best ways to do that.
Mindfulness means living in the present moment. The mind is constantly involved in an activity – swinging from the past to the future – but never staying in the present. By simply being aware of this tendency of the mind, we can actually save ourselves from getting stressed or worked up and relax the mind," Natasha Noel, prominent Yoga instructor, said to International Business Times India Edition.
Yoga has 84 different Asanas that can be varied with thousands of positions, which keeps you interested longer than any other form of workout, which explains why it has captured the attention of the old and the young around the world.
Indian Prime Minister Narendra Modi, during the United Nations General Assembly meeting of 2014, put forth a proposal to internationally recognise Yoga and its benefits on June 21 each year. Considering its universal appeal, UN declared the day as International Yoga Day.
If you are looking for a good Yoga instructor but haven't been able to find one, fret not! Apple's iStore is a treasure trove of wellness apps that will help you attain overall well-being and lead a disciplined life, all at home.
Top Yoga and wellness iOS apps for Apple Watch and iPhones

Fitstar Yoga
The company has teamed up with globally renowned yoga expert Tara Stiles to offer custom expert training for both beginners and advanced practitioners.
FitStar Yoga also offers personalised audio tracks to set the mood and get the Yoga poses flowing. The user can also track their progress and milestones with achievements. As they go up the ladder, they will be able to unlock new poses and badges with progress.
One of the best features of the app is that it can be integrated with Apple Health app to track the calories burned and workouts, contributing to user's overall Health dashboard.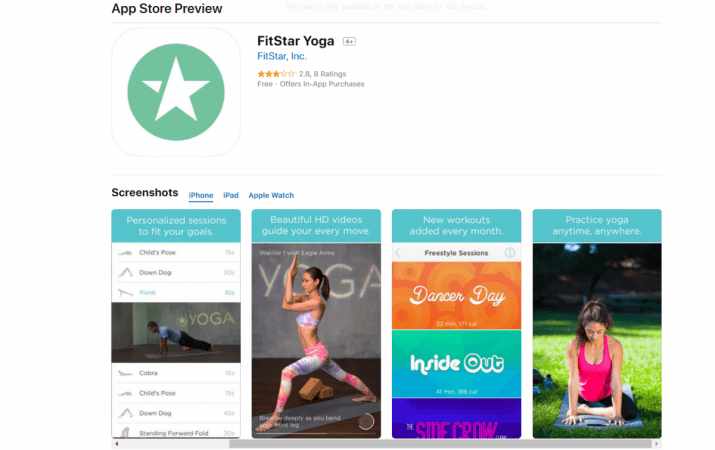 YogaGlo – Yoga and Meditation classes
This app offers tools that allow users to browse, search and filter the entire library of yoga and meditation classes by time, level, focus or teacher.
It offers the options to choose how, when and where to practice yoga and meditation and can be personalised at the user's skill and interest level. This app also allows users to download yoga classes to be viewed offline, offering the freedom to practice yoga anytime and anywhere.
App users can also track their YogaGlo activity on Apple Watch and monitor heart rate during each practice so they can contribute to your Activity Rings and meet your daily goals.
This is a free app, but if you subscribe YogaGlo membership for $22.99, the app offers on-demand training session consisting of more than 3,800 classes in a variety of styles, levels and durations. The upgrade lets you a class that meets your needs.
Asana Rebel - Yoga Inspired Fitness
Asana Rebel is one of the rare iOS apps that offers both yoga and fitness training for people who want to lose weight, burn calories, get fit and lean, strengthen core muscles, increase flexibility to boost their performance, balance the body whilst focusing the mind, and attain an overall healthy lifestyle.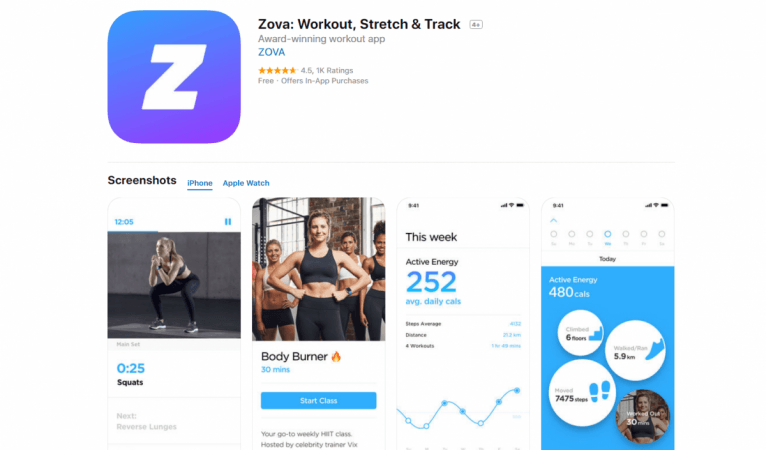 It is available in six international languages—English, French, German, Italian, Portuguese, and Spanish.
Zova
The app offers a simple interface to track and improve users' fitness. Zova also combines all types of workouts - classes, gym, bodyweight or swimming - into a simple score so it's easy to know how active the users are, or need to be.
It comes with the Stream Workouts feature, which offers ten-minute workouts for any area of the body. The Flexibility feature will combine classic yoga poses with deep and effective stretches. Users can also monitor heart rate and exercise stats with Apple Watch. Furthermore, it offers Apple Music integration to keep users motivated throughout the session.
Top Meditation apps for Apple Watch and iPhones:
Breathe
This is a native Apple Watch app. It guides users through a series of deep breaths, and it will remind them to take a time-out for focused breathing exercise at equal intervals throughout the day.
The wellness app lets users choose the duration of the session, after which the animation takes over. The Apple Watch app takes you through the session with a few gentle vibrations to help with focus.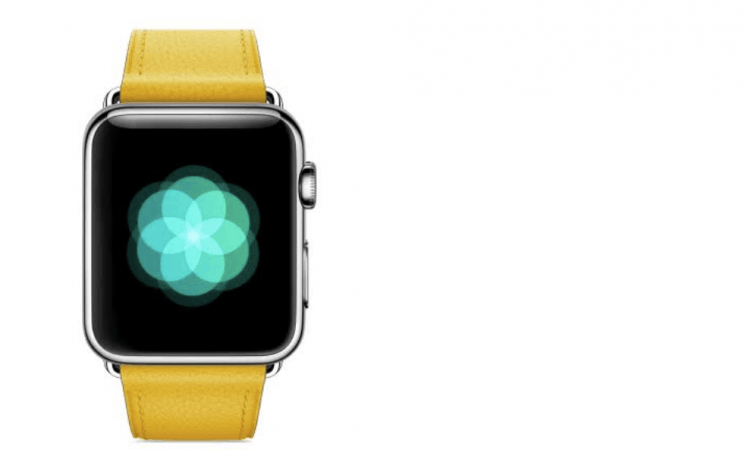 Living in a hectic city, where the mind is constantly occupied, we sometimes just forget to consciously breathe. Make time to take short breaks over the course of the day to focus on the breath, as a way of bringing focus, mindfulness and awareness into your life. The Breathe app on the Apple Watch gently reminds you to breathe. And for a minute you can just pause everything around you look at the flower blooming on an inhalation and shrinks down on the exhalation," Natasha Noel said to IBTimes India.
Here's how to start the Breathe session:
Press the Digital Crown to go to the Home screen, then open the Breathe app. Turn the Digital Crown to set the session's length. Tap Start when you're ready. Remember to stay still while you breathe.
Inhale as the animation grows, and exhale as it shrinks. Or inhale when your watch vibrates on your wrist, and exhale when it stops. Breathe until the session ends and your watch taps you twice and chimes. When you're done, you can check your heart rate.
When you use the Breathe app, your watch mutes some notifications, so you can focus. If you answer a call or move too frequently during a session, the session ends automatically, and you won't get credit.
Calm
Calm was adjudged the '2017 App of the Year'. It is a mindfulness and meditation app that promises to lessen the anxiety and get better sleep through guided meditations, breathing programs and Sleep Stories.
It is a perfect meditation app for beginners, but also includes hundreds of programs for intermediate and advanced users.
Guided meditation sessions are customisable and available in lengths of 3, 5, 10, 15, 20 or 25 minutes. Users can choose the perfect length to suit their schedule.
Oak - Meditation & Breathing
Oak offers guided meditation in just 10 minutes a day. Oak's simple mindfulness practice promises to reduce stress, improve sleep, and find a natural balance in life. Oak user profile tracks meditation and breathing process over time, including the minutes spent for meditation, the number of breaths taken, and consecutive days (streaks).
It also supports Apple HealthKit for tracking "mindful minutes" with the Health app.
Headspace - Guided Meditation
It offers fundamental techniques of meditation and mindfulness with hundreds of guided meditations on subjects like sleep, focus and exercise. There are 2-3 minute "mini-meditations" for a quick mental reset, 'SOS' sessions for moments of panic, anxiety and stress, soothing ambient sounds to help you drift off.
Additionally, Headspace also offers guided meditation and mindfulness exercises for kids with sessions on Kindness, Calm, and Focus, among others.
WaterMinder
This is an easy, intuitive app to track users' water intake. Based on the body weight (or user's personal goal), WaterMinder will remind the users to drink water to reach your daily goals. By seeing current water fill visually and in percentage, users will know how well they are hydrated.

Top meditation music on Apple Music
Meditation: Early Morning Rays
This app offers best of nature's ambient sounds like the chirping of birds and waterfalls to set you in a positive frame of mind and begin your day with a select playlist for some sunrise solace.
Yoga Meditation 50 Tracks
This app to offers relaxing music with nature sounds for stress relief, Zen Massage therapy, yoga class background music, and mindfulness meditation.
Stay tuned. Follow us @IBTimesIN_Tech on Twitter and on Google News for latest updates on Yoga apps and Apple iOS ecosystem.