Every year we celebrate International Women's Day on March 8, and this year it falls on a Thursday. Beginning in 1909, women across the world celebrate the special day to recognize their achievements, women empowerment, gender equality and more.
This year, according to the United Nations, the Women's Day theme is #PressforProgress in the wake of #MeToo era and #TimesUp movement.
And, to celebrate women in all their glory, we have listed ten best inspirational quotes made by some of the world's most powerful women.
"Let's be very clear: Strong men - men who are truly role models - don't need to put down women to make themselves feel powerful. People who are truly strong lift others up. People who are truly powerful bring others together." - Michelle Obama, Former First Lady of United States
"We do not need magic to change the world, we carry all the power we need inside ourselves already: we have the power to imagine better." - J. K. Rowling, British author
"You could certainly say that I've never underestimated myself, there's nothing wrong with being ambitious." - Angela Markel, Chancellor, Germany
"At the end of the day, don't forget that you are a person, don't forget you are a mother, don't forget you are a wife, don't forget you are a daughter." - Indra Nooyi, Pepsico CEO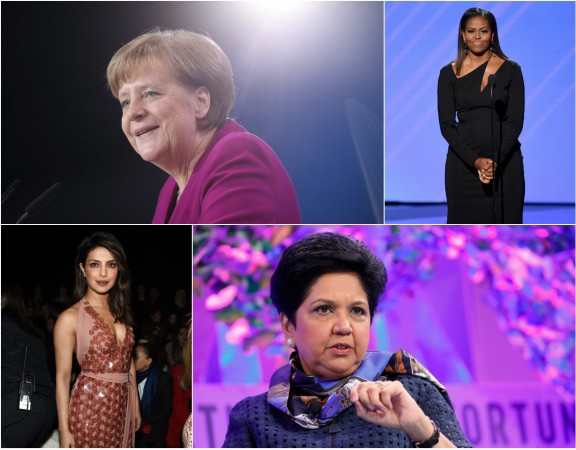 "In the future, there will be no female leaders. There will just be leaders." - Sheryl Sandberg, Facebook COO
"We cannot all succeed when half of us are held back." - Malala Yousafzai, Pakistani activist, Nobel Prize laureate
"I wasn't the prettiest girl in the room, but I learned to carry myself with confidence--that's how you make the best impression on people," – Priyanka Chopra, Indian actress
"Power's not given to you. You have to take it." - Beyonce, American singer, songwriter
"I chose to be a working wife and mother. Why should I compromise on either?" - Chanda Kochhar, ICICI Bank CEO
"I am not free while any woman is unfree, even when her shackles are very different from my own." - Audre Lorde, American writer, and civil rights activist
"On my own I will just create, and if it works, it works, and if it doesn't, I'll create something else. I don't have any limitations on what I think I could do or be." - Oprah Winfrey, Media mogul
"You can be whatever size you are, and you can be beautiful both inside and out. We're always told what's beautiful and what's not, and that's not right." - Serena Williams, Tennis player