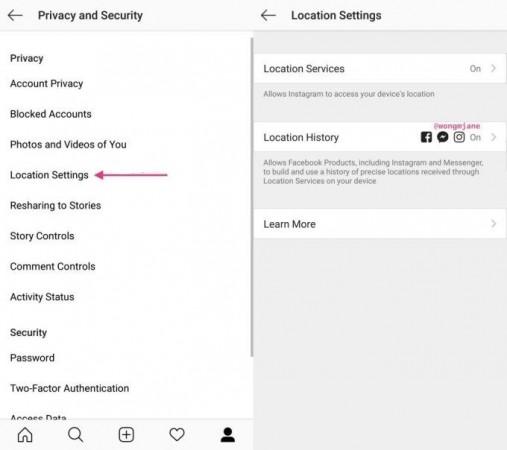 Facebook is trying a new privacy feature that would share a user's location history from Instagram with Facebook. This news comes after the departure of Instagram's co-founders from the company, with Facebook's previous VP of News Feed being named Head of Instagram. The Instagram location sharing is still in the testing stage.
This Instagram location sharing setting is situated in the Privacy and Security menu of Facebook, where it is clarified that Instagram and Messenger information can be utilized to gather and fabricate a location history based on your iPhone's Location Services feature.
Here is what Facebook had to say about the feature:
"Location History is a setting that allows Facebook to build a history of precise locations received through Location Services on your device. When Location History is on, Facebook will periodically add your current precise location to your Location History even if you leave the app. You can turn off Location History at any time in your Location Settings on the app.

When Location History is turned off, Facebook will stop adding new information to your Location History which you can view in your Location Settings. Facebook may still receive your most recent precise location so that you can, for example, post content that's tagged with your location. Location History helps you explore what's around you, get more relevant ads, and helps improve Facebook. Location History must be turned on for some location feature to work on Facebook, including Find Wi-Fi and Nearby Friends."
Basically, this Instagram location sharing feature takes location gathered by the Instagram application – after getting the location access – and shares it with Facebook. The location is then displayed on Facebook's Activity Log on a map and can be, without much of a doubt, used for targetted advertisement.
Facebook states that says it hasn't yet made the feature public, and that Instagram presently does not store location history. But this doesn't mean that the feature won't be released later on.
"More often than not, I grant Facebook the required permissions on the smartphone," says Rishu Majumdar, an active Facebook and Instagram user based in Bengaluru. "However, this doesn't mean that Facebook exploits my data for its personal gains while serving ads that seem quite intrusive," he adds.
This Instagram location sharing feature comes as Instagram users are stressed over the fate of the service. Entangled in the flight of Instagram co-founders Kevin Systrom and Mike Krieger are reports that the two were becoming disappointed with Facebook and Mark Zuckerberg meddling with the autonomy of Instagram.