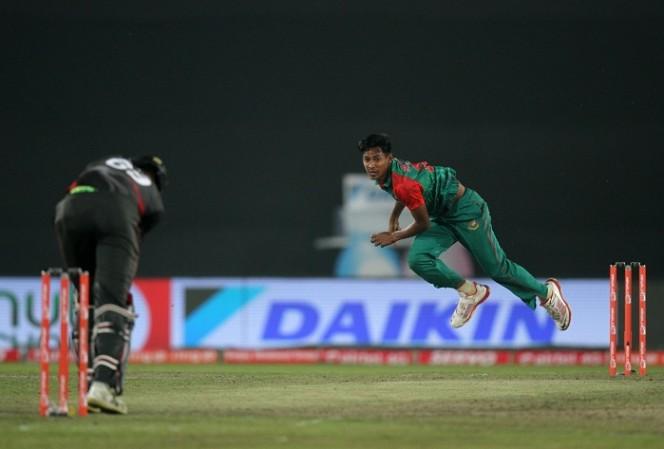 Bangladesh pacer Mustafizur Rahman burst onto the scene in 2015, winning the man of the match awards on both his ODI and Test debuts, but over time, injuries have seen him spend more time on the bench than on the ground. As a result, the Bangladesh Cricket Board (BCB) has decided to take a drastic step to protect their crown jewel.
The 22-year-old has been banned from playing overseas T20 leagues for a period of two years as the BCB look to avoid injuries to one of their key bowlers. The announcement was made by BCB president Nazmul Hasan on Friday.
'The fizz' as he is popularly known has become a big draw in T20 competitions, particularly the IPL where he has made a name for himself with his death bowling abilities. However, the rapid-paced games have left the pacer with multiple injuries over his short career, with Rahman being ruled out of the ongoing series against West Indies due to a toe injury he picked up while playing for Mumbai Indians in the 2018 Indian Premier League.
Bangladesh has clearly missed his services, going down 2-0 in the test series in the Caribbean. ''I have told him that he will not be available abroad [for franchise based tournaments] for the next two years,'' Nazmul said.
''It cannot go on like this. He will pick up injuries while playing in the franchise league and won't be available to perform the national duty. It's just not acceptable. It cannot go on that he will be undergoing rehabilitation to recover from injuries under the care of the board, join those leagues again only to have a similar fortune,'' he added.
Rahman has a long history of injuries since his shoulder strain in 2016 during the Twenty20 Blast in England. Since his absence due to the injury in the IPL, the Tigers have struggled in all formats going down 3-0 to Afghanistan in a T20I series in Dehradun before being humiliated in the test series in the Caribbean.