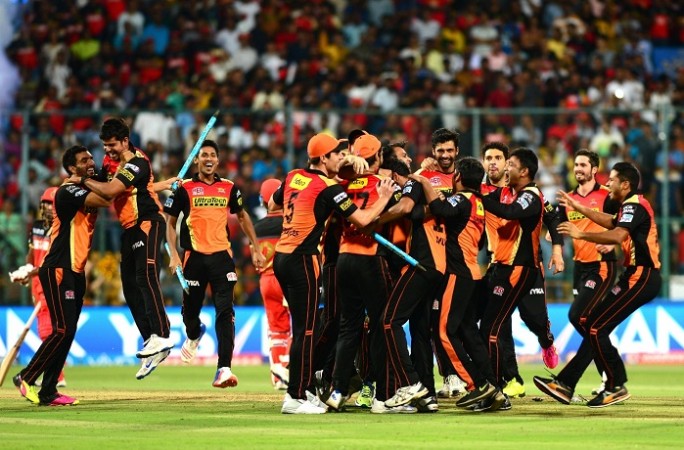 RCB have been the destiny's child of IPL 2016; no matter what, no matter how difficult, no matter what the situation, RCB's name always looked etched on the trophy, with no way any team were going to change that. Just don't tell that to SRH, though. With the odds stacked against them in all departments, the Sunrisers Hyderabad made adversity look like a two-foot hurdle to cross, making the impossible, possible, and stopping the RCB batsmen in their tracks.
Choosing to bat first at the Chinnaswamy is match suicide, you might as well give up and go home. But, David Warner, calm and collected, knowing exactly what needed to be done, took that difficult decision, deciding to back his own team's strengths rather than worry about RCB's prowess.
That proved to be an absolutely cracking decision, because, without that scoreboard pressure, Warner found help from the rest of the SRH batsmen, including Shikhar Dhawan, Yuvraj Singh and Ben Cutting, who played one of the best knocks of his career, and just like that the score bulged all the way up to 208.
Say what you want about this RCB batting lineup – and there is nothing quite as formidable anywhere else in the world, even in international cricket – runs on the board in a final is always pressure, no matter what start to you make. And what a start it was too as Chris Gayle smashed sixes for fun, with the Sunrisers Hyderabad bowlers left wondering when the smashing would end.
It did end, in the 11th over, and then Kohli fell in the 13th and AB De Villiers in the 14th and without even realising it, the match was won by the Sunrisers Hyderabad.
T20 might be a batsman's game, but IPL 2016 will be remembered for SRH's bowling. Yes, David Warner was the man who made the difference, and considering SRH won the title, he probably should edge Virat Kohli in the man of the tournament stakes, but it was the bowlers who again and again and again executed those plans to perfection, with Bhuvneshwar Kumar and Mustafizur Rahman bringing joy to the most difficult of arts that is death bowling.
Nothing is more difficult than spearing in those yorkers and to have the courage to bring that changes of pace into play, because in an age when a mishit also goes for a six, you need real cojones to put your hand up and bowl in the final overs.
Bhuvneshwar and Mustafizur, back for this final after missing Qualifier 2 with a tight hamstring, did it again and again, every match. There really is no praise higher for those two, no adjective apt enough.
The team will know just how valuable they were, though, and while the IPL final victory was an all-round effort, with bat and ball, the three that sparkled brightest, not just in this match, but through IPL 2016, were Warner, Bhuvneshwar, the Purple Cap winner, and Mustafizur.
Watch some of the highlights of Warner's and Cutting's innings and SRH's bowling HERE and HERE and HERE