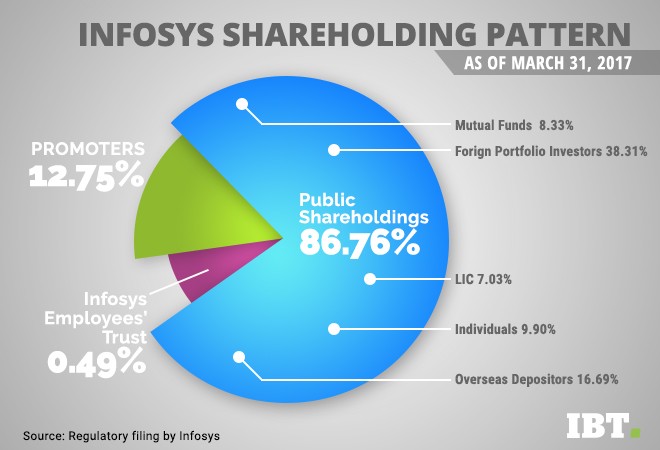 Shares of India's largest software exporter Infosys rose as much as 4.6 percent interaday on Monday, and finally closed at Rs 941.15, up 3.14 percent, as hopes of investors were restored with co-founder Nandan Nilekani made a comback as non-executive chairman.
More importantly the IT major gained Rs 7,000 crore in market value after continuous sell-offs started soon after Vishal Sikka's exit. On Thursday's closing, the company's market capitalisation stood at Rs 2.09 lakh crore, which jumped to Rs 2.16 lakh crore after Monday's trade. Indian markets were closed on Friday.
After Vishal Sikka announced his resignation from the position of CEO and MD of the IT major, shares of Infosys plunged over 10 percent despite some recovery in Thursday's sessions, with shares closing at 2 percent premium at Rs 912.50.
Dharmesh Mehta, managing director at Axis Capital told the Economic Times, that "Nilekani's return was much needed and could inspire some confidence among stakeholders. His statement of remaining with the company until it is restored to its former glory was quite encouraging, and there's a possibility that he could attract new, top talent."
Last Friday, Nilekani met the board members of the software exporter and chaired a meeting to set immediate and long term goal for the company. He said his immediate priorities are to help the board to create a long-term governance structure in the company, search and hire a chief executive officer (CEO) and reboot the company's business strategy.
"I am extremely excited about the future of Infosys. The Board is focused on bringing complete stability to the Company. It has also tasked its Committee of Directors to work with the CEO and management to review and refresh the company's strategy by October," Nilekani said to the reporters on Friday at the company's Bangalore office.
The ugly spat between co-founder Narayana Murthy and the company board, which resulted in the exit of Sikka, eroded over Rs 32,000 crore of the company's market capitalisation.
Last week, after Monday's trade the promoters of the Bangalore-based IT major have lost around Rs 4,320.70 crore, with co-founder N R Narayana Murthy losing the most.
Nilekani was one the seven founders who built the company three and half decades ago. He served as the CEO and MD of the company between 2002 and 2007, during his five-year tenure as CEO, Infosys' topline grew six-fold to $3 billion.