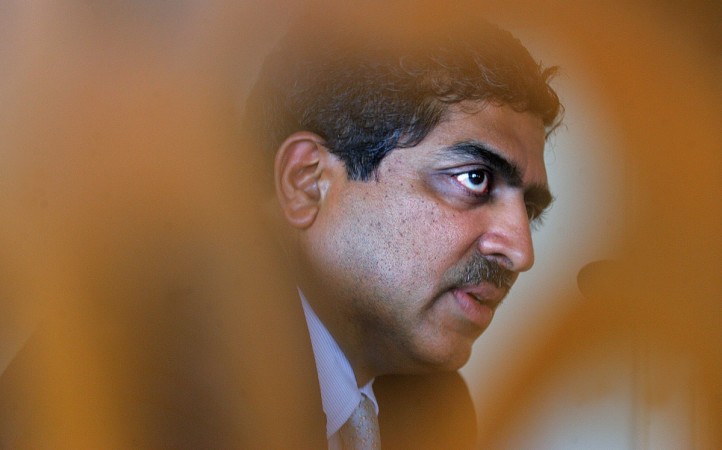 "I'm here because I think there's nobody else, that's just a joke. It's a fact also I guess," Nilekani told reporters laughing.
As Nandan Nilekani takes the centre stage at the headquarter in Bangalore, almost a decade later, the newly appointed non-executive chairman soon brush humour under the carpet, rolled up his sleeves and started working.
On Friday evening, Nilekani met the board members of the IT major and chaired a meeting to set immediate and long term goal for the company.
Nilekani did not give any details on the future strategy, apart from saying it would be made public on the second quarter result meet in October.
He said his immediate priorities are to help the board to create a long-term governance structure in the company, search and hire a chief executive officer (CEO) and reboot the company's business strategy.
"I am extremely excited about the future of Infosys. The Board is focused on bringing complete stability to the Company. It has also tasked its Committee of Directors to work with the CEO and management to review and refresh the company's strategy by October," Nilekani said.
The board on Friday has also approved the appointment of the executive recruitment firm Egon Zehnder to work with its nominations and remunerations committee to review and identify the right candidate to be the Company's next CEO and MD, the release stated.
Speaking to the reporters on Friday night, Nilekani repeated numerous times that he is back to the company and represents 100 percent of the shareholders.
"I will ensure there are no discordant voices in the company, and everyone is on the same page. I want Infosys to be a board-managed company, with a board that will practise the highest standards of corporate governance," he said.
On the Panaya acquisition, the board decided that the non-executive chairman will get full briefing on these investigations and the appropriate course of action will be decided.
On the ugly spat between the co-founder Murthy and the board, and also on the statement issued by the board after Sikka's exit, Nilekani refused to get drawn into any finger-pointing.
The statement release by Infosys stated that "The board believes it to be unfortunate that various differences of opinion have arisen between Mr. Murthy and the Board in the recent past. The Board wishes to express that it was not its intention to cause Mr. Murthy or any other affected person any personal distress or anguish while stating its point of view."