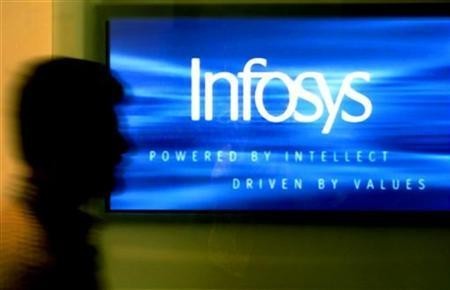 Software service provider Infosys posted on Thursday a lower-than-expected 33 percent rise in net profits for its first quarter of 2012-13.
Strong demand for outsourcing and the rupee's freefall against the greenback contributed to the ₹22.89 billion in net profits and ₹96.16 billion in consolidated sales.
The Bangalore-based company's performance in the quarter ending June 30 met below street expectations of ₹24.83 billion in net profits and ₹97.15 billion in revenues. For the January to March quarter, Infosys registered a net profit of ₹23.16 billion while consolidated sales were issued at ₹88.52 billion.
The results posted saw Infosys shares tumbling ten percent down to 2,243.25 on the BSE. The company hasn't issued an earnings forecast for the second quarter ending September, but announced its year-on-year forecast for FY13 to $7.34 billion, five percent down from its previous estimate of 8-10 percent.
The company's investments, deposit and government bonds are registered at ₹205.96 billion this quarter, as against the previous year's quarter at ₹169.69 billion.
"Global currency volatility continues to be a big challenge for the industry. We are making the right investments balancing the short-term needs with long-term opportunities," Infosys Member of the Board and Chief Financial Officer V. Balakrishnan was quoted saying to news agency Press Trust of India (PTI).
Infosys has added another 51 new customers to its client base, which includes Bank of America, Goldman Sachs, BT Group, GlaxoSmithKline and several other companies.
"Our focus on Infosys 3.0 and building tomorrow's enterprise coupled with disciplined execution will help us deliver high quality growth, despite challenges seen in the global economic situation, resulting in slower IT spends by large corporations," Infosys CEO and Managing Director S.D. Shibulal said to the PTI.