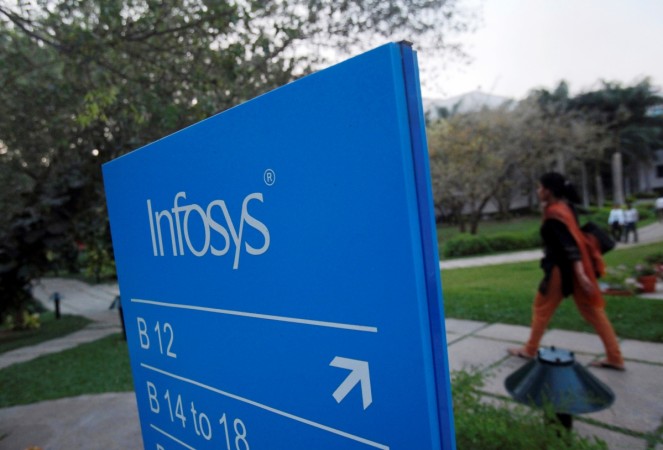 This particular sound byte for the public space is simply not true, protested Infosys. No, the founders were not exiting their entire 12.75 percent stake worth Rs 28,000 crore in the company; and of course not, such rumours were absolutely unnecessary and speculative when future growth is the true imperative -- and more on similar lines.
A media report earlier in the day, which swore that the stake sale plan was most definitely underway, would also attest in the same breath that Infosys founder Narayana Murthy had denied anything of the sort. Murthy, along with his family, is the largest shareholder in Infosys with a 3.44 percent stake.
There has been a reasonable amount of discontent over the company's primary co-founder and de facto potentate during its growth years expressing worries in recent times over high CEO and COO pay, and lack of transparency on directorial imperatives and tenures under the new management, among others. But a lot of praise came in from shareholders as well. Parsimony and integrity are brand values which draw extreme reactions when projected as bywords of a company.
Understandably, the founder cohort, especially Murthy, have been described as churlish and mean-spirited by commentators and investment analysts for not being open to many of the new directions signposted by Sikka and supported by company chairman R Seshasayee and directors like Microsoft alumnus Ravi Venkatesan and D N Prahlad. But it stands to their credit that they have spoken up about key issues regarding transparency, CEO and COO pay, as well as trying to ensure accountability from directors on key deliverables and what they bring to the company.
Redrawing Infosys
Sikka has been prudent enough to request anybody around to not shift focus from Infosys's growth plans and the evolutionary mindset which he has worked hard to din into every Infosys employee since he took over. The mindset, Sikka believes, should evolve out of strong employee focus on the new technological order of business which Sikka has taken pains to outline – greater focus on total business transformation through automation, cloud evangelisation, innovation and holistic business strategy solutions. Sikka has reiterated that his new focus will be crucial to taking the company ahead against the economic and political headwinds it has been facing since 2011.
It was always apparent that the management team revamps Sikka effected towards this end are trusted by a majority of Infosys shareholders – who at the same time, have been mostly appreciative of Murthy's lengthy, paternal critiques of the management, being a key founder of the company.
Sikka has been voluble enough on strategy, while apparently downplaying Murthy's concerns on senior executive pay and transparency issues. But what has largely escaped the notice of most is that he has, in recent weeks, also moved to partly address Murthy's concerns regarding board accountability as well executive compensation. Sikka is proceeding to plan, while also cutting flab on the company's benches, through a series of much criticised performance appraisals and "releases" of employees who are not relevant to its evolving strategic imperatives.
Rs 7,500 crore was shaved off Infosys' market cap, and this was to be expected for a company capitalised at Rs 2,15,832 crore. The 3.45 per cent share price drop -- their lowest since May 5 --, at outset of market trading, does not cause surprise, for most Infosys investors, as opposed to the analyst and larger business community, are on the same page as the founders on management concerns voiced by Murthy.
While addressing Murthy's concerns about the $11 million plus perks salary he (Sikka) draws, an incidental mea culpa emerged, when the company's much touted $20-billion revenue target for 2020 all but evaporated from its executive briefings as well as a recently released annual report.
Sikka had not reckoned for the fact that Infosys was punching above its weight, but noted the perils of unrealistic growth targets which had already dented the company's return on equity with investors as well as clients. The deletion of the unrealistic growth target also pared down Sikka's pay levels to more realistic proportions, one that would assuage Murthy's socialist and corporate concerns in equal measure.
Shareholder angst
All talk of Murthy and the rest of the founder combine exiting the company through a stake sale, would therefore, be taken by the general public with a pinch of salt. But the market wouldn't agree, of course. In the first three hours of morning trade on June 9, investors shaved off approximately Rs 7,500 from Infosys' market capitalisation of Rs 2,15,832 crore. Investor fears over what they read as negative announcements from the company and lower earnings margins over the last few quarters have dragged the stock down to the Rs 940-Rs 1,100 range in the last three months.
Friday's 3.5 per cent share price drop -- their lowest since May 5 --, at the outset of market trading, does not cause surprise in the least, for most Infosys investors, as opposed to the analyst and larger business community, are on the same page as the co-founders on various management concerns vocalised by Murthy and former executives of the company.
Even though Infosys blamed the economy for slackening growth under past CEO and co-founder S D Shibulal, it was also clear that much of the company's problems at that point in time were internal. Company shareholders were quick to recognise this fact and supported the move to bring in fresh talent from outside. And, also pulled their weight behind Murthy on issues which concern every Infosys employee.
A holistic approach towards delivering IT solutions in line with client business goals has been the hallmark of Sikka's tenure. The revamp steered by the Stanford University alumnus has focussed on people development through innovation in emerging areas for IT services providers -- Big Data warehousing, artificial intelligence, cloud technologies, automation in a variety of spaces ranging from agriculture to manufacturing and utilities. These new imperatives would be implemented to manage the client's strategic business imperatives, and not just point solutions delivered to run its IT infrastructure alone.
Behind the scenes, Infosys founders like Murthy and Kris Gopalakrishnan have worked with Sikka on smoothing out the vision ahead, and even brainstorming on tackling the challenges to its established business order. The family business interests of each founder has counterpointed their strong growth stance and support for a fresh vision for Infosys to emerge as a technology-driven company, beyond its 'services vendor' roots. It is vital for Indian IT that their optimism is justified.