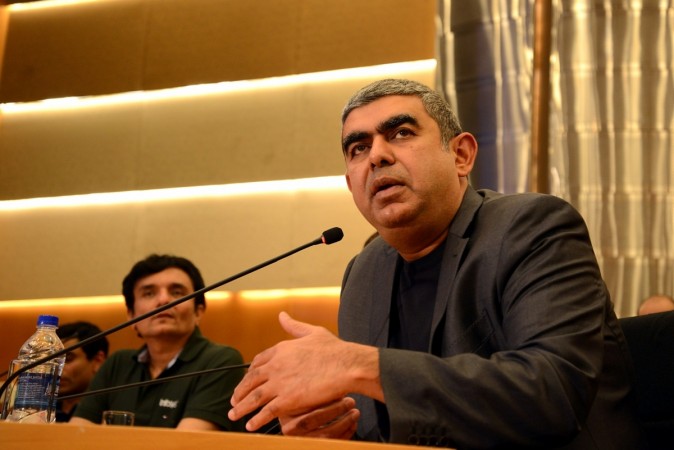 India's second-largest IT software services exporter Infosys has sent out yet another signal on hiring, the second in two days. The first was by CEO Vishal Sikka who said artificial intelligence (AI) poses a real threat to jobs in an interview to a business news channel at the World Economic Forum (WEF), Davos. The second is a rather "euphemetist" one and has come from its HR head, Krishnamurthy Shankar.
A prominent AI tool launched by Infosys is Mana, in April 2016. Infosys Mana is a platform that "brings machine learning together with the deep knowledge of an organization, to drive automation and innovation – enabling businesses to continuously reinvent their system landscapes," the company said in an update on April 28, 2016.
Read: Here is what Vishal Sikka, Pravin Rao, MD Ranganath said after Dec quarter results
"So, those are some of the things not only being discussed in the World Economic Forum, but also they are generally on people's minds. Artificial Intelligence (AI): it is very clear that a lot of the jobs of the past are going to be displaced by AI," Sikka told CNBC-TV18.
"...people are genuinely thinking about what does it mean to reskill people and bringing in larger collections of people into the workforce of tomorrow as a result of betting skilling and training and so on and so forth," he added.
A similar comment has been made by Krishnamurthy Shankar, executive vice pesident and the group head of human resource development, at Infosys.
"We have been releasing about 2,000 people every quarter and also training them in special courses that will help them in their new assignments, " the Economic Times quoted him as saying on the sidelines of an event organised by the Bengaluru chapter of WEF-backed Global Shapers.
Infosys created a record of sorts in the December 2016 quarter (Q3) when its net employee addition was in the negative (66) as against addding 2,779 employees in the September 2016 quarter and 5,407 employees in December 2015 quarter.
The company lowered its revenue guidance for FY2017 when it declared its Q3 results a few days ago, disappointing the investors.
The IT services industry is facing a major challenge of stricter norms for H-1B visas being mulled over by the new US administration under Donald Trump.
Infosys shares were trading one per cent lower at Rs 949 apiece on Friday(January 20) around 3.18 pm on the BSE. Wipro shares were almost flat at Rs 477 apiece. The company will be declaring its Q3 results on January 25. The TCS stock also remained unchanged at Rs 2,285.
At the end of the December quarter, TCS had 3,78,497 employees, of which 34.6 per cent were women, an all-time high.