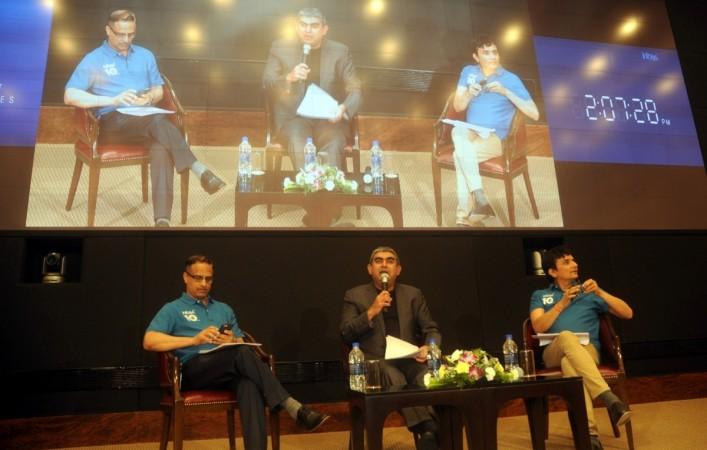 Infosys CEO Vishal Sikka saw his salary (cash component) fall 67.15 percent while COO U B Pravin Rao's dropped 15.95 percent for 2016-17, according to the company's latest annual report.
In terms of cash component comprising fixed pay, retirals and incentives, the decrease was largely in bonus, down 81 percent to $822,289 in 2016-17 from $4.3 million in 2015-16.
The fall was made up by performance-based incentives in the form of stock options worth $2,885,482 granted in 2016-17 as against NIL in the preceding fiscal, resulting in an overall drop of 7 percent to $6.75 million (~ Rs 45.11 crore) as against $7.30 million in 2015-16 (~ Rs 48.41 crore).
The time-based stock incentives for 2016-17 remained unchanged at $2 million.
For Pravin Rao, the overall compensation rose to Rs. 11.80 crore in 2016-17 from Rs. 8.14 crore in the previous financial year, according to the annual report. The increase was due to performance-based stock incentives worth Rs. 4 crore. From a cash component perspective, his salary fell 15.95 percent to Rs 7.80 crore (basic Rs 4 crore, bonus Rs 3.63 crore, retirals Rs 17.7 lakh) from Rs 9.28 crore in 2015-16.
It is pertinent here that Rao's salary was revised with effect from November 2016, triggering a sharp response from co-founder and former chairman Narayana Murthy. Rao's new compensation package included Rs. 4.62 crore in fixed pay and Rs. 3.88 crore as variable compensation annually, apart from 27,250 restricted stock units and 43,000 stock options vesting over four years.
Murthy had criticised the Infosys board's decision to give a hike to Rao, saying it sent a wrong message to the employees in a communication circulated to select media houses.
"This is grossly unfair to the majority of the Infosys employees including project managers, delivery managers, analysts, programmers, sales people in the field, entry level engineers, clerks and office boys who are toiling hard to make the company better. The impact of such a decision will likely erode the trust and faith of the employees in the management and the board.
"With what conscience, can a decent person like Pravin (a man schooled in Infosys values for over 30 years) tell his juniors that they should work hard and make sacrifice to reduce cost and protect margin? I have got so many mails from these people asking whether this resolution is fair. No previous resolution in the history of the company has received such a low approval," he had added.
On Wednesday, Infosys closed 0.40 percent lower at Rs. 953 on the BSE while the Sensex ended 64 points lower at 30,302.