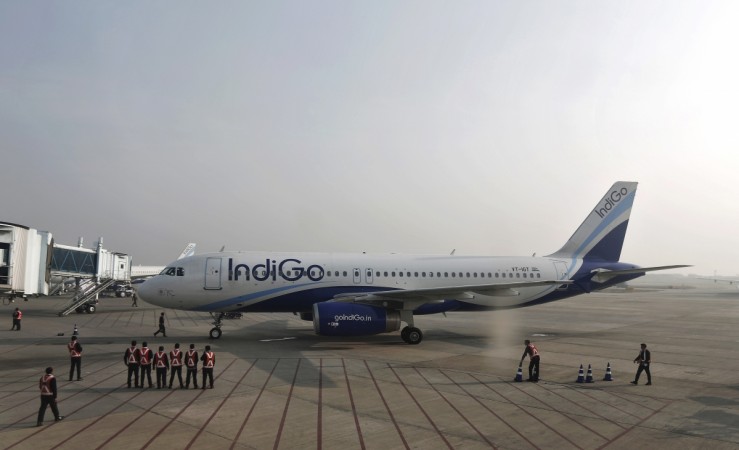 Security officials of IndiGo Airlines and the Jaipur Airport went into a tizzy early Tuesday, June 19, morning, after the call centre of the carrier received a bomb threat call for its Jaipur-Mumbai flight.
Live Updates
2018-06-1913:18 (IST)
Tank being questioned
Tank is said to be a choreographer with a dance reality show. On interrogation, he told the police that he wanted to board the flight and was late.
"As soon as he reached the Jaipur airport, CISF questioned him and he confessed to have made the call. He was handed over to the Sanganer police for further interrogation," an official told HT.
2018-06-1913:14 (IST)
Aircraft declared safe
An investigation was carried out and the aircraft was declared 'safe' at 9:45 am, reported HT.
2018-06-1913:11 (IST)
Hoax call made by a flyer
It is now being said that the call was made by a Jaipur-based choreographer, identified as Mohit Kumar Tank. He has now been detained by the police and is being interrogated.
Tank reportedly was to board the plane but was running late. He then made the call to IndiGo so that the flight would be delayed and he could board
2018-06-1911:45 (IST)
Which flights were affected
The 11 flights were Vadodara-Delhi (6E 591), Kochi-Delhi (516), Delhi-Srinagar (853), Delhi-Chennai (443), Ahmedabad-Kolkata (135), Delhi-Mumbai (223), Chennai-Mumbai (612), Delhi-Goa (329), Guwahati-Delhi (571), Delhi-Ahmedabad (161) and Delhi-Vadodara (734).
2018-06-1911:41 (IST)
Not the first hoax for IndiGo
In the year 2016, 11 IndiGo flights in Delhi and a few other airports received a similar bomb threat.
The airline at the time said that the caller had identified himself as Smith from the US. He had reportedly said that at least 11 flights, which were either already mid-air or getting ready for take off, were facing a bomb threat from a woman flyer.
2018-06-1911:24 (IST)
Threats to airlines and airports
Airlines and airports have often been soft targets for such bomb hoaxes and there have been several instances when security officials have been forced to carry out emergency searches.
In March, Hyderabad's Rajiv Gandhi International Airport received a bomb threat. This was later confirmed by the military intelligence and various other airports in the country were also on alert.
2018-06-1911:17 (IST)
Madhav's confession
After he was arrested, Madhav said that he made the call as he was "depressed" and "frustrated" with his employer. He added that IndiGo Airlines had also given him a verbal notice on performance improvement.
"The notice left him depressed and he decided to teach the airlines a lesson by making the false call," Hindustan Times quoted the police as saying.
2018-06-1911:13 (IST)
Earlier threat
June 19's threat comes weeks after an IndiGo staffer made a similar call for a Delhi-Mumbai flight. Kartik Madhav, 23, was arrested from Pune in May for making the call.
2018-06-1911:10 (IST)
Hoax
The threat was later found to be a hoax. "Following the clearance by the authorities, operations will be resumed as normal," IndiGo added.
2018-06-1911:10 (IST)
IndiGo responds
Speaking of the threat, IndiGo Airlines said in a statement: "We immediately reported the matter to Bomb Threat Assessment Committee (BTAC) and followed all laid down security protocols."
2018-06-1911:09 (IST)
Flight schedule
IndiGo's flight 6E 218 departs from Jaipur at 5.05 am and lands in Mumbai at 7 am.
2018-06-1911:09 (IST)
Threat call
The call was reportedly received around 5.30 am and the unidentified person told the airline that there was a bomb threat to the Mumbai-bound flight 6E 218.
The officials could not check the aircraft, the flight had already taken off by then