Export of spices from India fell 11.42 percent in the financial year 2015-16 to 8.32 lakh tonnes in volume terms from 9.39 lakh tonnes in the preceding fiscal; though in value terms, they rose 12 percent to Rs 16,630 crore from Rs 14,847 crore in 2014-15.
As a category, spices accounted for 0.97 percent of the country's total exports in 2015-16.
The information was given by Nirmala Sitharaman, commerce and industry minister, in a written reply to the Rajya Sabha on Wednesday.
She ruled out the formation of additional boards to promote the export of spices but said that the government is addressing concerns of the trade in other ways.
"...the Government has notified eleven Spice Development Agencies for addressing issues related to production, quality, domestic marketing and export of Spices in major spice growing States/Regions of the country," Sitharaman said in her reply.
India is endowed with varying climates — from tropical to sub-tropical to temperate — allowing many states to grow different spices.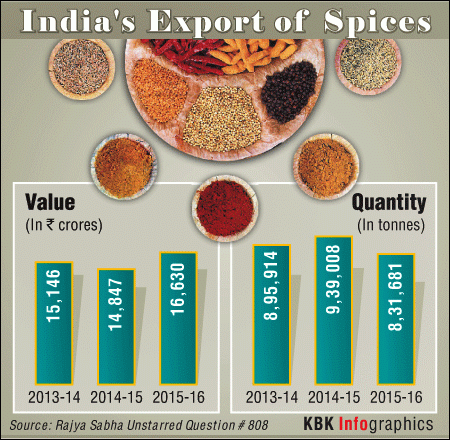 Pepper is a significant part of export of spices and spice products from India, with the "king of spices" earning Rs 1,730 crore in 2015-16, according to the Spices Board. It is grown in Kerala, Karnataka and Tamil Nadu.
Other items exported by India include cardamom, chilli, ginger, turmeric, coriander, garlic, tamarind, fennel and fenugreek.
The US, China, Vietnam, the UAE and Indonesia are top importers of Indian spices.
Saffron is grown exclusively in Jammu and Kashmir.