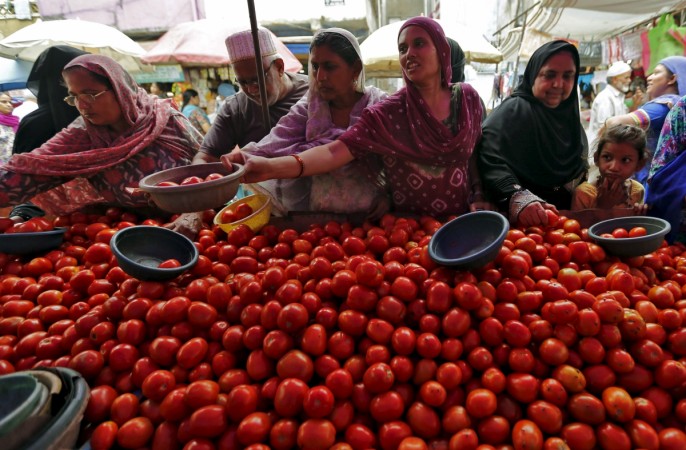 Soaring food prices in July kept India's headline inflation above the Reserve Bank of India's (RBI) near-term target, underscoring the challenge facing the next central bank governor.
Consumer prices rose at a faster-than-expected pace to 6.07 percent last month from a year ago, up from June's 5.77 percent annual gain, government data showed on Friday. Economists surveyed by Reuters had expected retail inflation to come in at 5.90 percent.
It is the fourth straight reading above the RBI's target of 5 percent by March 2017.
At his last monetary policy review on Tuesday, central bank chief Raghuram Rajan left key interest rates unchanged, flagging upside risks to the inflation target.
The former International Monetary Fund chief economist is due to step down as RBI governor on Sept. 4, after a three-year term, to return to academia.
While Prime Minister Narendra Modi's government has yet to pick a successor, it has bound the next governor with Rajan's retail inflation target of 4 percent, with a band of 2 percent on either side, for the next five years.
Retail food prices surged 8.35 percent year-on-year last month, much faster than a 7.79 percent annual increase in June.
Above-average monsoon rains this summer have raised hopes of a boost to farm output and an ensuing drop in food inflation. Already, there are signs vegetable prices are edging down.
However, the outlook for core inflation remains uncertain due to a shrinking output gap and an expected pickup in demand-driven price pressures, following full implementation of a major hike in government salaries and pensions.
Pay hikes are also expected to make it tougher for Finance Minister Arun Jaitley achieve the fiscal deficit target of 3.5 percent of GDP in the current fiscal year.
Jaitley told lawmakers on Friday he would need more money to cover the payout.
A looser fiscal stance could boost inflationary expectations, economists warn, as the government pays higher wages and keeps capital investment high in the hope that private sector activity will then pick up.
"The central bank faces a difficult task in meeting its inflation targets," said Shilan Shah, India economist at Capital Economics.
SALES-TAX IMPACT SEEN
The roll-out of a new national sales tax planned for next April is also expected to push up inflation. A government-appointed panel has suggested a standard Goods and Services Tax rate of 17 percent to 18 percent, but India's states want a higher level.
Morgan Stanley reckons a higher rate could push up retail inflation as much as 0.7 percentage points.
Economists don't see much steam left in the RBI's current easing cycle, in which the policy repo rate has come down by 150 basis points since January 2015, to its lowest in more than five years.
Most expect another cut of 25 basis points by December, before the central bank hits the pause button. But much will depend on who replaces Rajan.
"The appointment of a more dovish candidate as the next governor would raise the chances of further monetary loosening," Shah said.
Separately, industrial production expanded 2.1 percent in June from a year earlier, faster than a revised 1.1 percent rise, government data showed.
The rise was primarily led by expansion in electricity and mining production.
The industrial output data is based on an old series not reflected in India's current gross domestic product figures. As a result, analysts set little store by those numbers as a guide to the economy's broader health.