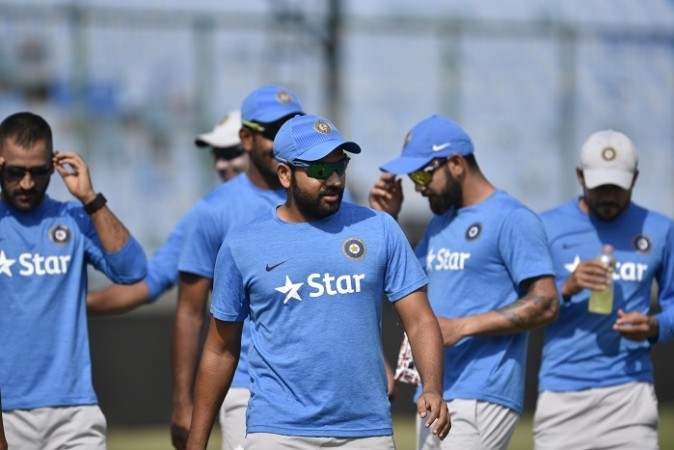 The Board Of Control for Cricket in India has cleared India's participation for the upcoming Champions Trophy. It had come under dark cloud with the ongoing tussle over the new revenue model between the BCCI and the world governing body.
With India set to participate, cricket fans will keep close eyes on the team, which is going to be sent for the Champions Trophy. The BCCI will announce the team on Monday, and one, more or less, knows the team that will head over to England with Virat Kohli leading Team India to defend their title.
Players like Kohli, MS Dhoni, Yuvraj Singh, R Ashwin, Ravindra Jadeja, Bhuvneshwar Kumar, Umesh Yadav, Jasprit Bumrah among others are sure to be part of the team.
BCCI announce India's 15-member squad for Champions Trophy
However, there are growing concerns for India in the opening slot. With KL Rahul not available for Champions Trophy, India might have to pin their hopes on Shikhar Dhawan and Rohit Sharma in the Champions Trophy.
Shikhar, who has been amongst the runs for his IPL side Sunrisers Hyderabad, has done enough to justify his place in the squad for the Champions Trophy 2017. The left-hander could play an important role in England, and his ability to play aggressively will come handy at the top of the order.
But, things have not gone as per plan for Rohit. The Mumbai batsman has had a below par IPL 2017 so far, scoring 183 runs in IPL 2017. It is such performances in IPL, which might bother the selectors, who might also have to think about his long absence from the game. He has not played any international cricket in 2017 after undergoing surgery in November 2016.
Agreed, Rohit might not have played international cricket for some time and also failed in the tenth season of IPL, but he is a class act and can win matches single-handedly for India. Rohit is a genuine match-winner. He has proved it with his performances for India in the past.
His ability to dominate matches against all kinds of opposition will help India as he can provide the perfect base for the rest of the batsmen in the middle order including Dhoni and Yuvraj to shine.
With the conditions in England expected to assist seamers, India could well take a third opener in the form of Ajinkya Rahane. Come what may, Rohit and Shikhar has to open the innings for India, and if they fail consistently, Rahane can replace them in the playing XI.