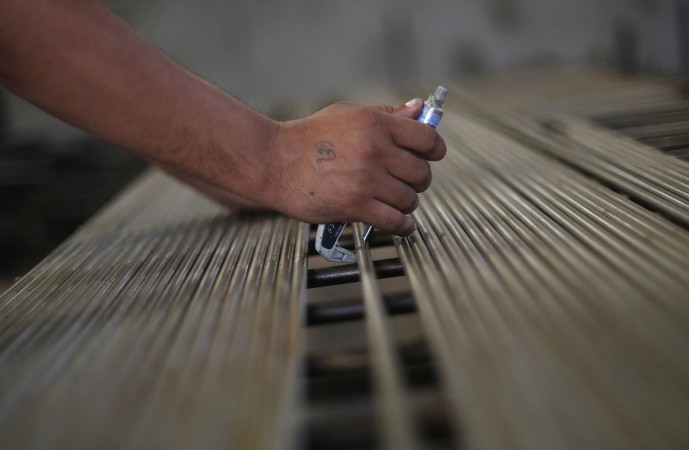 Indian steel companies are likely to raise prices for the second consecutive month in March after the Indian government imposed a minimum import price last month, according to an analyst. A recovery in global steel prices and an increase in domestic demand are likely to sustain the expected hike, but excess capacity could partially impact it.
"Domestic steel prices have witnessed an increase of Rs 1,500 per tonne post the imposition of a minimum import price (MIP) on steel imports in February 2016 and a further hike of Rs 1,000-1,500 per tonne is expected in March 2016," Pallav Agarwal of Antique Stock Broking said in a note on Wednesday.
"Sustainability of recent price hikes would be aided by the recovery in international steel prices and seasonally strong demand in the fourth quarter. However, price hikes would be tempered by the domestic surplus capacity and new capacities expected to be commissioned in FY16/FY17," it added.
Steel imports into India declined for the fourth straight month in February due to two factors: the imposition of a "20 percent safeguard import duty for 200 days on some steel products in September 2015" and a "floor price on imports to deter countries such as China from undercutting local mills, the first such move in more than 15 years," Reuters reported.
Steel consumption, exports and imports have shown a mixed trend in India during the period April 2015 to February 2016, Antique Broking said, citing provisional data from the Indian government's Joint Plant Committee (JPC).
While consumption grew 4.3 percent to 72.7 million tonnes (MT) during the period, exports and imports saw a divergent trend.
"Steel imports over the same period increased by 20.5% year-over-year to 10.2MT while exports declined by 31.9% to 3.5MT. Imports in the month of February 2016 at 0.9MT declined by 7.3% year-over-year and were flat over January 2016 reflecting the impact of the MIP imposition in Feb'16," the broking firm said.
The imposition of a safeguard duty and a minimum import price was the outcome of lobbying by Indian steel companies such as JSW Steel, Tata Steel and Kalyani Steels, whose profit margins have been hit due to cheap imports from China, as well as Russia, Japan and South Korea, Reuters had said in its report.
India is the third largest producer of steel in the world.