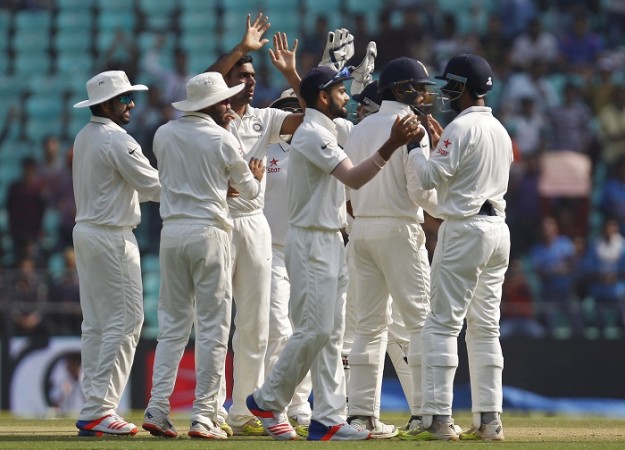 It is always a difficult task to win a three-day match, but India tested West Indies Cricket Board President's XI in Saint Kitts to come close on the final day of the second warm-up game on Saturday. However, the hosts held on to a draw in an interesting encounter, where India played quality cricket.
It was interesting battle between the bat and ball. The home team batsmen were determined not to give their wickets cheaply, and the bowlers were trying different methods to dismiss them. With WICB President's XI being 70 for three wickets down, the India bowlers' hope increased, but a good fourth wicket partnership dampened chances of Virat Kohli's team win.
After Vishaul Singh was run out in the 57th over, WICB President's XI began to lose wickets at regular intervals. They were soon 174 for five, but Jermaine Blackwood showed great technique to tackle the India seamers and spinners to help his team manage a draw. Blackwood scored a 143-ball 51, which comprised seven boundaries.
Overall, this three-day warm-up game was a good result for India, whose batsmen and bowlers had a good day in the field. Batsmen like Virat Kohli, KL Rahul had a good time with the bat, and Ravindra Jadeja enjoyed a good all-round game, scoring a half century, and four wickets during the game.
However, now, India have a much tougher task as they prepare for the first Test match, against West Indies, which starts on Thursday.
India need to come up with a good bowling combination in the first Test, where the pitches could, once again, be low and slow. The visitors are going to put their best feet forward irrespective of the pitch conditions, says bowler Shardul Thakur.
"In both the (warm-up) games, pitches in St. Kitts were slow. We are expecting slower wickets in the Test matches. If there is a slow wicket the next time we play, it won't surprise us. We are ready for it. It doesn't matter what the pitch is - slow or fast. Effort matters. To put in that effort is my job," ESPN Crininfo quoted Thakur as saying.