Ravindra Jadeja cut an elated figure at the post-match presentation ceremony at the Greenfield International Stadium in Thiruvananthapuram on November 1 as he had steered India to a nine-wicket win in the ODI series decider against the West Indies.
The left-arm spinner picked up four wickets and walked away with the Man of the Match award — his second since returning to the 50-over side in September.
A replica of Rs 1 Lakh cheque was awarded to Jadeja. The huge sheet is often given to cricketers during the presentation ceremony wherein the winners pose for the shutterbugs.
It's common knowledge that the cheque is just a gimmick and has no value. However, have you ever wondered what happens to such replicas?
The replica of Jadeja's Man of the Match cheque was found in a garbage dump by Jayan, a sanitary worker with Trivandrum Corporation.
The photo of Jayan holding the cheque was posted on the Facebook page of NGO, Prakruthi. The worker found it during the customary post-match segregation of waste at the stadium.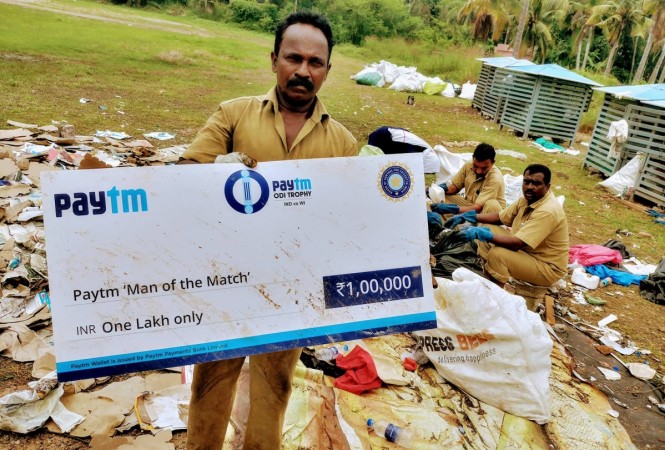 The post that has gained considerable traction argues that the Board of Control for Cricket in India (BCCI) can come up with alternative ways of honouring cricketers at post-match presentations and even restrict the use of non-biodegradable products inside stadiums.
"Why don't we think about an alternative in which an honour given to a person last forever and not making a liability to others or nature. We believe BCCI will consider options to reduce the plastic or non-biodegradable materials during cricket matches," the post reads.
Notably, a popular e-wallet, who are one of the primary sponsors of the Indian cricket team, at times, do a dummy transfer of the prize money to the winner's wallet.
At a time when waste-management is becoming one of the major causes of concern in big cities, the BCCI can certainly take notice of the said issue and lead the way forward.