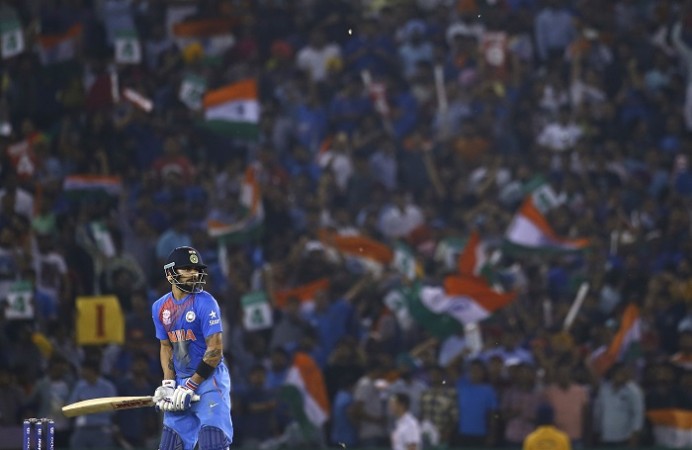 India vs West Indies, Chris Gayle vs R Ashwin, Virat Kohli vs all the West Indies bowlers – however you look at it, this ICC World T20 2016 semifinal at the Wankhede Stadium in Mumbai promises to be a match that will not disappear from memory banks too easily. With a place in the final at stake, and with both teams quite well matched, it will come down to what it always comes down to in big-pressure games – holding your nerve.
The hosts have certainly done that quite well in their last three matches. After losing to New Zealand by a massive margin and seeing their net run rate, as a result, take a big hit, India had to treat their remaining three Super 10 games as knockouts, and when it has really come down to the pressure situations, India have been the better team.
[Get the live cricket score and blog of the match HERE]
Against Pakistan, Virat Kohli guided India to victory in a high-pressure chase on a turning-square wicket. Against Bangladesh, well, we all know what happened there, don't we. And against Australia, it was Kohli again, sprinkling his magic in Mohali.
Watch the highlights of the match HERE

Playing with their backs to the wall seems to work well for India, and the worrying aspect from the West Indies' point of view will be that the home team have won three matches in a row, without playing even remotely to their potential. So, imagine how good a side this India team can be, if their openers fire, if Suresh Raina bats like he normally does in T20s, if R Ashwin bowls one of those unplayable, wicket-taking spells.
Here is what Dhoni and Sammy had to say after the match
If that India show up, there really will be very little West Indies can do, apart from hoping Chris Gayle has one of those stormers. The Wankhede crowd has already been treated to a Gayle special in this World T20, when the big left-hander smashed the England bowlers with utter disdain. Gayle will certainly be up for this contest, what with the home crowd, who usually love him, this time wanting him to get out early.
The West Indies have plenty of match-winners in their side, but if India play to their potential – bat and bowl at a 100%, Gayle will be the only man who can rescue them.
So, what West Indies need to do is to ensure India do not play to their potential. Don't allow the openers – Rohit Sharma and Shikhar Dhawan – to gain momentum by getting off to a fast start; don't let Kohli dictate matters to the bowlers; don't let Dhoni finish off the game in his own time; attack Ashwin, who will come out to bowl in the Powerplay; force Dhoni to take bowling decisions he does not want to.
On top of that, the West Indies need to ensure they don't crumble under the pressure; that somebody, if Gayle fails with the bat, raises their hands and takes up the responsibility. Batting will be key in this semifinal, considering the Wankhede pitch has been a batsman's dream. So, making sure the batsmen make full use of the conditions will be key.
India will also think along the same lines, with both sides, no doubt, keen on chasing. England chased down South Afirca's 229 at this venue earlier in this tournament, while South Africa scored 438 runs in an ODI match against India late last year, which just goes to show how good a batting pitch this is.
With India being billed as the favourites going into this ICC World T20 semifinal, the toss, if Darren Sammy calls right, might be the leveller. Either way, we are in for a humdinger of a high-scoring semifinal.
Where to Watch Live
India vs West Indies -- the World T20 semifinal -- is scheduled for a 7 p.m. IST (1.30 p.m. GMT, 2.30 p.m. BST, 9.30 a.m. ET) start. Watch the entire semifinal match live on Indian TV screens on DD National, Star Sports 1, Star Sports 3, Star Sports HD1 and Star Sports HD3. If the Tv screens are now close by, or for some reason not working, do not worry Starsports.com and Hotstar will stream the match live online.
Viewers in the Caribbean can watch their team play India early in the morning live on ESPN. The match can also be live streamed online on ESPN Play.
Fox Sports will show the World T20 2016 match live in Australia, while the live streaming option is on Foxtel and Cricket Australia Live.
Willow TV and Willow TV Online will broadcast the game live on TV and online in the US and Canada.
England viewers, and the rest of the UK and Ireland, can watch which team England will face in the final on Sky Sports 2. The live stream option is on Watch Sky Sports and Sky Go.

Viewers in New Zealand can watch India vs West Indies live live on Sky Sport and Sky Go NZ.
OSN Cricket and OSN Play will provide live coverage of the semifinal match in the Middle East and North Africa. Audience in South Africa and Sub Saharan Africa can flip their remotes to SuperSport, with the online live stream option on SuperSport Live Video.