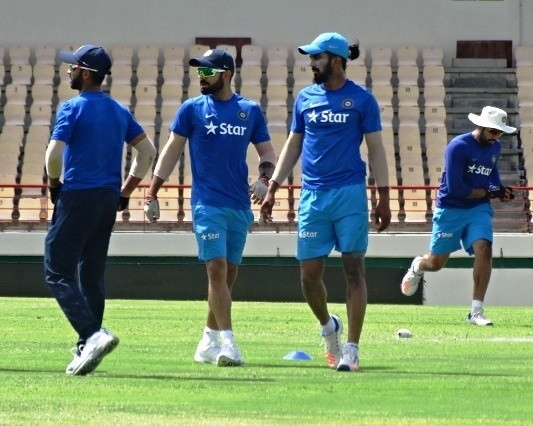 The second Test showed that this series might end up being a contest after all, as West Indies showed fight and determination previously thought to be non-existent in the longest format of the sport. It is now onto the third Test match of the series, with India looking to right the Jamaican wrongs when the two teams clash in St. Lucia from Tuesday.
India will still be ruing the fact that they could not come away from the second Test with a 2-0 series lead, having done pretty much what they did in the first Test match – post a big score, knock West Indies out cheaply in the first innings, with the difference being that second West Indies innings.
While the home team folded pretty cheaply there in the first Test match in Antigua, there were no such problems in the second one, as Roston Chase, Jermaine Blackwood, Shane Dowrich and Jason Holder all played outstanding knocks to keep the Indian bowlers at bay.
If the West Indies can sort their top order batting out, India could find themselves with a real challenge to come away with another Test match win. To shore up that top order, West Indies have called up Shai Hope to the squad, with Rajendra Chandrika, who struggled against the India bowlers, dropped.
While understanding that West Indies batted really well to save the Test match in the last game, India will also know they made a few mistakes, which, had they not, could have given them a different end result. The batsmen batted extremely slowly in the second Test match, even when the innings went down to the tail, which was hard to fathom, considering rain was predicted throughout the Test match, particularly on days three and four.
With almost the entire Day 4 getting washed out by rain, India ended up losing vital overs which could have made the difference in the end, and that is something that Virat Kohli, still a young captain, will learn, along with Anil Kumble, still a relatively inexperienced coach, especially at this level.
Making sure you get a big score is fine, but sometimes you need to be able to read the conditions better and make adjustments accordingly, with that risk factor brought into play a little more. Had India taken a few more risks, played a few more shots and scored those 500 first innings runs a bit more quickly, the Test match might have just gone their way.
However, it was not to be, and all they can do now is move on and come back hard at the West Indies in the third Test match, while hoping the likes of R Ashwin, Amit Mishra, Mohammed Shami and Ishant Sharma, find their bowling mojo.
India vs West Indies: 3rd Test schedule:

Date: Tuesday, August 9 to Saturday, August 13.

Time: 10 a.m. local time (7.30 p.m. IST, 3 p.m. BST).

Scheduled session timings: First session: 10 a.m. (7.30 p.m. IST) to 12 p.m. (9.30 p.m. IST). Lunch: 12 p.m. (9.30 p.m. IST) to 12.40 p.m. (10.10 p.m. IST). Second session: 12.40 p.m. (10.10 p.m. IST) to 2.40 p.m. (12.10 a.m. IST). Tea: 2.40 p.m. (12.10 a.m. IST) to 3 p.m. (12.30 a.m. IST). Third session: 3 p.m. (12.30 a.m. IST) to 5 p.m. (2.30 a.m. IST). Play can be extended by an extra half an hour to complete the 90 overs on the day.

Venue: Darren Sammy National Cricket Stadium, Gros Islet, St. Lucia.
TV listings: India: Ten 3, Ten 2 and Ten 1 HD. UK: Sky Sports. USA: Willow TV. South Africa and Sub Saharan Africa: SuperSport. Australia: Fox Sports.