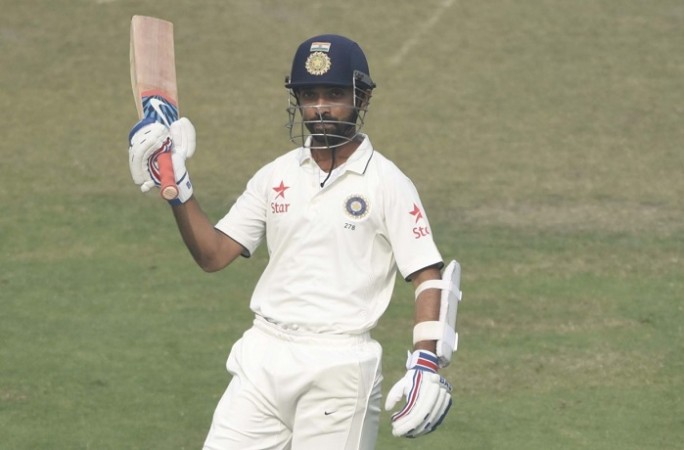 India invoked the defensive powers of a Jimmy Adams, when they really should have channeled the attacking prowess of Viv Richards, on day three of the second Test against the West Indies. When the order of the day was to make some quick runs, bulge the lead as much as possible, as quickly as possible, India, instead, decided to go into block zone, with a few boundaries sprinkled around it, before rain decided to put an early end to play.
Ajinkya Rahane (108 n.o., 237b, 13x4, 3x6) helped himself to his third Test match hundred in his last four innings, joining KL Rahul as the centurions for this Test match, and while India declared at 500/9 in 171.1 overs, with, on schedule, a session and two days to go, rain ensured there would be no more play on day three.
That means, India now lead this match by 304 runs, with two days to play, but with rain set to hover around the final two days of the Test match as well, questions will be raised over the visiting team's decision to take it as slow as they did, even if the pitch might not be greatly suited to stroke play and the West Indies bowled some excellent lines.
It was a grind again for India from ball one. Richards predicted India would go smash bang from the morning session in order to gain a complete stranglehold of the game, but watchfulness and let's-not-hurry-at-all was the name of the game again for India. After a war of attrition on day two, a battle that they won, India went about doing pretty much the same, yet again.
The lead kept increasing, but slowly, and by the end of the first session, India were on 425/6, with just 67 runs coming in the first session, a session in which West Indies bowled well, Rahane could have gotten out and Wriddhiman Saha did. A partnership of 98 in nearly 40 overs between the two overnight batsmen – Rahane and Saha – ensured there would be no lower order collapse. While Saha (47, 116b, 5x4) fell on the stroke of lunch, lbw to Jason Holder, off a ball that came in and kept low, control was all the visiting side's, even if you hoped for a bit more of a push.
That push was not obviously evident in the second session either, with Rahane content with just blocking, while waiting for the bad balls to put away, while Amit Mishra (21, 42b, 1x4, 1x6), apart from a couple of big hits, also looked happy to just occupy the crease.
With the lead bulging to 260, Virat Kohli and Anil Kumble were given some food for thought as rain halted India's slow progress, and while play resumed after that break of play allowing India to further enhance their lead, the wet weather came down again, with the declaration not enough to allow the Indian bowlers to have a go at the West Indies batsmen.