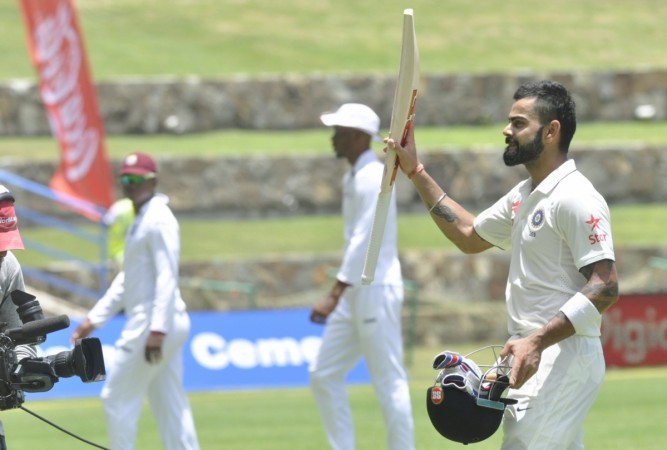 Virat Kohli led from the front in every way possible to inspire India to record a victory over West Indies within four days by an inning and 92 runs in their first Test match in Antigua. It is therefore fitting that the 27-year-old got an unique tribute.
Sir Vivian Richards, who termed the Indian cricketer's knock as "classy", brought his son Mali Richards this time to send a congratulatory message. Richards Jr, a cricketer himself as well as a painter, gifted Kohli a painting of his showcasing the Indian star celebrating after his maiden double century in Test cricket.
"We were excited when we found out that Kohli is going to be Antigua for the first Test. We wanted to do something creative for him but back then we did not know the exact date of his arrival," Mali told BCCI.tv on Tuesday. "We decided to commemorate his maiden double hundred as he registered the milestone here in Antigua.
"We prepared the entire painting in just one day and came here to present it to him."
With three Test matches more to be played in the Caribbean, Kohli is urging his army to maintain the consistency and try and get the 4-0 clean sweep over Jason Holder's side. "If we have a chance to win 4-0, then why not," Kohli was quoted as saying by Reuters. "We don't need to get complacent. If we end up getting a 2-0 lead, it's not that we would be playing for a draw in the next two tests.
"As we know, if we learn to win test matches, then we'll learn how to win tests everywhere. We will learn how to play in different situations and we will know exactly what to do when a certain situation is going a certain way," the Delhi-born cricketer explained.
The second Test match between India and West Indies is scheduled to get under way on July 30 at the Sabina Park in Kingston, Jamaica.