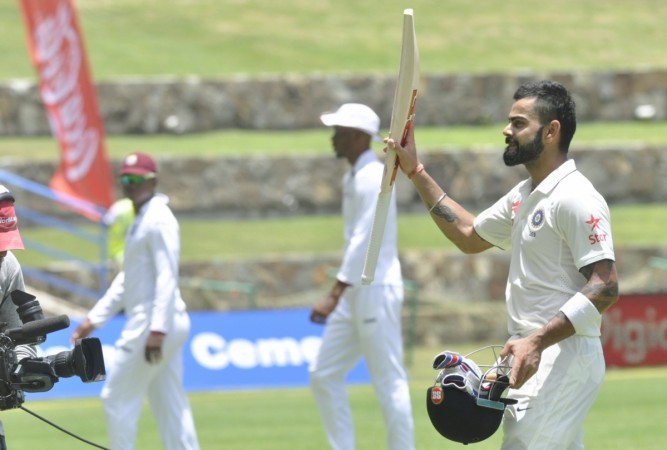 The more you watch Virat Kohli play, the more you start to believe that cricket has indeed come a long way. Be it in any format of the game, the hard-hitting 27-year-old from Delhi is completely bossing the sport in every way possible.
The India Test cricket team skipper scored his maiden double century in West Indies on Friday and took everyone by storm -- from fans and his teammates to cricketers around the world and even Sir Vivian Richards. Kohli scored 200 off 283 balls in India's first innings of the first test match against the Caribbean nation in Antigua.
Team India declared their innings after scoring 566 runs on the second day.
West Indies cricket legend Richards, after whom the cricket stadium in Antigua has been named, was in complete awe of the Indian superstar's performance. "I think it was a magnificent hundred. To score a double hundred at Sir Vivian Richards Cricket Ground is a formidable task in terms of what he has achieved," said the cricket legend in an exclusive interaction with the BCCI after the end of day 2 of the Test match.
"I remember when I met him at the hotel (before the Test series) I did say good luck, but I didn't believe he would take it this far in terms of achieving a double. As a batsman myself, it was very pleasing to see and even though it was against the West Indies, I do appreciate seeing class and his was a classy knock," Richards, 64, added.
The thing that sets Kohli apart is his will. He certainly has a magnificent appetite to perform. His talent is as good as any. Sometimes, we have seen talent fall by the wayside. Kohli has certainly maximised his talent in my opinion and taken it to the next level because of the fact of believing and the will he has and the desire to succeed.

- Sir Vivian Richards.
From T20Is to ODIs and Test cricket, Kohli has been a consistent dominant force for some years now and the pressure of expectation also therefore reaches zenith. But does the Indian cricketer really feel burdened by the millions of expectation he is asked to fulfil once he goes out to bat? He has an interesting take.
"When you perform for a certain period of time, people are going to expect things from you, but I take that up as a blessing," said Kohli after his maiden 200 in Test cricket. "If people expect me to go out there and perform, it is because they like the way I play. They want me to do well so that the team can do well.
"I always wanted to be in that position so I have no complaints about it. I rather feel happy about it and I feel grateful that I am in this situation," he added.