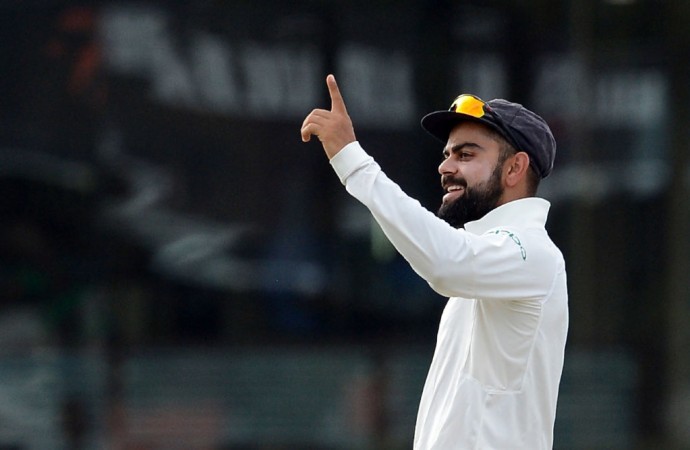 With India and Sri Lanka set to face off in a three-Test series from November 16 (Thursday) in Kolkata, captain Virat Kohli has a chance to break another record.
Kohli has excelled in all three formats not only as a batsman but also as the skipper of the team. Now, he can add another achievement to his already impressive CV.
Also read: Kirmani blasts Agarkar over Dhoni comments
The 29-year-old has Sourav Ganguly's Test captaincy record in sight.
MS Dhoni is the most successful Indian captain with 27 wins from 60 matches. Ganguly is second with 21 successes from 49 games. Kohli is third with 19 from 29.
India being the favourites against the islanders, in all probability, Kohli should surpass Ganguly during the three-Test rubber.
If Kohli wins all three Tests then he will take the second spot behind Dhoni. Two victories will put him on par with Ganguly.
India are in red-hot form with eight consecutive Test series victories. In July-August this year, they whitewashed Sri Lanka 3-0. The sequence of wins started in Sri Lanka (2-1) in 2015. Since then they have beaten South Africa, West Indies, New Zealand, England, Bangladesh, Australia and Sri Lanka.
Kohli already has the best win percentage (65.51%) among Indian Test captains who have led in 10 or more matches. He took over as India's full-time captain from Dhoni in 2015 during the Australia tour. Dhoni retired in December 2014.
India squad for first two Tests against Sri Lanka: Virat Kohli (captain), KL Rahul, M Vijay, Shikhar Dhawan, Cheteshwar Pujara, Ajinkya Rahane (vice-captain), Rohit Sharma, Wriddhiman Saha (wicketkeeper), R Ashwin, Ravindra Jadeja, Kuldeep Yadav, Mohammed Shami, Umesh Yadav, Bhuvaneshwar Kumar, Ishant Sharma.
Most Test wins as India captain
MS Dhoni - 27 wins (60 matches, Lost 18)
Sourav Ganguly - 21 (49, Lost 13)
Virat Kohli - 19 (29, Lost 3)
Mohammad Azharuddin - 14 (47, Lost 14)
Sunil Gavaskar (47, Lost 8) and Mansur Ali Khan Pataudi (40, Lost 19) - 9
Rahul Dravid - 8 (25, Lost 6)