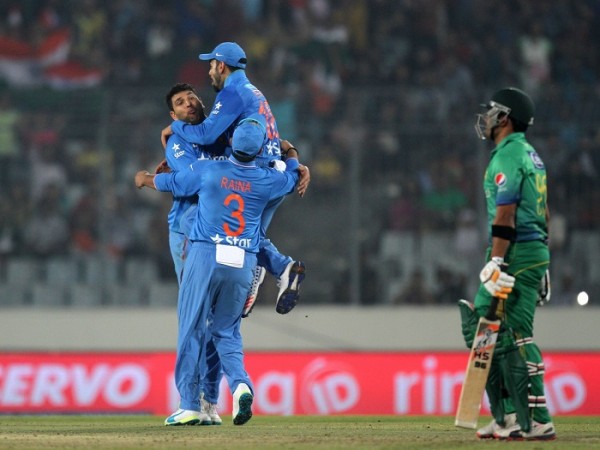 While we wonder and keep debating if the much-anticipated match between India and Pakistan will finally see the light of day in the ICC World T20 2016, here comes another report claiming that the venue of the match could possibly be changed in the last minute.
According to a report by the Press Trust of India, sources close to the PCB (Pakistan Cricket Board) have said that BCCI chief Shashank Manohar and PCB chief Shaharyar Khan have discussed the possibility of the match being played March 19 at the Eden Gardens in Kolkata or the Punjab Cricket Association stadium in Mohali.
It was reported earlier on Wednesday that Manohar called Khan to assure that the security will be taken care of during the match, scheduled to take place in Dharamsala for now.
Himachal Pradesh Chief Minister Virbhadra Singh Tuesday wrote to the home ministry citing their inability to provide security for the match on March 19. "I don't have a problem if the Pakistan match is played in any other part of the country. If it takes place in Dharamsala, it will be against the will of the people," Singh told The Times of India.
Although the BCCI was left stunned, Singh explained that the step has been taken to pay tribute to the Indian soldiers killed during a terror attack at an airbase in Pathankot this January. The Pathankot airbase is situated close to the Himachal Pradesh Cricket Association Stadium in Dharamsala and therefore, Singh asked the venue for the match to be changed.
Pakistan play three out of their four scheduled group games in the ICC World T20 2016 in Kolkata and Mohali. Therefore, the prospect of playing all their group games of the competition in the two cities has been discussed by the BCCI and the PCB.
However, what happens if Pakistan progress to the semi finals of the competition is something only time will tell. The venues for the two semi finals of the ICC World T20 2016 are kept as Delhi and Mumbai, with the final scheduled to take place in Kolkata.
Pakistan also play both of their warm-up matches ahead of the main competition in Kolkata.