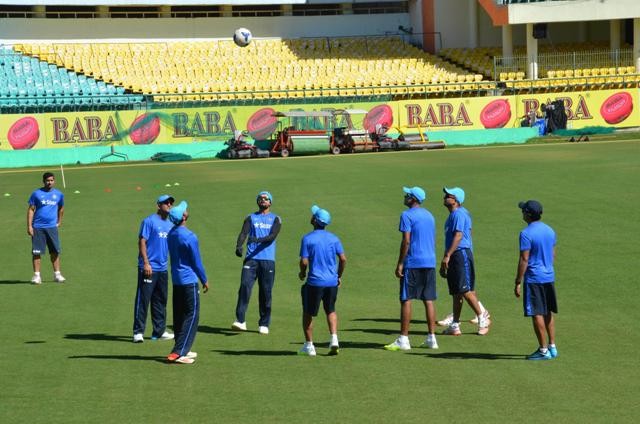 BCCI secretary Anurag Thakur has said that Himachal Pradesh Chief Minister Virbhadra Singh is ready to provide security during the India vs Pakistan match at Dharamsala on March 19.
The news comes as a major positive after the Himachal Pradesh government announced earlier this week that they are not ready to provide security during the match as he doesn't want to hurt the sentiments of the families and the kins of Indian soldiers killed during the Pathankot air base attack earlier this year.
Thakur indulged in conversations with Singh on the issue on Wednesday and revealed the meeting has been fruitful. However, Singh has not yet commented whether he has given the match a green signal.
"I am very hopeful (of the match taking place). The meeting (with Himachal CM Virbhadra Singh) was held in a very positive atmosphere," Thakur has been quoted by Press Trust of India on Thursday. "The state government will also try and speak to those (families and few others) who have raised concerns. I am very hopeful of a positive outcome."
"The state government has to announce that the match is on. From the BCCI's side, the match is on," Thakur added.
Reports had surfaced that the highly-anticipated cricket match could be shifted to Mohali or Kolkata, but Thakur stated categorically that if the match has to take place, it will take place as scheduled at Dharamsala.
"There is no Plan B. It is anyway not easy to make changes at the last moment," Thakur admitted.
"I asked the CM that if there is a shortage of security personnel in HP, you can also take the help of the central government. But he has assured that the state has enough policemen to provide security," the BCCI secretary, also a member of BJP, added.
ICC World T20 Tournament Director M V Sridhar, meanwhile, visited Dharamsala on Wednesday and asserted the security measures has been impressive. "The Police in Dharamsala is so far handling the security for world cup teams excellently," Sridhar said.
He also urged the Himachal Pradesh government not to bring politics into sports and move ahead with hosting the match as is scheduled.
"I know the anguish is there, but sport is the only way where people could come together. I appeal everyone, Dharamsaala has got one of the most important matches. Also see the arrangements already done and just singling out a match out of ten it might not be fare to raise voice against it."
"Please let this match to be played," he added.